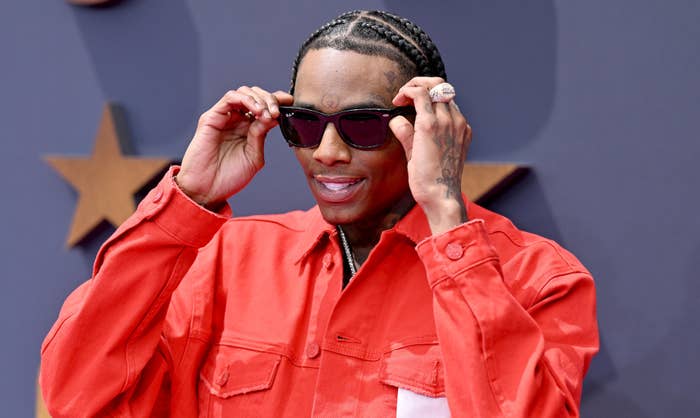 As hip-hop celebrates its 50th anniversary, Soulja Boy wants his respect.
The 33-year-old rapper hopped on Twitter on Sunday to remind his critics how much he's influenced the genre, as Soulja took credit for pioneering the evolution that hip-hop has experienced with the rise of the internet.
"When I came in the game they said I killed hip hop," Soulja wrote. "But really, I birthed the new wave of hip hop with internet/streaming. Ahead of my time."
Soulja Boy continued by pointing out several ways in which his successors have followed the blueprint he laid out in the late-2000s.
"Now everyone vlogs their career like me," he said. "Now everyone uploads their music to the internet. Now everyone goes live for their fans. I started it. Thank me or not. Flowers/Credit or not."
Of course, Soulja Boy deserves his flowers for the meteoric rise he experienced in the late-2000s, which in hindsight helped lay the groundwork for other rappers to catapult into the zeitgeist overnight.
Soulja Boy exploded into the mainstream in the fall of 2007, when his debut single "Crank Dat" peaked at No. 1 on the Billboard Hot 100 for seven non-consecutive weeks. From there, the Chicago native solidified his popularity with another smash hit, "Kiss Me Thru The Phone," which climbed to No. 3 on the Hot 100 in 2008.
Back in May, Soulja Boy revealed the phone number he mentions in "Kiss Me Thru The Phone" earned him $100,000 a month during the hit song's time on the charts.
"Alright, let me tell y'all the real story. Boom. So that number was like a fan line," he explained. "So every time somebody called that number, I was getting paid off of that shit. It was like a subscription. You could text it or call it, so I was probably making like $100,000 a month off of that, just people calling that number."