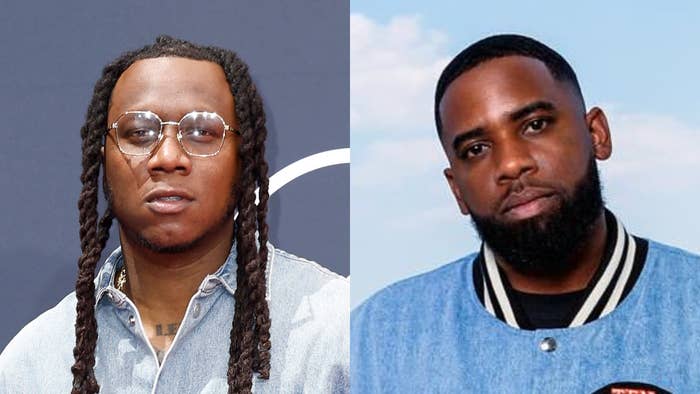 UPDATED 8/8, 11:30 p.m. ET: Top Dawg Entertainment's Punch has responded to Reason's comments and the ensuing conversation about label support or lack thereof.
Punch, who is TDE's co-president alongside Moosa, hopped on Twitter on Tuesday to say it's becoming "stale" for a rapper to blame their label over issues regarding promotion of an album.
"That big bad mean ol label narrative is getting stale," Punch wrote. "You mean ol evil label. Lol."
Replying to a user who asked if it's acceptable that Moosa is "talking to one of your artists like that," Punch explained, "I'm never cool with discussing things publicly that should be discussed in private. BUT if things are being brought to the public then everyone should get a chance to state their truth on a subject."
Punch spent a good amount of time going back and forth with a number of users on the platform now known as X. When it comes to release dates, he said "ultimately it's the artist call" and that TDE is an "artist friendly label."
"You also aren't dealing with a faceless corporation," Punch said in another post. "This isn't universal or sony etc…n***as know who TDE is and know the actual ppl."
Read a handful of Punch's responses here:
See original story below.
Reason and Top Dawg Entertainment co-president Anthony "Moosa" Tiffith Jr. got into a tense conversation over the rapper's upcoming album Porches.
On Monday, the Carson native was a guest on the BACKONFIGG podcast and aired his grievances with the West Coast label not putting forth effort in his new album scheduled to drop on Friday. According to Reason, there were features he wanted on the album that didn't end up making the cut.
"We had certain features lined up that could've went through," he said. "We had the budget, we had the feature lined up, takes too long to get pushed through, feature price ended up going up or something goes away. Content ideas lined up, not executed. Rollout ideas lined up, not executed."
He continued, "It was a few different things. I had Latto lined up for something, not executed. I had EST Gee lined up, not executed. Like, us not pushing through. Features lined up, we got a price set, video and verse for the love, takes too long."
On the EST Gee feature, Reason explained that it "took too long to get through to EST Gee and his people and be like, 'Yo, this is what we wanna do.'" He said that by the time they connected, "he dropped a record with Future and the record went crazy. Now, the feature is $25,000 more than what it already was."
Moosa eventually called into the podcast to address and push back on Reason's claims that the label wasn't getting him features. For starters, Moosa asked BACKONFIGG hosts T-Rell and MackWop to name 10 Reason songs.

"Can you name me 10 Reason songs right now?" Moosa asked.

After the hosts were stumped, the executive then claimed TDE's former co-president, Dave Free, didn't even want to sign Reason and called him a "substitute teacher."
"Aye, Dave, Dot [Kendrick Lamar], I love them n***as. Dave never wanted us to sign Reason. He called him a substitute teacher," Moosa said. "Dot only said Reason had talent, but it's gon' take more than just talent in this game right now, and everybody know that."
Moosa also asked what a collaboration with EST Gee would do for Reason's trajectory, stating he's already worked with artists like Schoolboy Q.
"Even when I hear n***as saying features and everything," he said. "Oh yeah, you could've got an EST Gee feature but what does that do for Reason? Like, what's that gon' do for Reason? Even when you say you can't get in contact with SZA and all that. You done had features from everybody, including Q. I'm just trying to understand it, man."
Reason didn't take the criticism lightly. "You wanna have a conversation or you wanna go viral, which one you wanna do?" he asked Moosa.
Moosa also took issue with Reason for insinuating TDE was responsible for his lack of success, which the rapper countered by claiming he hasn't been "allowed" to drop music consistently despite giving the label various projects he wanted to put out over the last three years.
Reason's upcoming album, Porches, is dropping on Friday with features from Doechii, SiR, Baby Tate, Zacari, Ray Vaughn and others. The 17-track project will include recent singles "At It Again" and "You Betta (Jesus Take the Wheel)."
The dust-up is the latest in TDE's long history of having their artists push back against the way they do business, with SZA calling the label "hostile" for holding up new music.