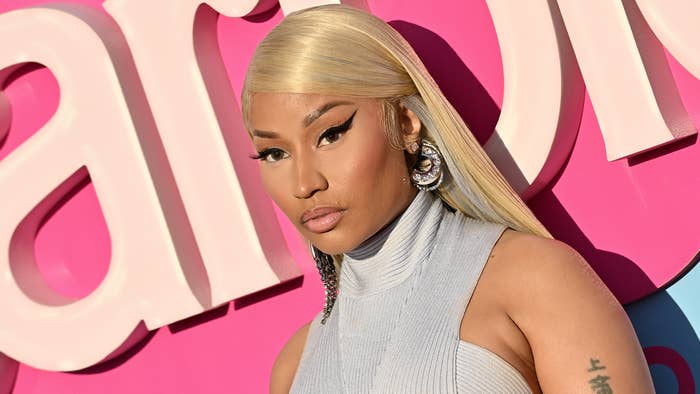 Nicki Minaj took a trip down memory lane with an Instagram post showing her 25-year-old self before she got plastic surgery and more.
On Thursday, the Queen rapper took to her Instagram with a post featuring herself in a photo shoot from when she was only 25 years old. In the image, Minaj is seen wearing a form-fitting top with a bust noticeably smaller than her current chest size. In her caption, the 40-year-old praised her appearance at 25, noting that it was before she underwent "surgery" and wore "wigs."
"25 never looked better," Nicki wrote. "No surgery. No wigs. Just a brand new Colgate smile ☺️🫶🏽♥️🎀😉."
Nicki Minaj has been more vocal about cosmetic surgery lately. During an Instagram Live session in June with JT of City Girls, Nicki revealed she got breast reduction surgery after the birth of her son Papa Bear.
"Nature did what they had to do for Papa Bear," Nicki told JT in reference to the changes she saw after breastfeeding. "It's no way your boobs right now are still able to look like that and be all sexy and cute and stuff like that in your dresses. Trust me. You did not have the size that I had."
Nicki continued, "If tell you the size...Do you wanna hear the size that they were? Oh, triple E. So, trust me, boo boo. You didn't have the kind I had because you would have been doing the same thing I did."
In May 2022, Nicki flirted with the idea of getting the breast reduction done after a peer in the industry told her to do it before its too late.
"I'm not gonna lie, somebody did tell me to get my boobs taken off, like a female in the industry," she said on Instagram Live. "And I was like, 'No, no, not yet, not yet.' And yeah, she was right. I should've hurried up and took them off."
Nicki Minaj isn't the only celebrity who has gotten some work done. SZA embraced cosmetic surgery when she recently revealed she got a Brazilian butt lift because she "always wanted a really fat ass with less gym time."
Others aren't so fond of the backlash that comes with surgery, such as Latto, who was dragged by fans before and after she got work done.
"When I didn't have my surgery, they're like, 'Oh, she shaped like her white side,'" she said in April. "And then when I got the surgery, it is, 'Oh she's botched. Oh it's too heavy.'"
Blac Chyna had a drastic transformation back to her old self. This year, Chyna revealed she got a butt and breast reduction done, along with getting her lip fillers removed.