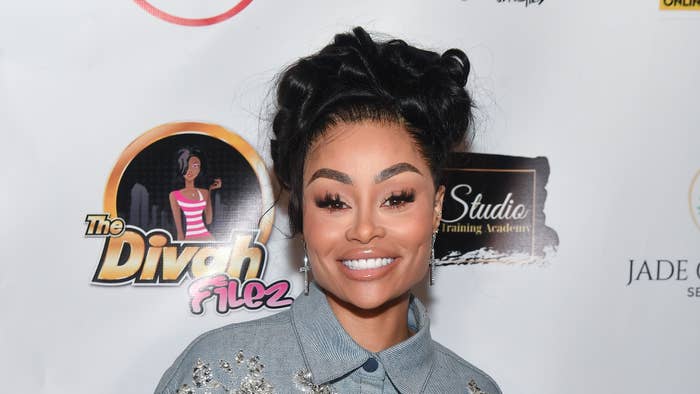 Blac Chyna is turning over a new leaf as she reverses her plastic surgery procedures one by one.
Recently, the 34-year-old revealed that she is removing her butt and breast implants. Earlier this week, she took to Instagram to provide insight into the procedure of removing her facial filler. "I'm actually on my way to go get these fillers dissolved from my cheeks and from my jawline because enough is enough," Chyna said in the Instagram video. "It all has to come out, it's as simple as that."
The Real Blac Chyna star was told that the operation "burns."
"I ain't even worried about no stinging. I just want it out," she said.
In the video, Chyna recorded the doctor injecting liquids into her cheek that would disintegrate the fillers, taking her "back to the baseline" look. When asked what prompted her decision, she said, "First of all, I'm tired of the look. And it's just not flattering. It's not what I look like. It totally changed my face, and I'm just ready to get back to Angela."
She continued, "Blac Chyna's Blac Chyna, you know what I mean?" She added, "I feel like I've outgrown that, and it's just time for a change. And I just want to be good."
Chyna jokingly compared her face to the fictional Saw character, Jigsaw, when her makeup artists would contour her face.
The doctor confirmed that she would see the results in about a day.
"I'm on my journey right now, and I just want to start fresh, clean. Shout out to the girls who want to get fillers," Chyna said. "We're not saying, 'Don't do it.' But just for me, I'm just kind of over the whole phase."
The mother of two then stepped out in public for the first since her surgeries to show off her results. As the Ellements Magazine March cover star, she attended a reveal party with joint cover star Love & Hip Hop alum Alexis Skyy. In 2019, the two reality personalities had an altercation over Rob Kardashian, with who Chyna shares an 6-year-old daughter, Dream. But that is all behind her as she is seemingly "stepping into a different way" mentally, spiritually, and physically.