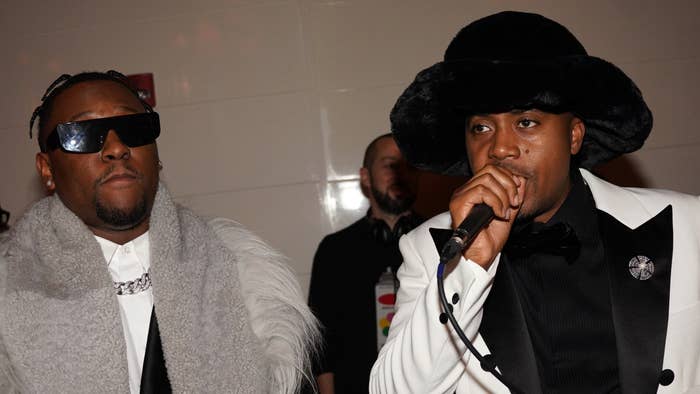 Nas has revealed that he and Hit-Boy wouldn't have any problem making even more albums in the future.
On Saturday, the Queensbridge rap legend unleashed a video clip titled Nas & Hit-Boy Presents Magic 3: The Final Act, where the formidable duo reflected on the process of their latest effort, Magic 3. According to Nas, completing a six-album saga with a producer like Hit has shown him they could run it back if they want to.
"For me, there's an emotional moment because to complete something beyond what you thought you were even working on...we didn't know we'd do six albums," said Nas. "So to be at this point, it's satisfying, it's gratifying, it's a feeling of accomplishment on another level for myself as an MC, and I'm lucky enough to work with some of the greatest producers in the world."
He continued, "I've been blessed to be able to do that. To be able to do that and have the sixth album and to be complete in that, We can definitely go for more albums, easily."
With Magic 3, which was released on Sept. 15, Nas and Hit-Boy completed a project that started with King's Disease in 2020. Since then, Esco and Hit dropped King's Disease 2, King's Disease 3, and Magic 2. That's six albums and two trilogies in three years, an incredible feat for any artist.
After the release of the new album, Hit-Boy shared a note he wrote on his phone 11 years ago with two goals he's long since accomplished, which were to produce a beat for Rihanna and do three tracks with Nas.
"This note in my phone is from September 11th 2011 before i ever met @Nas. i wrote down and put into the universe that i wanted to produce a Rihanna single and just 3 songs on a Nas album. Fast forward 12 years later and i'm 6 ALBUMS in with the God himself wow. How did we get here?!!"