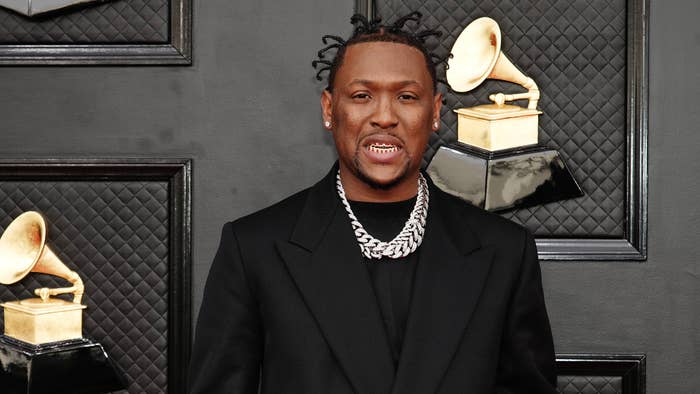 Alongside the arrival of his final collaborative album with Nas, producer and rapper Hit-Boy shared a note he wrote on his phone 11 years ago with two goals he's long-since accomplished.
"Thought this might motivate at least 1 of y'all out there so peep," the 36-year-old "N***as in Paris" beatsmith wrote on Instagram. The note shows that his dreams were to produce a single for Rihanna and do three tracks with Nas. "This note in my phone is from September 11th 2011 before i ever met @Nas. i wrote down and put into the universe that i wanted to produce a Rihanna single and just 3 songs on a Nas album. Fast forward 12 years later and i'm 6 ALBUMS in with the God himself wow. How did we get here?!!"
Shortly after he wrote down those goals, he produced Rihanna's Talk That Talk track "Watch n' Learn," and contributed to two tracks on her album Anti. As far as Nas, in three years Hit-Boy has produced a whopping six projects with the rapper across two different trilogies, King's Disease and Magic. The third and final Magic, their sixth collaboration in three years, arrived Thursday, just in time for Nas' 50th birthday.
"The final Nas and Hit-Boy album Magic 3. Just know we gave it our all," Hit-Boy continued. "tbh we haven't taken much time from working on music together since we linked in 2020 we tap in daily to work or just to chop it or every other day at least i would say.. having this type of musical bond with an artist of this caliber is a producers dream. i want to thank Nas for taking in my ideas and embracing them and me. you can't force this type of energy. i'm right here whenever forever bro!!"
In the comments, he added, "6 albums!! God is great...I ended up doing 'Watch n' Learn', 'Woo' and 'Pose' for Rihanna after this too."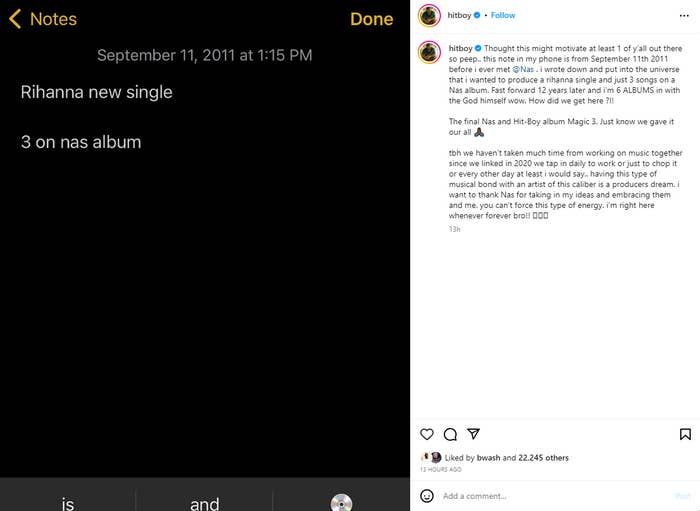 Ahead of the arrival of Magic 3, Hit-Boy confirmed that his and Nas' streak of collaborative records was coming to an end. "Nas is dropping his last Hit-Boy produced album on his 50th bday this thursday. Magic 3," the Grammy-winner producer wrote alongside a crying emoji and some magic wands. "Those are tears of joy btw. thank you to any and everyone who has listened and supported the movement."
Nas and Hit-Boy first teamed up for a full record in 2020 with King's Disease, which garnered the Queensbridge MC his first-ever Grammy for Best Hip-Hop Album. Nas is set to support Magic 3, which comes just months after Magic 2 dropped in July, with his NY State of Mind Tour with Wu-Tang Clan.