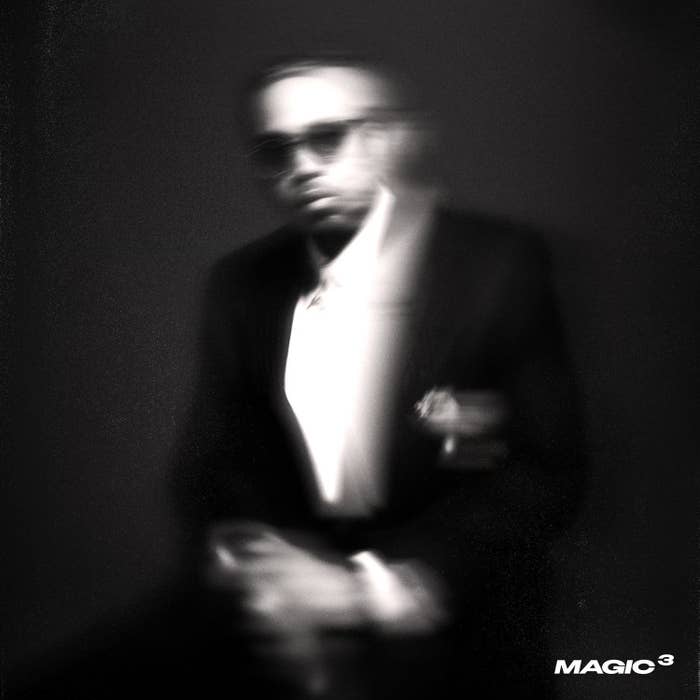 Nas and Hit-Boy are concluding their streak of collaborative albums with the release of Magic 3.
The project, which arrived this evening to celebrate the rapper's birthday, marks the pair's sixth collaborative LP in three years. The 15-track album boasts just one feature, from Lil Wayne on "Never Die."
In an Instagram post revealing the cover, Nas wrote, "I want to thank everyone for taking this ride with @hitboy & I. It's been nothing short of Magical! The Album Drops On My Birthday. ... Forever Grateful, Enjoy!!"
Magic 3 comes just several months after Magic 2 dropped on July 21. That 11-track project contained guest features from 21 Savage and 50 Cent and debuted at No. 20 on the Billboard Top R&B/Hip-Hop Albums chart.
Earlier this week, Hit-Boy confirmed that Magic 3 is the last album he will produce for the legendary Queens emcee.
"Nas is dropping his last Hit-Boy produced album on his 50th bday this thursday. Magic 3," the Grammy-winner producer wrote alongside a crying emoji and some magic wands. "Those are tears of joy btw. thank you to any and everyone who has listened and supported the movement."
Hit-Boy also showed some love to Nas on the rapper's 50th birthday via a post to his Instagram account.
"Big HAPPY GDAY to the bro @nas 🫡. he really Solid as they come!" he wrote under a picture of the two artists standing side by side. "New album Magic 3 tonight 6pm pst produced by me. last slide really crazy 6 albums ! breh."
Hit-Boy's confirmation of this being the final collaborative album comes after rumors circulated earlier this year that Nas would collaborate with different producers for future projects.
The promo has also sparked worry from fans about Nas' possible retirement with a cryptic post on social media on Sept. 8. The upload contained a short video that featured the rapper's name and the words "THE FINALE" on a TV screen before fading to black.
Nas and Hit-Boy first teamed up for 2020's King's Disease, which earned the veteran rapper his first-ever Grammy for Best Hip-Hop Album, after being nominated 14 times over his illustrious career. Nasty Nas' November 2022 release, King's Disease III, debuted at No. 10 on the Billboard 200 and sold 29,000 album-equivalent units, giving him his 15th top 10 album.
Nas is set to kick off the North American leg of his NY State of Mind Tour with Wu-Tang Clan on Sept. 27.
You can stream Nas and Hit-Boy's Magic 3 on Spotify.