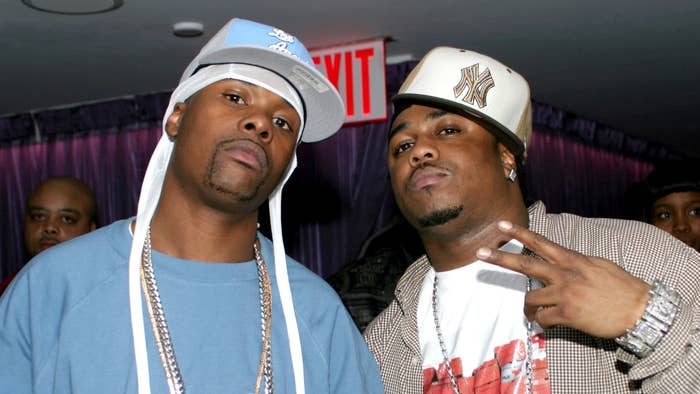 Memphis Bleek has revealed he wanted to put his hands on Just Blaze for giving up the beats for some of the biggest hip-hop records of the early 2000s.
During his Drink Champs interview that aired last week, the Brooklyn native recalled Just Blaze giving away beats that he wanted to rap on. Bleek had already rapped on several beats produced by the legendary beatsmith, but a pair of Grammy-nominated singles from Cam'ron ("Oh Boy") and Joe Budden ("Pump It Up"), as well as Fabolous' top ten Billboard Hot 100 hit ("Breathe"), were the songs he wished were sent to him.
On speaking about "Oh Boy," Bleek said, "That's cool he did do that, and I always want to fuck him up for that [laughs]. But I can't, that's my brother. I love him. N***as trying to say I passed up on 'Oh Boy,' you out your 'Oh Boy' fucking mind. Fuck out of here. I would have hit you in the head with an 'Oh Boy.'"
He continued, "First what? I had it first when Cam'ron first rapped on it. Just like I ain't never like the fact he gave Budden's 'Pump It Up' too. Fuck outta here, yo n***a you don't give shit like that away, and I never liked the fact he gave Fab, that other shit...' Breathe.' I was sick on that too."
Bleek did reveal he passed up on the late Black Rob's "Whoa" but clarified that it would've been a different song had he picked the beat up. According to Bleek, Black Rob was responsible for the song itself as he came up with the concept, and things would've been different if someone else had the beat.
"Now the one beat they said I passed up on, cool, the Black Rob 'Whoa.' Think about it," Bleek said. "He got the beat and came up with the concept 'Whoa.' They act like I passed up on that record. You take that concept away from that beat, would it still be that monumental? You understand what I'm saying? That's his thought to get the beat and say, 'Whoa.'"
N.O.R.E. also stated he passed up on the song and beat for Jay-Z's "Jigga That N***a" and got mad when he heard what Hov did to the track. Ironically enough, Jay-Z, Beanie Sigel, and Freeway had all turned down the beat for "Pump It Up" before Budden got his hands on it.
Jay did manage to rap on the beat when he dropped "Pump It Up Freestyle," a Joe Budden diss record from his 2003 mixtape, The S. Carter Collection. Right in the opener, the Roc Nation boss referenced rappers taking beats from others.
"Gimme that beat, fool, it's a full-time jack move/Don't worry, 'Schino, I'll give it back soon/Just having a little fun," he rapped.