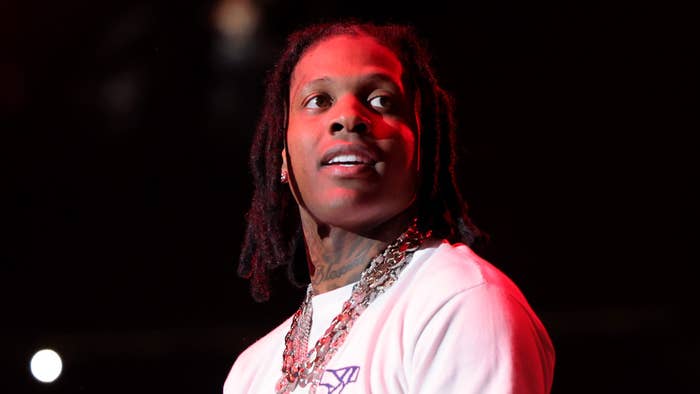 Lil Durk has a word for the politicians criticizing the crime rate of his hometown of Chicago.
During his interview with Ari Melber on MSNBC, Durkio reflected on the comments that people such as Senator Ted Cruz and former president Donald Trump have said about the Windy City and its number of gun violence cases and high murder rates.
"I really don't pay it no mind cause there's violence everywhere. You can get self-defense anywhere, you can kill anywhere, you can stab anywhere, you can choke anywhere, you can kidnap anywhere," Durk said. "Every city has its murder rates. Every city has their rates. If you look up right now who got the most murder rate right now, I bet you it ain't Chicago."
He continued, "Now the story transpires to that city. So that's why I never really comment on it cause every city has its day."
One of the most controversial statements a politician made about the city came from Trump in 2020 when he said the conditions in Chicago are "worse than Afghanistan" during a law enforcement roundtable at the White House. Trump made the statement as an opposition to defunding police and President Joe Biden's support for police reform.
Lil Durk has made a huge effort to make Chicago a better place for all through his Neighborhood Heroes Foundation. The organization aims "to empower and collaborate with everyday Heroes who are taking the lead to make a positive difference in the lives of those within under-resourced neighborhoods," according to the official website. It is a registered community-focused, 501C3 nonprofit organization.
In 2022, Durk and his foundation launched a career program for Chicago teens that gives them access and information on HBCUs and more. The foundation surprised 20 kids from the South Side of Chicago with White Sox suite tickets for a game where Lil Durk threw out the first pitch.
"All these students will be apart of our newest program where we'll be taking them to HBCU Colleges & exposing them to different careers," shared Neighborhood Heroes on Instagram.