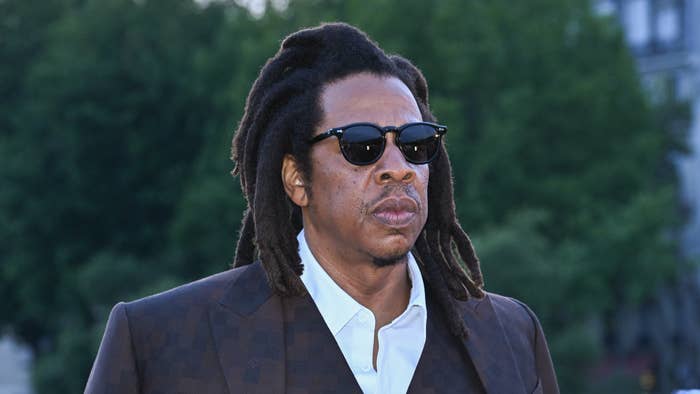 UPDATED 7/12, 11:30 p.m. ET: The Brooklyn Public Library is apparently just getting started when it comes to Hov.
Hell Gate NYC reports that the beloved borough institution will close its central branch on Thursday to prepare for an exhibition dedicated to Hov, beginning with an "exclusive opening party." The outlet says there'll be "a replica of Baseline Studios...which was originally co-owned by Jay and Juan Perez," citing a library insider.
"What I've heard is that Roc Nation is covering the cost of all the installations," the source alleged to Hell Gate, adding that attendees will learn, among other things, about the "books on Jay-Z's night table"
There's also word that the secretive exhibit installation is being "poorly communicated to staff," to the point of "directly impacting operations" at the Central Library.
See original story below.
Jay-Z made a career off memorable lyrics, and now they're being celebrated with a full-blown display in front of the Central Library of the Brooklyn Public Library (BPL).
Earlier this week, a video surfaced online of the Brooklyn rap legend's lyrics being posted on the library's facade. In the clip, a car is zooming down Eastern Parkway, with the driver arriving upon a group of workers laying down the new display with Jay-Z's "What More Can I Say" playing in the background.
Various bars from songs in Hov's catalog, including "Hovi Baby," "Sweet," "Encore," "Justify My Thug," and more are featured in this new project. There's no word on the project's origins, but people believe it's part of the BPL's ongoing celebration of hip-hop's 50th anniversary.
In June, the BPL kicked off "Night in the Library: The Philosophy of Hip-Hop," a free event exploring the genre's culture and legacy. Jay-Z's mother, Dr. Gloria Carter, served as a guest speaker alongside Grammy-nominated rapper Rapsody, Pulitzer Prize-winning writer Mitchell S. Jackson, and more.
There have been various events and projects that have kicked off celebrating hip-hop's 50th birthday. This year's Grammys included a star-studded hip-hop 50 tribute and had Jay-Z, DJ Khaled, Lil Wayne, Rick Ross, John Legend and Fridayy deliver an epic close-out performance of "God Did" in February.
On the other hand, Nas' Mass Appeal launched a new series titled The Soundtrack, which features 10 EPs comprised of new music from some of the genre's defining producers. DJ Premier handled the first volume, which was released in July 2022, while Swizz Beatz grabbed the reins from Preemo on volume 2, and that dropped in April 2023. Mustard is rumored to be handling the third volume.