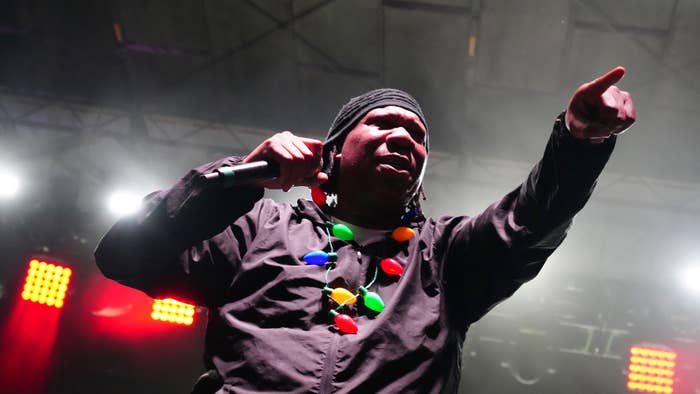 KRS-One is moving to the birthplace of hip-hop to celebrate the genre's 50th anniversary this year.
According to a press release, the legendary hip-hop pioneer is launching Birthplaceofhiphop.nyc, a new initiative where the Boogie Down Productions member will lead a series of community-based programs where the genre was created at 1520 Sedgwick Avenue in The Bronx, New York. This was the same building Kool Herc and his sister Cindy Campbell hosted the Back To School Jam on Aug. 11, 1973.
The programs include classes and pop-up exhibits celebrating hip-hop history and examining its current expressions. One of the classes will be a Masterclass in Hip-Hop.
On Tuesday (April 25), KRS-One will meet with community leaders, tenants, and the building's owners to officially launch what is to come on hip-hop's birthday on Aug. 11 and onward. "The 50th anniversary of hip-hop is a global movement that speaks to the grit, voice, and power of how it came to be in the first place – we used our voices when they tried to silence us," KRS said in a statement. "We used our creativity when they tried to stifle us. We created the culture because we wanted to stand out and stand up for our artistry. Hip-hop is the people's movement. I am excited to showcase this to the world in the space where it all began at 1520 Sedgwick in the Community Center. It feels right to be here, where it all began."
In an interview with AllHipHop, KRS-One also called for hip-hop to be capitalized. "At this press conference, I will also call upon all publications—magazines, dictionaries, publishing houses, newspapers, et cetera—in addition to government officials and their agencies, to begin capitalizing Hip-Hop, as it is the name of our 'culture.' It is a proper noun," he said. "Finally, I will also announce 'Hip-Hop Appreciation Week,' which occurs every third week in May. This year, Hip-Hop Appreciation Week occurs May 16-22. This too, has a series of planned events to be announced at our April 25 press conference."
KRS-One will also be hosting a logo competition to celebrate the 50th anniversary of hip-hop. The winning logo will recognize the elements of hip-hop and celebrate the anniversary while also inspiring future generations to continue to grow and expand hip-hop's message. "I'm especially excited about this global logo contest, we're calling all creatives, designers, graffiti artists to show us their best representation of what hip-hop is," KRS-One added. "As hip-hop marks this historic milestone, we look to this generation of hip-hop creatives, designers and enthusiasts to create the official logo of hip-hop's 50th anniversary."
The contest launches on April 28 and will stay open until May 31. The logo contest will also be judged by a panel of illustrious hip-hop legends and icons that will be announced on April 25.