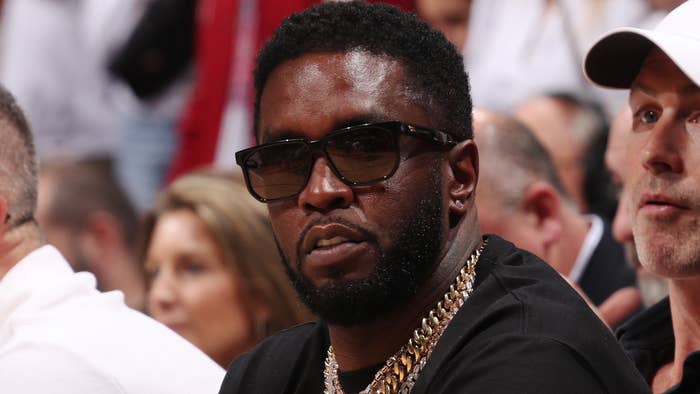 UPDATED 6/27, 5:30 p.m. ET: Diageo, the liquor company Diddy is suing for alleged racism and neglecting his DeLeon Tequila, announced it has officially severed ties with the Bad Boys Records founder.
According to Variety, a court filing made on Tuesday has Diageo calling for the dismissal of Diddy's lawsuit and revealing it won't work with him moving forward.
"We are saddened that Mr. Combs has chosen to recast a business dispute as anything other than that and chosen to damage a productive and valued partnership," Diageo reps said in a statement. "Mr. Combs' bad-faith actions have clearly breached his contracts and left us no choice but to move to dismiss his baseless complaint and end our business relationship. Mr. Combs has repeatedly undermined our partnerships and threatened to publicly defame Diageo if we did not meet his unreasonable financial demands."
The statement continued, "Diageo believes strongly in the CIRÔC and DeLeón brands and remains committed to their success, which is why we tried for years to salvage the broken relationship with Mr. Combs. We funded the purchase of DeLeón for the joint venture and proceeded to invest more than $100 million to grow the brand. Despite having made nearly a billion dollars over the course of our 15-year relationship, Mr. Combs contributed a total of $1,000 and refused to honor his commitments."
In a statement to Complex, Diddy's attorney John C. Hueston said, "Diageo attempting to end its deals with Mr. Combs is like firing a whistleblower who calls out racism. It's a cynical and transparent attempt to distract from multiple allegations of discrimination. Over the years, he has repeatedly raised concerns as senior executives uttered racially insensitive comments and made biased decisions based on that point of view. Diageo even acknowledged the problem by agreeing in his contract to treat DeLeon the same way it treated their other tequila brands. He brought the lawsuit to force them to live up to that contract, and instead they respond by trying to get rid of him. This lawsuit and Mr. Combs are not going away."
See original story below.
Diddy is suing Diageo, the U.K.-based liquor company, for allegedly neglecting his DeLeon Tequila brand, which he says is rooted in racism, according to a new report from TMZ.
After the mogul's Combs Wine and Spirits and Diageo successfully launched Ciroc, they teamed up again for DeLeon Tequila. But somewhere down the line, Diddy said the company turned its back on him.
The Bad Boy Records founder's lawsuit alleges that Diageo refused to handle marketing and investments for DeLeon properly while using its resources on other tequila brands such as Casamigos and Don Julio.
The 53-year-old attributed the neglect to racism and stated that things have gotten to a point where the business has been stifled. According to his lawsuit, DeLeon is consistently out of stock at stores across the country, including major markets such as California and New York, and was told by an executive that he could get support if he was Martha Stewart.
"Diageo has typecasted Ciroc and DeLeon, apparently deciding they are 'Black brands' that should be targeted only to 'urban' consumers," read the lawsuit.
Diddy has been handling things on his own with DeLeon Tequila, but he wants Diageo to pay for the neglect and turn things around so that his brand gets the same treatment as the others. He's also seeking billions in damages from Diageo in a different lawsuit.
A Diageo spokesperson shared the following statement with Complex: "This is a business dispute, and we are saddened that Mr. Combs has chosen to recast this matter as anything other than that. Our steadfast commitment to diversity within our company and the communities we serve is something we take very seriously. We categorically deny the allegations that have been made and will vigorously defend ourselves in the appropriate forum. For more than 15 years, we've had a productive and mutually beneficial relationship with Mr. Combs on various business ventures, making significant investments that have resulted in financial success for all involved. We are disappointed our efforts to resolve this business dispute amicably have been ignored, and that Mr. Combs has chosen to damage a productive and valued partnership. While we respect Mr. Combs as an artist and entrepreneur, his allegations lack merit, and we are confident the facts will show that he has been treated fairly."