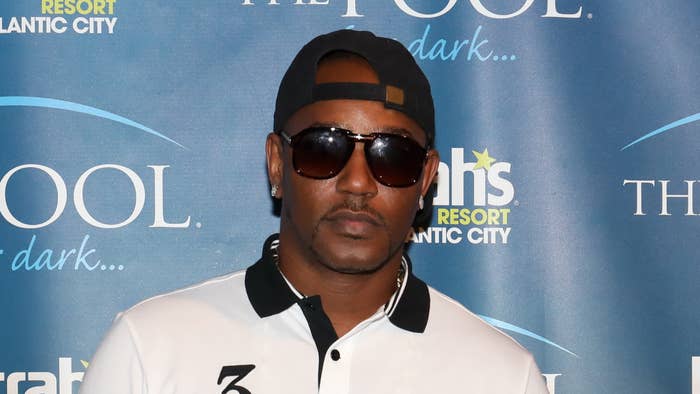 Cam'ron had his dream come true when Mase surprised him with a gift, which was a massage from former NBA player Joe Smith's wife, Kisha Chavis.
On the latest episode of It Is What It Is, Murda Mase explained that Killa has said he doesn't do anything for him, so he decided to change that to close out the show. The gift he got his Harlem brethren was a massage from Chavis, which Cam had mentioned he wanted on a previous episode.
In the clip, Cam looked surprised as a massage table was set up behind him, and Chavis walked onto the set. The Dipset leader couldn't help but smile and asked if he was really about to get a body rub.
"I can do my interview while this goes on," Cam asked before pointing at Mase and saying, "That's my mans right there!" for getting him such a great gift. Cam then took his shirt off and laid on the table for Chavis to go to work on his back.
Chavis was doing such a great job that Cam shouted her out during the massage while Mase asked if she was really a masseuse which she said she wasn't.
"I'm not trained, I'm just an empath, so right now, I know Cam has some stuff in his shoulders going on like I can hear it," she said. "I can hear the muscles and the gases in the muscles."
Mase cut in to say, "He got gas?" and that Cam had "gas bubbles," which caused people in the studio to laugh. Cam paid the joke no mind as all he could say with his face in the towel was, "She know what she doing."
The "Feel So Good" rapper thought another masseuse would give the massage and asked Chavis if she would get in trouble with her husband, Joe Smith, given the whole drama between them after he found out she had an OnlyFans page. According to Chavis, Cam was only going to get the services of "THE Body Rub Babe."
"You sure? We not here to get in trouble," Mase said before Chavis reiterated she was already in enough trouble, so she couldn't get into anymore even if she tried. The massage got to a point where neither Mase nor fellow co-host Treasure "Stat Baby" Wilson could get a flow of questions ready, which had Cam "disappointed" in his team.
The topic then switched to a number of things, such as Chavis revealing her husband doesn't get the same massages he once did, her OnlyFans blew up since she went viral after a video of Smith confronting her about the page, and wanting to be happy.
During an interview with VladTV earlier in the week, Smith revealed he isn't happy with all the flirting that Cam has been on with his wife. He also said he's been dealing with other people on social media talking about his wife.
"It bothers me a lot," he said. "I did not just see that but the messages I got from people who actually went to her OnlyFans page. They sent it on Instagram [and] Facebook, talking about how my wife looks and what kind of pictures my wife got."