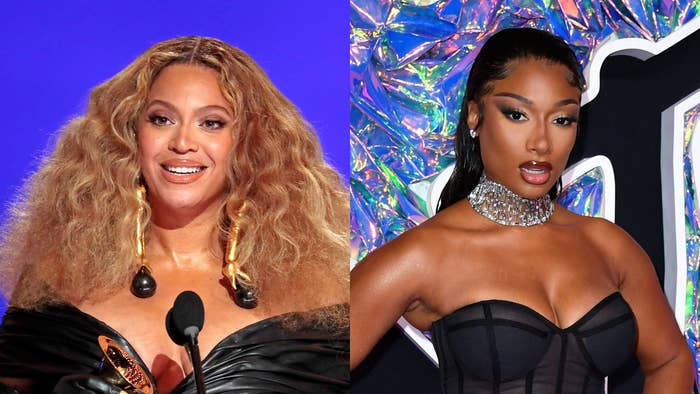 Beyoncé had Megan Thee Stallion join her on stage during the Renaissance tour stop in their hometown, Houston, Texas, turning NRG Stadium upside down with the first-ever collaborative performance of their hit single "Savage."
Beyoncé was already when Megan made her way in front of thousands of screaming fans as the opening beat rang throughout the stadium.
"I'm that bitch. Been that bitch, still that bitch. Will forever be that bitch" Megan said. "What's up, Houston?"
Megan Thee Stallion released "Savage" in April 2020 as the third single off her Suga EP. She received a major boost from Bey, who hopped on the official remix and propelled the track to No. 1 on the Billboard Hot 100 chart.
The remix also received two awards at the 63rd Annual Grammy Awards for Best Rap Performance and Best Rap Song. If that weren't enough, it was also nominated for Record of the Year.
Megan has also seen collaborative success with another one of her peers in Cardi B. In a new interview with Complex's Jessica McKinney, Megan revealed that she and Cardi are "building a little EP already," adding that the two hip-hop queens have recorded enough music that "we need to go on tour together."
When asked if the pair have thought about releasing a joint project, Megan replied, "I literally think that's the route that we're going. So I've done two songs for her. And now I feel like I'm in a space where I know exactly what songs I want her to do for me. So we're really building a little EP already."
She continued, "We're gonna have enough music that we need to go on tour together. Me and [Cardi] going out together will be so amazing. We are already so cool. And I feel like we got similar fans. So if she wanted to do a little EP, I would definitely be so down to do that, but we are making enough music to already have that."