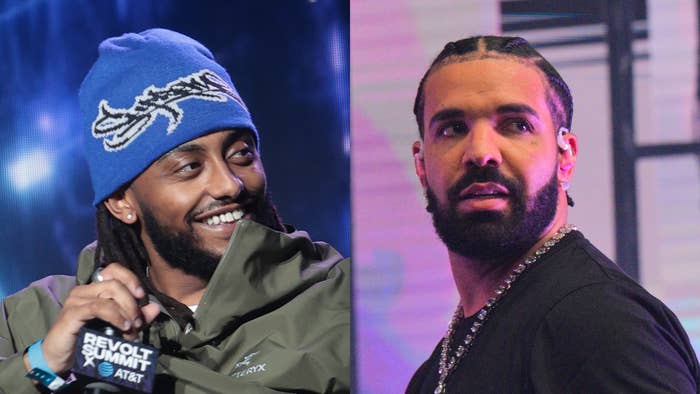 Aminé wants to see the Def Jam fighting game series make a comeback, and he thinks Drake would be the perfect end-game boss.
During his latest interview with Complex, the 29-year-old speculated about the outfit his character would wear, then made the Drake pitch.
"The fit? That's a tough decision to make. Oh my god, I'm not wearing nobody's shit but mine," Aminé told Mike DeStefano. "I'll have on a big banana hoodie, some chunky pants, and then this sneaker right here, and I'm just kicking n***as in the face with it."
He continued, "That's fire. Blood on my 'Mooz' 610s. That's pretty cool [laughs]. That game is so fire. I always say that the guy that you have to fight at the very end needs to be Drake, and it needs to be like the OVO Slayer or something. That would be funny as hell."
Def Jam Vendetta was released in April 2003 as a collaboration between the iconic hip-hop label and EA Games. In the following year, Def Jam Fight for NY dropped and was an instant hit with fans, so much so that people have petitioned for a new entry in the beloved series. Def Jam Icon came out in in 2007 but didn't fare as well as its predecessors.
In August 2020, Def Jam Recordings hinted at a new entry with a tweet acknowledging the public wanted a new game. It claimed if its page hit the 1 million follower mark, a special announcement would go out. However, the label didn't have such an announcement ready.
In 2021, the former president of Def Jam Recordings, Kevin Liles, took to his Twitter and Instagram pages and flirted with the idea of a new Def Jam fighting game.
"#itsinthename Thinking I should bring back the series," Liles said. "How many of y'all would like to see this happen #DefJamEnterprises let me know."