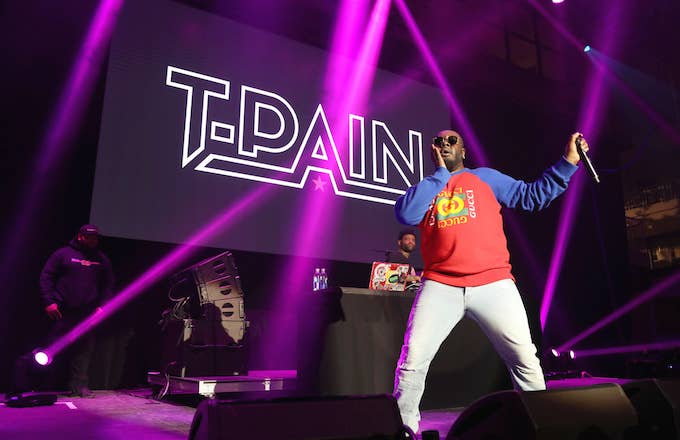 T-Pain, the guy whose lyrics you've been singing wrong all these years, just founded his own school, 'Wiscansin University.'
No, this isn't an early April Fool's joke, the Auto-Tune pioneer actually announced this new venture via Twitter today, with a promo video and a link to the school's website attached. Naturally, the video's scored to Pain's "Can't Believe It" single — which pretty much sums up our sentiments, exactly. Frankly, we're still not sure if this is for real.
According to Vibe, the website Pain links to looks official enough for this to be considered legit. Wiscansin U seems to be founded on a genuine platform of preparing those in need of skills and education with the tools they'll need to become successful adults. While that might sound a little farfetched, consider the following.
A lot of the youth that grows up hustling, stripping, and idolizing artists like T-Pain, is utterly unenthused at the prospect of more school in their lives. Wiscansin U seems to recognize that, offering courses that basically sneak the medicine into the ice cream, like "Accounting for Strippers," "Mixology," "Cooking with Teddy," "Gaming Galore," and "Introduction to Auto-Tune."
A lot of onlookers might feel this is utterly disrespectful to the pristine sophistication of a higher education — but shouldn't strippers learn how to manage their money? Shouldn't kids learn how to produce music using Auto-Tune, who'd otherwise never go to college? Doesn't this seem like a fluid way to lure kids into an education they'd otherwise never receive? I think T-Pain has the right idea here, with his position and resources allowing him to establish something that gives back to those who could use the extra help.
If you're still in disbelief, it's completely understandable. The website does include a "shop" section, and the message from "Tallahassee R. Pain," complete with a photoshopped photo, does make it seem like Pain is trolling us. "I believe Wiscansin is truly an inspiring place, and I want to ensure that our programs continue to be poised for growth for the many years to come," Tallahassee R. Pain's statement reads. "I look forward to the many adventures and achievements we will embark on together."
If this is legit, though, it seems like Wiscansin U really could provide adventures and nurture achievements — if strippers can learn to save some money for their future, and others can learn how to make music, and how to properly cook, why not give this a chance? Unfortunately, I'm pretty sure I just got got. Well done, Pain. Well done.