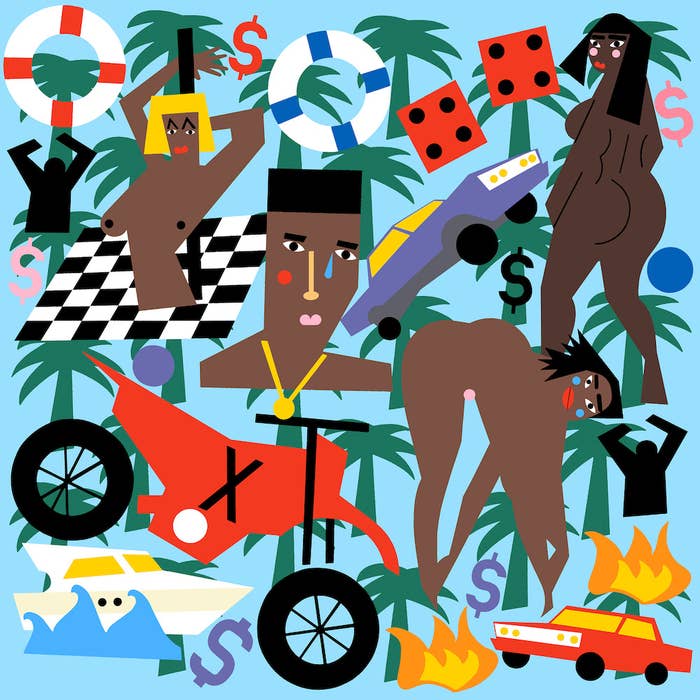 After months of anticipation, Meek Mill has finally unveiled his fifth studio album Expensive Pain.
Meek revealed the project's tracklist just a day before the album arrived. It features appearances from Kehlani, ASAP Ferg, Moneybagg Yo, Giggs, Young Thug, Vory, Brent Faiyaz, and others.
"I think this is probably one of my favorite albums where I express myself," Meek said of Expensive Pain while speaking to Zane Lowe on Apple Music 1. "I actually said expensive pain on a song with Uzi when we was in a booth rapping. I said, 'You ain't rich, your stash can't pay my drug bill.' Basically we smoke a lot of weed and stuff like that, and I was playing it for Brent Faiyaz one day in the studio, he heard me say that, he was like, 'That bar hot.' He was like, 'That's a fire word, expensive pain.' He was like, 'That should be an album title.' And I start thinking about it and then I stuck with it."
Expensive Pain comes after the Philadelphia rapper underwent one of the most detailed rollouts of his career, using cities across the country to showcase his Expensive Pain artwork before the album's release. The cover art, which was painted by the artist Nina Chanel Abney, was plastered across boats in Miami, billboards in Times Square, and even on sides of trains in Atlanta. 
Meek also previously posted a clip on Instagram detailing how the artwork came together. 
Expensive Pain is Meek Mill's first full-length release since 2018's Championships, which dominated the Billboard 200 and was nominated for a Grammy for Best Rap Album. Expensive Pain also includes Meek's recent singles "Sharing Locations" featuring both Lil Durk and Lil Baby and "Blue Notes 2" with Lil Uzi Vert. Both singles were accompanied by lively music videos that added to the track's intense energies. It's worth noting that "Blue Notes 2" is also the sequel to Meek's 2016 track "Blue Notes" which was featured on his mixtape DC4.
The album's release also comes on the heels of Meek being honored with the Nelson Mandela Changemaker Award by PTTOW! (Plan to Take on the World). Meek was honored at the event for his criminal justice reform work. 
In addition to dropping the album, Meek shared the music videos for "On My Soul" and "Intro (Hate On Me)."
Listen to Meek Mill's new album Expensive Pain below.