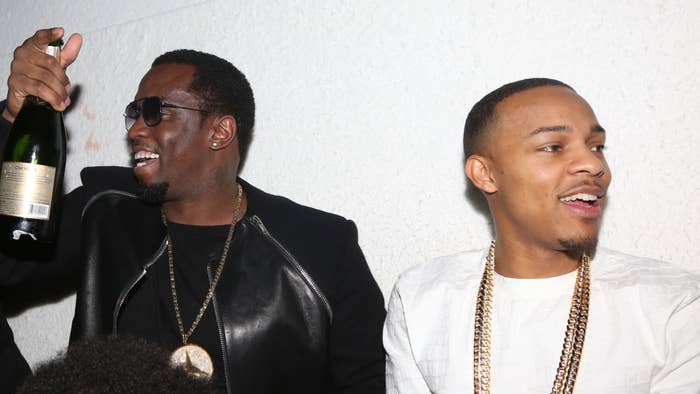 Bow Wow has shared his thoughts on Diddy's alleged romance with his ex Joie Chavis, expressing his disappointment at seeing the pair together.
Bow Wow made the comments in a lengthy interview with The Baller Alert, and said the pair's alleged romance was discussed with the Like Mike star after pictures leaked of Diddy and Chavis kissing on a yacht.
"She knew better," Bow Wow said around the 50-minute mark of the video below. "Me and her, we had our discussion about it, trust me."
While he was bothered by seeing Chavis boating with the producer, Bow Wow added that Diddy apparently enlisted her to appear in a music video with him, which made him feel a bit better about the situation.
"Me and dude, we definitely had our rep, but I'll keep that between us. We handled it the way we was supposed to handle it," Bow Wow added, saying, "There's a conduct and code men go by and everyone knows certain things are off limits. Wives and baby mamas is just some shit that, you know, you steer clear from."
The light criticism of Diddy comes shortly after Bow Wow praised the Bad Boy Records co-founder for giving him some of the best advice of his career.
The "Let Me Hold You" hitmaker spoke on Math Hoffa's My Expert Opinion last week and said Diddy came to him when he was getting clowned online during his attempt to transition from child star to respected artist.
Bow Wow (born Shad Moss) had just starred in the 2011 Tyler Perry film Madea's Big Happy Family at the time, when he started to notice memes about him were circulating online.
"I think once we started picking up on the internet with memes and different shit, you couldn't get away with certain shit, or people would just find things and make 'em funny," he said. "That's when it was like, 'Okay, a lot of this stuff is self-inflicted.'"
Bow Wow went on to say that as things began to escalate, he attended a pajama party at Diddy's alongside other celebrities like Snoop Dogg and Nelly, and the former pulled him aside.
"That n***a told me straight up: 'Come here, don't be doing no clown shit. The fuck wrong with you?'" Bow Wow recalled Diddy saying. "N***a, you know we don't associate with no clown shit. You Bow, n***a. You better understand your brand and get out here and go to work. C'mon, man. You doing it to yourself. Go to work. Be quiet, lay low and go to work and watch what's gonna happen."