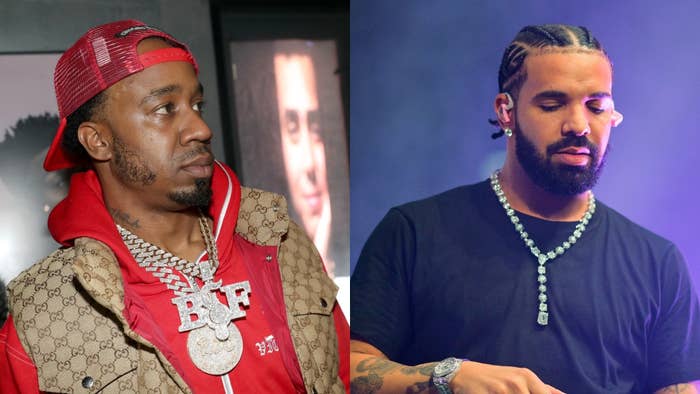 Benny The Butcher has expressed regret over his unreleased Drake collaboration and said he's disappointed that his "biggest record" never saw the light of day.
The highly anticipated collab was titled "Buffalo Freestyle," and the Griselda rapper had teased the link up for months before it prematurely leaked online in September 2021. Speaking to Joe Budden on his Amazon Amp show Conversation Lovers Only, Benny said he's still bothered to this day that the track never got an official release.
"I was pissed, I'm not gon' lie. It's a fucking Drake record," he said. "It was my biggest record...It's a record just sitting in my pocket but I understand the mechanics of the business."
He continued, "I don't know [what happened] neither. I can't speak for [Drake] and his team … I got schedules. I might do a feature for somebody and they be like, 'Benny, we ready to drop this Tuesday.' And I'm like, 'N***a you ain't dropping that Tuesday 'cause we holding off, I got this.' That's the biggest artist in the world so I understand his release schedule might be hectic or he might have people that be like, 'We can't drop that right now because we doing this.' I understand that. He's the name, but he represents a lot of people that he works with and his moves affect a lot of people, so I understand that part."
With that being said, Benny said he has no hard feelings toward Drizzy.
"No way did I take it like 'Damn he fucked me over.' I swear to God I didn't take it like that because this is Drake; the biggest artist in the world," Benny said. "Even for him to hit me up personally, that lets me know where he at."
"Buffalo Freestyle" featured some memorable bars from the 6 God, who rapped,"I'm iller than the illnesses that these people wish me/ Drake be joshing around but life wasn't Nickelodeon or Disney, is you kidding me?/ My résumé is thicker than Nicki, I'm busy, busy/ I remember doing half-time at Jackson, Mississippi/ Wasn't driving Cadillac then, but shit still found a way to escalate quickly/ Wanted people to miss me, changed shit after Nipsey."
There's still a chance a Benny and Drizzy collab could emerge, as the latter said during an interview with Bootleg Kev in 2021 that he and Drake have multiple songs together.