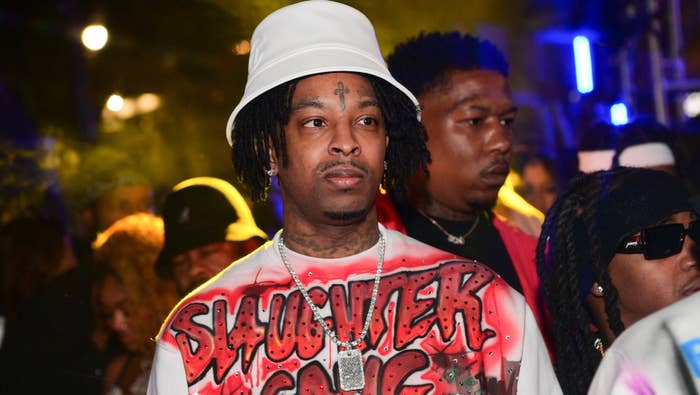 21 Savage spoke on Drake's contentious lyrics on their joint project Her Loss, and said he encouraged the 6 God to speak his mind.
Her Loss dropped on Friday, and while fans and critics alike had a lot to say about Drake's alleged subliminal disses towards Megan Thee Stallion, Kanye West, DRAM, and Serena Williams' husband, 21 Savage told DJ Akademiks he "gassed" up Drizzy while he was penning those controversial rhymes.
"You know I'm pointing it out, like when he send me the songs, I'm pointing out what I heard," 21 said. "I'm tellin' him like, 'Yeah n***a, talk that shit.' You know I'm gassing him. I'm behind him. Whatever he standing on, I'm standing on it too. Say what you feel, n***a."
Elsewhere in his talk with Ak, 21 Savage reflected back on his relationship with Takeoff, who was shot and killed in Houston, Texas last week.
"Takeoff the type of n***a like, if I see Takeoff arguing with a n***a, I know the other n***a wrong," the Slaughter Gang rapper said. "Like automatically. He a man, he ain't no bitch, he just not confrontational. He in his own world. He wanna do what he do."
He continued, "He not really in the way, in the mix for real. He just always in his own world. He really quiet for real unless he know you. He funny as hell though, but if he know you type shit. I ain't never seen that n***a mad, had an attitude. I ain't never seen him out of character. He always the exact same way every time I see him. He'll smile, dap you up. Mind his business bro."
Drake's lyrics made numerous headlines over the weekend, especially with Her Loss's ninth song "Circo Loco," where Drake appears to have insinuated that Megan Thee Stallion was lying about allegedly being shot in the foot by Tory Lanez. On the album's 12th song "Middle Of The Ocean," Drizzy then came for Serena Williams's husband Alexis Ohanian, and while on the Lil Yachty-produced track "BackOutsideBoyz" the 6 God seemed to make fun of DRAM for allegedly catching a beatdown from Drizzy's security in 2015.
Regardless, Her Loss is poised to do big numbers on the charts this week, and will likely debut at No. 1 on the Billboard 200.