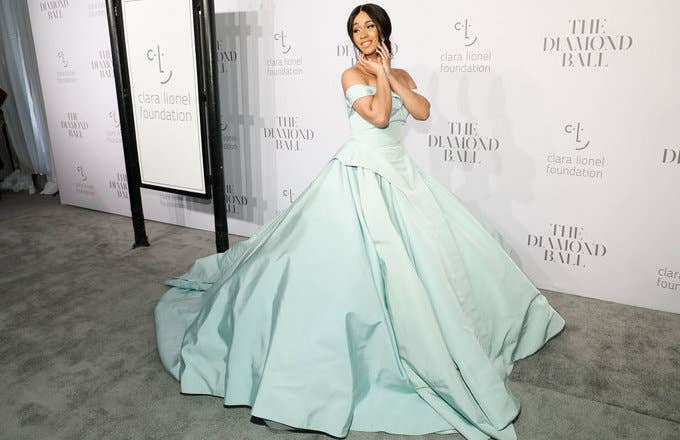 "I'm the hottest in the streets—know you prolly heard of me." 
From the moment the beat dropped on "Bodak Yellow" and Cardi B announced herself, it was bound to be a problem. But one of them good problems. After a summer of unrelenting dominance—which saw the Bronx rapper taking her song across the nation to perform in front of sold-out crowds—Cardi B is officially No. 1 on the Billboard Hot 100.
It's an incredible feat for more reasons than one: some thought it couldn't be done, especially after Taylor Swift's comeback single "Look What You Made Me Do" went straight to the top of the charts the week after it was released, bumping Cardi down a slot from No. 2 to No. 3, behind "Despacito." But "Bodak Yellow" leapfrogged both of them, and on Monday, the blessed day of our savior Belcalis Almanzar, the deed was done. 
Her accomplishment marks the first time since Lauryn Hill's "Doo Wop (That Thing)" in 1998—and the second time ever—that a woman rapper has nabbed the highly coveted position solo. Billboard breaks down just how it happened:
"Bodak" bullets at No. 2 on the Streaming Songs chart with 46.4 million U.S. streams, up 14 percent, in the week ending Sept. 21, according to Nielsen Music. It bounds 12-3 on Digital Song Sales, up 85 percent to 56,000 downloads sold in the week ending Sept. 21, marking the Hot 100's top gain in download sales (aided by a 69-cent discount price in the iTunes Store). The track also lifts 16-13 on Radio Songs, with 62 million all-format audience impressions, up 8 percent, in the week ending Sept. 24. ("Bodak" spends a fifth week at No. 1 on the Rap Airplay chart and a second week atop R&B/Hip-Hop Airplay; crowns the Rhythmic Songs airplay chart, with a 3-1 rise; and debuts on Pop Songs on at No. 37.)
In other words: Cardi B's fans came TF through. The rise of "Bodak Yellow" has been a slow build; when Cardi first dropped the song in June, it was viewed as more of a guilty pleasure than a legitimate banger. But as the weeks went on, and the song spread, it became crystal clear that the song was, and is, something to be taken seriously.
"Bodak Yellow" is an example of a self-fulfilling prophecy: Cardi decided to pursue her dreams full-force and ended up making money moves all the way to No. 1, a position that I will remind you was not attained by a single black person in 2013. To put things into perspective, just two years later, Cardi would step into the national spotlight as a cast member of Love & Hip-Hop: New York. Her ascension has been a Cinderella story since then, and her supporters are understandably hyped:
I'm happy for Cardi B for getting number #1 cause she came from nothing and made something of herself & kept her personality.
Cardi B went number 1 without a feature, no album out, and dethroned Taylor Swift.

Much respect to Cardi B. She really deserved this.
Cardi B's Bodak Yellow just went number 1 and now we bumping it TWO times more than we were before on TWO times more uppers 🚀
Even Nicki Minaj, whom rap fans are eager to pit against Cardi, took a moment to congratulate her fellow New Yorker on the huge accomplishment:
Congratulations to a fellow NEW YAWKA on a RECORD BREAKING achievement. Bardi, this is the only thing that matters!!! Enjoy it💕💞🎀

@iamcardib
Amongst the most proud of Cardi are people of color:
Cardi B going #1 feels like a win for all of us. We did that. I'm singing Bodak Yellow to every Black person I see.

pic.twitter.com/sW6LlUJG9J
Dominican girl from the Bronx that came from the gutta, was a stripper, now No.1 on Billboard with no features. So proud of Cardi B.✨❤️
Included in that group is Jessica, who goes by @hullojess on Twitter:
I'm excited for Cardi B's number one spot like she's my cousin or something 😂
I hopped in Jessica's DMs to see why she was so happy to see Cardi at No. 1. She said had been a fan of Cardi before "Bodak Yellow" became a thing. "I found Cardi B through her Instagram videos roughly a year ago and was struck by how outspoken and hilarious she is," Jessica said. "Once I delved into her background, I was impressed by her openness and authenticity. She does not apologize for who she is and what she did to get to where she is today."
As a black woman, Jessica said she appreciates Cardi's quickness to celebrate her Afro-Latina (Trinidadian and Dominican) heritage. "Her presence combats a tendency towards lack of representation for Afro-Latinx people in media," Jessica wrote. "Although I am not Afro-Latina, I can identify with Cardi B's efforts to demonstrate the different dimensions of what a black girl can be."
In Jessica's opinion, Cardi's win should be about more than just the music. "Even people who do not enjoy her music or her personality should realize her victory is remarkable," Jessica said. "It feels good to see a woman of color from a disadvantaged background work hard and excel at this level."
People of color who were particularly invested in Cardi's win rallied to push her over the top, using social media to encourage others to stream and buy the single:
BUY TWO COPIES OF BODAK YELLOW.

STREAM BODAK YELLOW ON REPEAT.

CONVINCE YOUR LOCAL BOOTLEGGERS TO GIVE OUT TAYLOR'S MUSIC FOR FREE.

https://t.co/OCGsDZW6NG
BODAK YELLOW IS ONLY 69 CENTS ON ITUNES RIGHT NOW GO BUY IT
DON'T FORGET TO STREAM AND BUY CARDI B'S BODAK YELLOW THROUGH OUT THIS WEEK LETS GET OUR GIRL TO NUMBER 1 ON BILLBOARD 100 NEXT WEEK
I normally wouldn't do this but can y'all please stream & buy Bodak Yellow!!! We gotta get that song to #1 next week. 🙌🏾😩
Bri, AKA @b_defalco, a loyal member of the Bardi Gang, was one of the many who did their part to get Cardi to No. 1. 
CARDI B IS NUMBER 1 I REPEAT CARDI IS NUMBER ONE ON THE BILLBOARD CHARTS I AM A PROUD MOTHER
"Seeing how hard she has worked for everything she has made me think, 'Well, if she can work hard to do the things she's done, I can work hard to help her get even further,'" Bri told me via DM.
When I asked what steps she took to get Cardi higher on the charts, Bri said she did, and does, a number of things. "I listen to 'Bodak Yellow' at least three times a day on Apple Music," she said. "I've bought it from iTunes, and I've put plenty of my friends on. For about a month straight, I would Snapchat myself in the car, singing a lot and getting hype and I would caption it 'daily Cardi snap' and send it to all my contacts."
Bri said this is a victory for her, as a woman of color. "I've been following Cardi on social media for a couple of years, before she was making hits and whatnot," she said. "So I just feel extremely proud of her, almost as if I know her personally. She makes it extremely easy to love her because of how humble and real she is. This is a victory for herself, for her family, and for women everywhere, especially women of color. So her doing this feels like we all won."