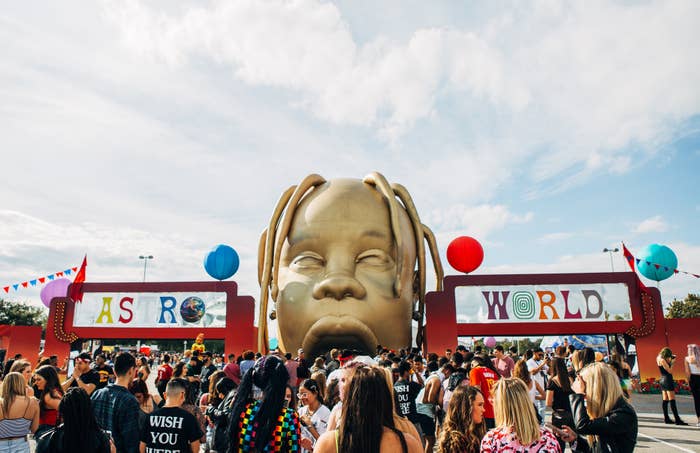 Never underestimate the power of a child's imagination. After seeing one of the biggest attractions in the state of Texas close its doors as a teenager, Travis Scott had a dream of bringing the magic of his childhood back to life.
When Travis was just 12 years old, Houston rap was on the come-up. The city's hip-hop scene exploded overnight, due in large part to Mike Jones' 2004 breakthrough hit "Still Tippin'" featuring Slim Thug and Paul Wall. Then, the following year, Houston staple Six Flags AstroWorld was shut down after operating for nearly four decades. "We want it back," Travis recently told GQ, explaining that his new album ASTROWORLD was partially inspired by the gaping hole the park's absence left behind in his life. "We want the building back. That's why I'm doing it. It took the fun out of the city."
On Saturday, November 17—a day after the 18th anniversary of H-town legend DJ Screw's passing—Travis Scott revived AstroWorld with a little help from some Houston legends.
Paul Wall, one of the most popular rappers to come out of Houston during Travis' adolescence, says the original AstroWorld was an impactful part of his upbringing. "AstroWorld was around when we were kids growing up," Wall says before taking the festival stage on Saturday. "Coming from the North side, it was like a thing in our neighborhood. We didn't go to the South side for any reason at all. Except we'd go to AstroWorld. We'd come in, we'd come out to AstroWorld, we rode deep. We'd have our friends with us. We'd come over here, holla at girls, meet girls from the South side. We'd get in fights with people from different neighborhoods. All of that."
Travis is the heart of the city right now—DJ Screw is the soul of the city—and he's keeping this town on the map. -Bun B
According to a festival official, approximately 40,000 people were in attendance Saturday for a lineup that boasted mainstream stars like Lil Wayne, Rae Sremmurd, Post Malone, and Young Thug, as well as newcomers like Gunna, Smokepurpp, Trippie Redd, and Sheck Wes. Bun B, who was molding Texas rap years before Travis was born as half of the legendary Port Arthur duo UGK, arrived early to document the experience firsthand. As Bun walked through the festival grounds, he passed a ferris wheel, circus performers, a carousel, a swing ride, a jam-packed merch stand that unofficially drew in at least $1 million, and a replica of the revered Screwed Up Records & Tapes shop, which was featured prominently in the "Sicko Mode" video.
In the area reserved for artists, there was also a basketball court, a fully functioning pop-up barbershop, a parking lot full of slabs (candy-painted customized cars that feature chrome rims and banging systems), and a lounge dedicated to famed local jeweler Johnny Dang, who made grills on site for artists like Smokepurpp. At one point, DJ Screw protégé Lil Flip and Johnny Dang played a casual game of ping pong.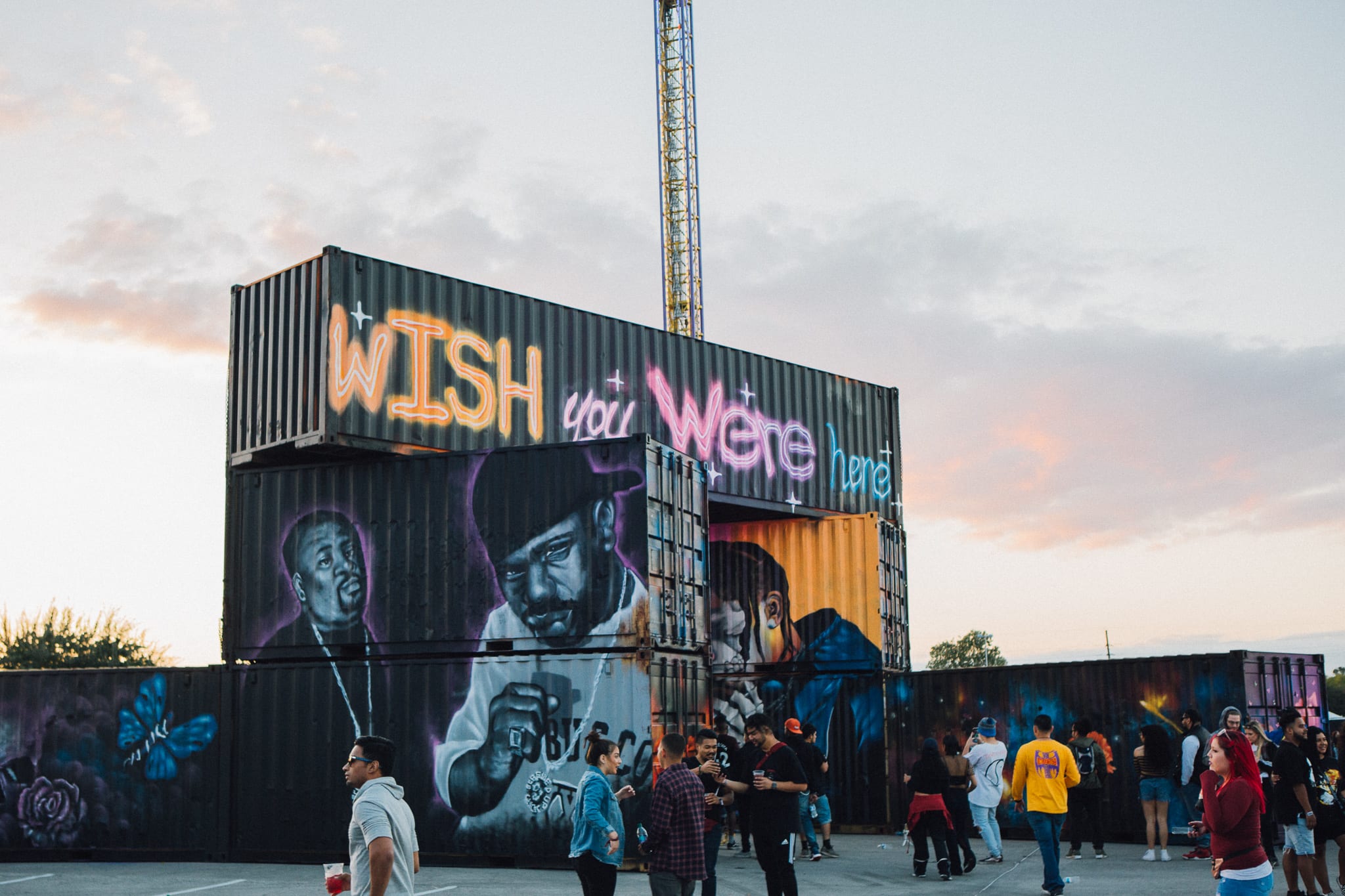 Backstage, Bun B sounded impressed with Travis' growth and current status as a musician. "Travis is the heart of the city right now—DJ Screw is the soul of the city—and he's keeping this town on the map," he said. "People from all over the country, all over the world, came here to be in Houston because out of all the shows on the ASTROWORLD tour, this is the one that's most special to him."
Aside from the Astros winning the World Series in 2017, the last time Houston was in the national spotlight was due to the catastrophic impact of Hurricane Harvey, which occurred less than three months before the Astros secured the title. Longtime hometown heroes Trae Tha Truth, Paul Wall, Slim Thug, Z-Ro, DJ Mr. Rogers, and Lil Keke banded together to fundraise and bring awareness to the city's needs. Every single one of them were included during the Houston All-Stars' set at the festival.
Bun B opened the set, rapping "Draped Up" and "Get Throwed." He was followed by Paul Wall and Slim Thug, who performed "Still Tippin," and other signature songs. When Lil Flip hit the stage a few slots later, he performed the two songs that were allotted to each artist, but at Travis' request, he came back onstage and performed "I Can Do That," a regional hit that snaked its way from Houston to my hometown, Seguin, a full two-and-a-half hours away.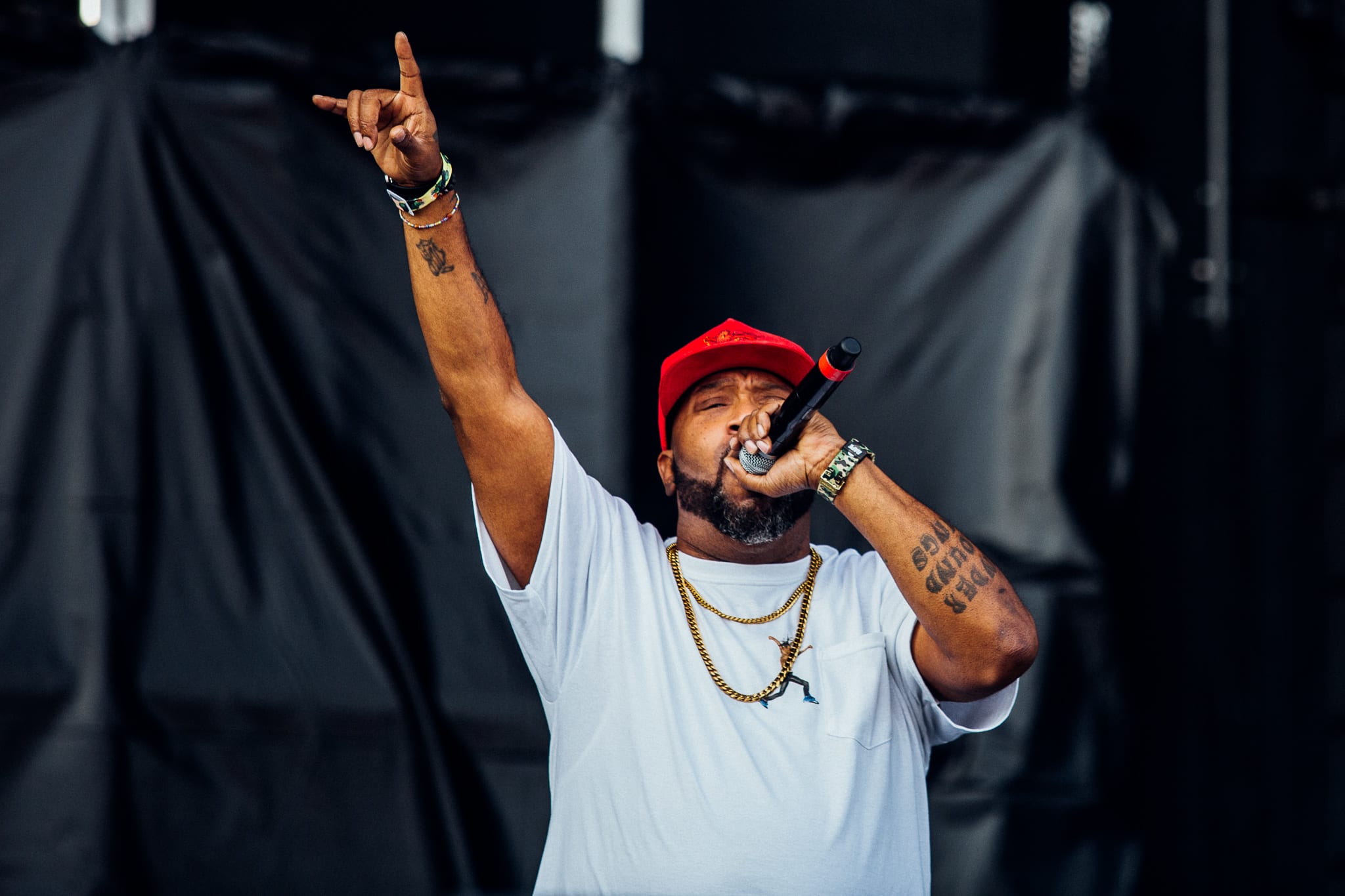 Another song that found its way to my family's small-town Texas household was Z-Ro's "Mo City Don," which acts as an unofficial anthem for the state. You can put the track on at damn near any party or social gathering across Texas and you'll hear at least one person recite it from front to back. Both Z-Ro and his former Screwed Up Click mate Lil Keke performed at Astroworld this weekend.
Lil Keke's "Peepin' In My Window" is a nearly 11-minute freestyle helmed by Screw, over Goodie Mob's "Cell Therapy." The freestyle, which also featured Big Pokey, served as direct inspiration for ASTROWORLD's "5% Tint." (Paul Wall says he created his own mix of the freestyle and "5% Tint": "I made it just for me to ride around in my car with!") The title "5% Tint" comes from Slim Thug's opening verse on "Still Tippin'": "Blowin' on that indo/GameCube Nintendo/Five percent tint so you can't see up in my window."
When I spoke with Slim Thug at the festival, he said he was honored by Travis' homage. "I loved it, man," he said. "I love how he's promoting Houston culture. In every area—through the music, and right now, with the simple shit, like having the slabs out here, candy cars, Frenchy's [restaurant], and all that shit. He's doing it in his own way, you know what I'm saying? Taking it to new levels."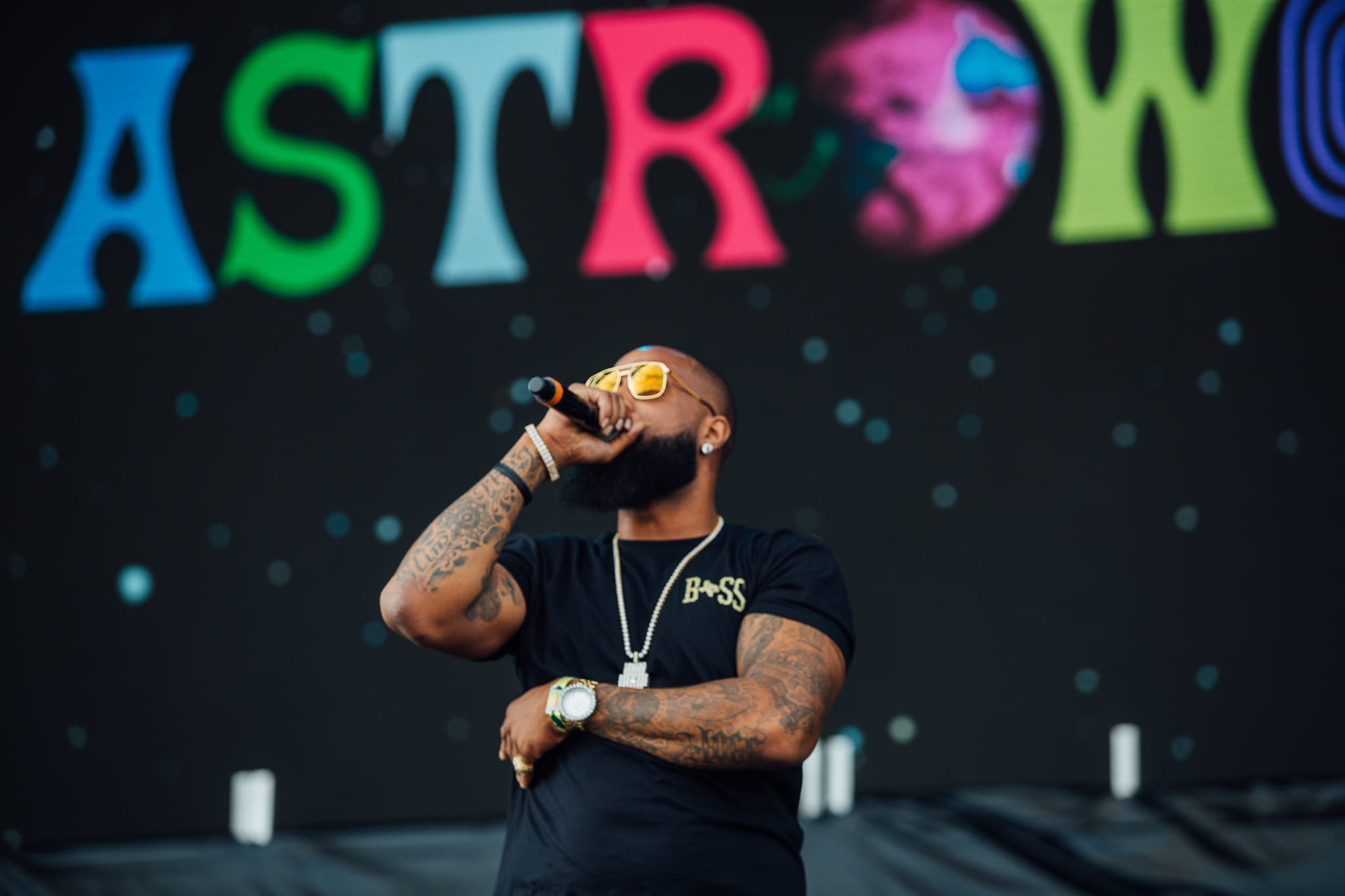 Lil Keke acknowledged his influence on "5% Tint" during the Houston All-Stars' set by performing the first few minutes of "Peepin' In My Window." He also performed "Southside," an underground hit, not just in Texas, but across the South. A dance was introduced with the song's release, which my sister Geordai and I busted out as soon as the track began Saturday. Although everyone seemed to be having a great time, this was the moment I realized that not everybody—out-of-staters, in particular—understood the full importance and weight of the event.
I met 23-year-old teacher Oscar Avendano at the Houston set, and immediately knew he was from the city. His ability to recite the rhymes as well as my sister gave him away. Like me, he also built a relationship with Houston rap through a sibling. "Growing up, my older brother taught me what Screw was, Pimp C, and everyone else, UGK—I really held that dear to my heart," he said.
Avendano commended Travis for keeping everything local and bringing so many different kinds of people together. "Everything's home-grown," Avendano said. "He's bringing everything for the new kids, the old heads, and even the people right in the middle, like me."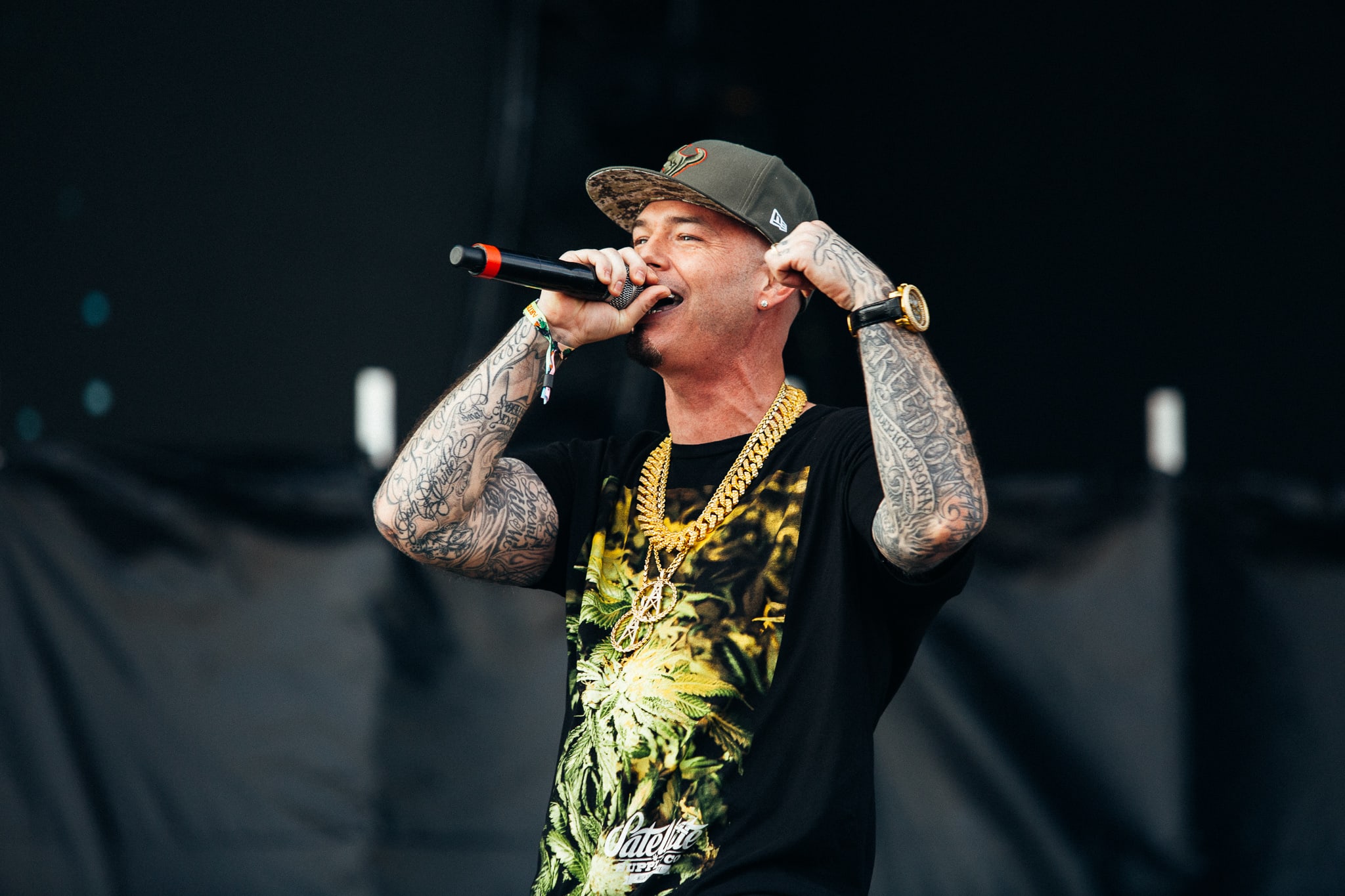 Paul Wall, who's well on his way to legendary Texas status, also tipped his hat to Travis for reaching new heights. "There's never been somebody of Travis' caliber to come out of Houston," he said. "There have been successful mainstream music acts that represented Houston, but not as successful and for as long as Travis, by any means. By statistical measures, by collaborative measures, by anything you can think of. There's no one who's done it on a level as big as him."
There's never been somebody of Travis' caliber to come out of Houston. -Paul Wall
There is one Houston artist who is bigger than Travis, and just about anybody else in the world: Beyoncé. Sama'an Ashrawi—writer, filmmaker, podcast host, and co-producer of the tracks "Gone Away" and "Blood on the Dash" on Bun B's latest album Return of the Trill—is from Cypress, Texas, which is just outside of Houston. When I spoke with him the day after the festival, he said he was surprised Beyoncé hadn't brought something like Astroworld Festival to the city sooner.
"The first thing that I really thought of was, 'Wow, Beyoncé could've done this 10 years ago, but she didn't,'" Ashrawi said. "And I wonder if her people are kicking themselves for not thinking of doing something like this. It's also insane to think about how Travis is truly the first Houston artist since Beyoncé to have this amount of clout. As big as all of our Houston rappers were 10 or 15 years ago, I don't think any of them can touch this level of fame."
In addition to putting on for the Houston OGs, Travis also reserved time in the festival's schedule to shine a spotlight on new artists like Maxo Kream and Dice Soho, who performed during the Houston All Stars set. Don Toliver also performed alongside Travis for ASTROWORLD standout "Can't Say."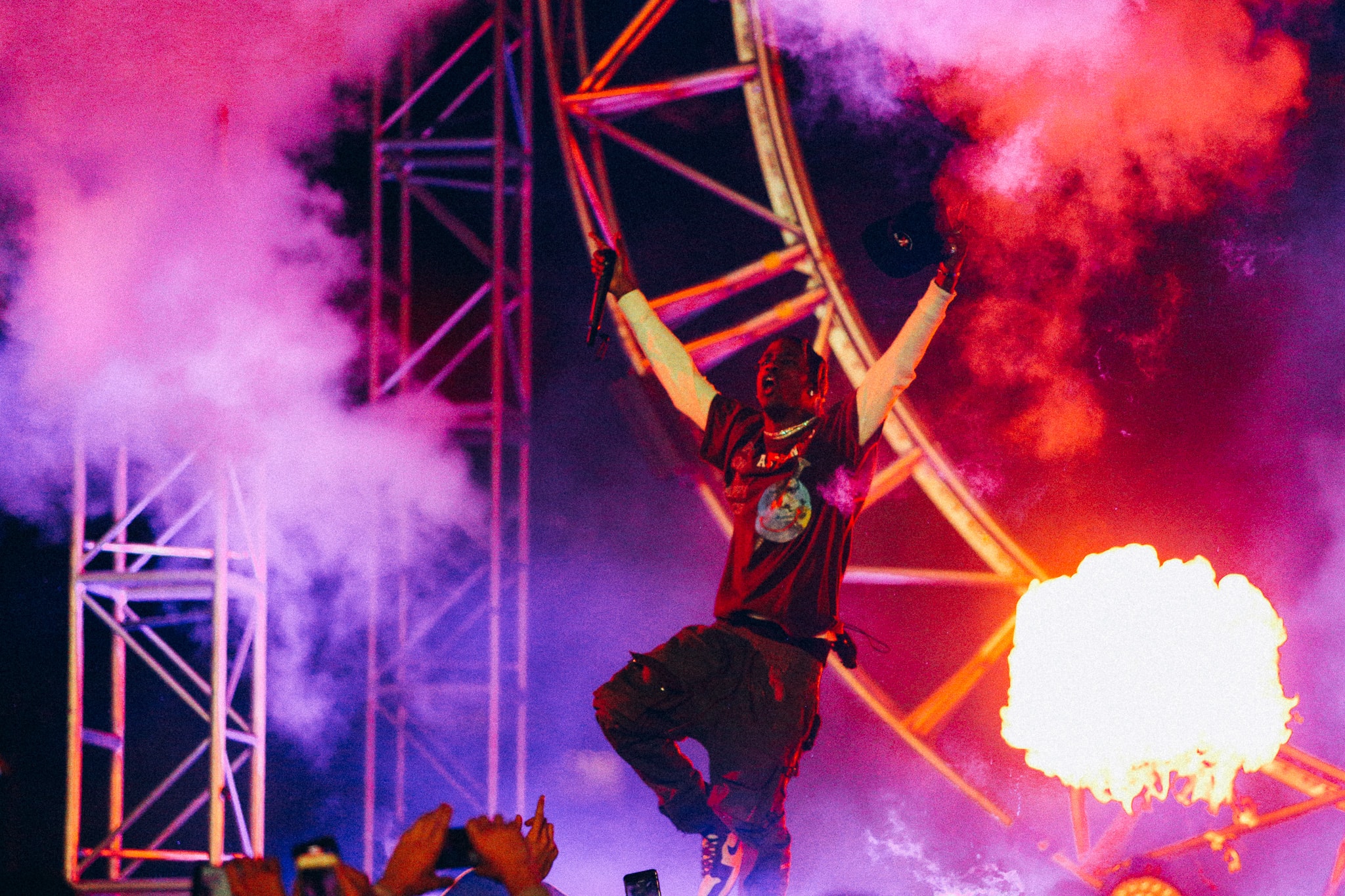 Travis' own set felt like a mix between astral projection and the Drake-in-the-moshpit meme (which, not surprisingly, was birthed from the Six God's experience at a Travis Scott show in 2017). Scott surprised everyone by opening his set from behind the crowd, with "Stargazing." He then strapped into a circular ride, akin to a hamster wheel, which rotated him over the crowd as he performed "Carousel." In addition to album cuts, like "Mamacita" from Days Before Rodeo and "Antidote" from Rodeo, Travis also performed features like "ZEZE," during which he did the infamous, instantly meme-able Kodak Blackdance that got the world hyped for the song in the first place.
I think this should shut everybody up about what Travis is to the city. -Bun B
During most of his set (but especially during Birds in the Trap Sing McKnight cut "through the late night") my insuppressible excitement made me feel like I was half my age. I couldn't help it, this was a special moment for Travis Scott fans (and anyone from Texas in general). Travis was focused on the fan experience throughout his set, walking down from the stage to the front barricades, where crying fans profusely thanked him. He ended his set with song-of-the-year candidate "Sicko Mode," and introduced the track by mixing it into a loop of the 2015 Sauce Twinz single "2 Legited 2 Quited." It was a subtle final touch that confirmed he had put the entire festival together for every generation of Houston.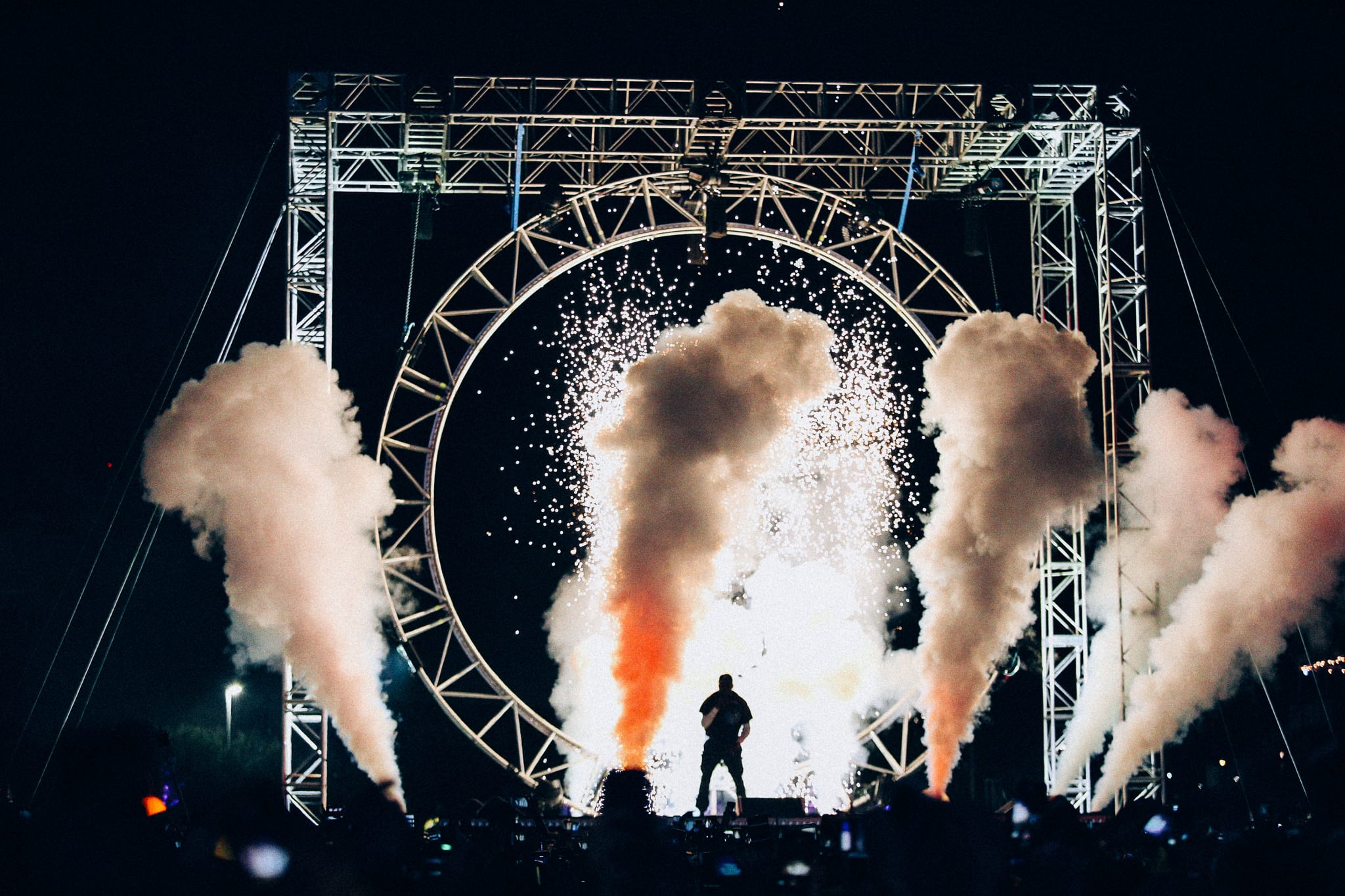 Anyone who's ever heard a song by a Houston OG will tell you that Travis doesn't sound anything like his predecessors. "When I listened to his music, I would hear the shout-outs every now and then, talking about Mo City or sampling someone," Sama'an Ashrawi said. "But I didn't get the sense that he was really repping for Houston. And part of that can be a little bit problematic because it's almost like Houston rap fascism—that you have to act a certain way to really represent Houston and to really be a rapper from Houston. But at the end of the day, especially after having gone to this festival, I don't think anyone can deny Travis' pride."
In a separate conversation, Bun B agreed with his collaborator Ashrawi. "It was amazing to me that you talk to him and see his personality and his character: He's Houston all day," he said. "But to see people like, 'Well, he needs to have more of this and more of that in his music...' I think this should shut everybody up about what Travis is to the city."
Travis Scott grabbed Houston by the reins this weekend. In 2018, he's the city's glue.