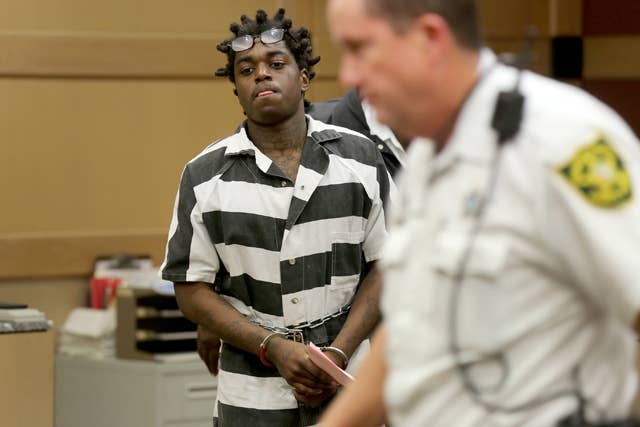 Some people just can't get out of their own way; Kodak Black is one of those people. The Florida rapper, who signed to Atlantic Records in October, 2015, has received co-signs from Drake, recorded a great feature for French Montana, and scored a Top 10 hit single of his own. During his rise in the rap game, the 19-year-old rapper from Pompano Beach has also seen his share of drama due to his life of crime.
In that same time, Kodak's caught a number of serious charges that have kept him off tour and, more importantly, kept him from truly becoming the superstar that vets like Master P say he could be. Just this week, Kodak was found guilty of violating his parole after getting hit with five years probation in May, 2016. For those of you who aren't familiar with his numerous court cases, here's a breakdown.
Oct. 14, 2015 - Pompano Beach incident
October, 2015 should've been a victorious month for Kodak; not only did Drake post an Instagram of him dancing to Kodak's song "Skrt," he also signed to Atlantic Records. But two weeks before Drake's IG, Kodak was arrested on charges of robbery, battery, false imprisonment of a child, and marijuana possession. He was accused of forcing several people into a car after he thought someone broke into his house. He was later released on bond.
Dec. 25, 2015 - St. Lucie County traffic stop
On Christmas Day, 2015, Kodak was pulled over and charged with two misdemeanor cannabis charges: one for having 20 grams or less of weed on him, the other for drug paraphernalia.
Feb. 6, 2016 - South Carolina incident
Kodak Black reportedly played the Treasure City nightclub in South Carolina on Feb. 6, 2016 when, as Major Michael M. Nunn said, Kodak was "alleged to have engaged in the sexual battery of the victim at a hotel located at 2120 West Lucas Street, Florence, SC." The victim says she accompanied Kodak to his hotel room, where he is said to have tore off her clothes, raped, and bit the victim at a Comfort Inn and Suites.
Apr. 21, 2016 - Hallandale Beach arrest
Kodak was back in trouble of April of that year, getting arrested in Hallandale Beach, Florida on charges of possession of a weapon by a convicted felon, possession of marijuana, and fleeing police. Detectives involved in the case said at the time that Kodak tried to evade the cops when they attempted to pull him over, and that his car was a part of some drug deal.
May 18, 2016 - Miami arrest
Kodak was picked up again about a month later for charges of armed robbery and false imprisonment. He was put into police custody.
Aug. 17, 2016 - Outstanding warrants keep Kodak in jail
According to the Sun Sentinel, Kodak was set to accept a plea deal that would allow him to skip jail, but two outstanding warrants came back to haunt him. The first was a warrant from Florence, South Carolina, accusing Kodak of criminal sexual conduct; the second was for the weed charges from December 2015. Kodak reportedly missed his July 2016 court date for the weed infractions because he was in jail.
During this hearing, Atlantic Records executive vice president Michael Kushner was in attendance, and said that Kodak had "a bright future as a recording artist." He ended up getting one year of house arrest and five years of probation, which was said to have satisfied Kodak, considering that the charges he was on trial for carried a maximum sentence of 55 years.
Sept. 19, 2016 - Kodak pleads no contest
Kodak was back in court in September to plead no contest to the aforementioned misdemeanor pot charges. He was sentenced to four months in jail, as well as having his driver's license suspended for a year alongside having to pay $298 in court costs.
Dec. 1, 2016 - Kodak free on $100K bond
After serving his time in Florida, Kodak was sent to South Carolina to handle his sexual assault charges. He was able to walk free after paying a $100,000 bond, posting on Twitter that he was "happy to be finally going back home to my family and friends."
Feb. 28, 2017 - Back in jail
While Kodak was out on probation, he didn't seem to understand that he was supposed to "remain confined to his approved residence except for one half hour before and after approved employment, public service work, or an other special activities approved by the officer." As you may know, Kodak was everywhere, from walking down to the ring with Adrien Broner in Cincinnati to turning up at a club in Miami.
The probation violation stemmed from his May 2016 false imprisonment charges, and it landed Kodak right back in jail in Broward County, Florida. Kodak's been locked down ever since without bond. Reps from Atlantic told us at the time that Kodak's "lawyers are working diligently on this matter." The Black and Better Tour he was on was postponed.
Apr. 5, 2017 - Alleged strip club assault
Kodak was back in legal trouble after a woman alleged that Kodak punched and kicked her at Club Climaxx, a strip club in Miami-Dade that she worked at. While no formal charges were filed against Kodak, a police incident report was filed and presented to a court in a hearing. These assault allegations were added to the list of probation violations that the Florida Department of Corrections were already drawing up on Kodak.
As the report says, the victim was approached at around 3 a.m. on Feb. 2, 2017 during her bartending shift. Kodak allegedly "approached her and started acting belligerent," and when the victim pushed him away, "he began to punch her numerous times all over her body and then kicked her, stopping shortly after." The victim is said to have continued her shift, but alerted police the following night.
Apr. 21, 2017 - Anger management incident
During a hearing on Kodak Black's probation violation, his anger management counselor Ramona Sanchez testified that he was "intentionally disrupting" a court-ordered session. Initially, he was said to have been "burping repeatedly," but when he was asked to leave, he wouldn't. When Sanchez said she'd call 911, Kodak reportedly grabbed her by the wrist and her phone.
Apr. 26, 2017 - Guilty of violating house arrest
The verdict in Kodak's house arrest violation case? Guilty on five counts. Kodak's said to have been looking at eight years for violation his probation, but as of now, there's no word on if Kodak's jail time would be extended because of this verdict.
Kodak Black is due back in court on May 4 for sentencing.