Kodak Black Allegedly Grabbed Wrist of Anger Management Counselor After She Threatened to Call 911
Kodak Black took the stand Friday for a probation violation hearing.
Getty
Kodak Black is sentenced to probation by Judge Lisa Porter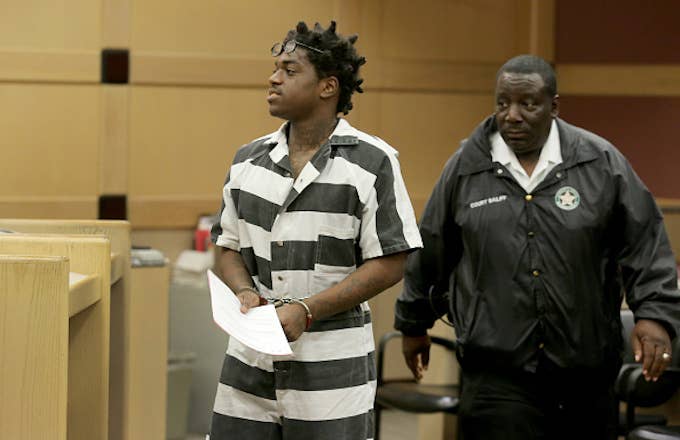 Kodak Black took the stand at his probation violation hearing in Fort Lauderdale Friday to answer questions from prosecutor Meredith Hough regarding his understanding of the terms of his house arrest, the Sun-Sentinelreported. Broward Circuit Judge Michael Lynch also heard from Club Lexx bartender Jennifer Cunningham and anger management counselor Ramona Sanchez, who accused the Atlantic Records recording artist of "intentionally disrupting" a recent court-ordered session.
Sanchez said Kodak Black, whose name is Dieuson Octave, interrupted the session earlier this year by "repeatedly burping." When asked to leave, Octave allegedly refused. Sanchez said she then threatened to call 911, at which point Octave allegedly grabbed her phone and wrist. Sanchez said she "didn't know" if Octave was suffering from a medical condition that might cause the burping. Octave has now been recommended to undergo individual therapy in lieu of the group, the Sun-Sentinel reported Friday. The hearing will continue Wednesday.
Octave is facing up to eight years in jail for the probation violation. As probation violations do not require a jury, the determination of guilt will be made by Lynch. Kodak Black was arrested in February for violating his probation after showing up at Club Lexx in Miami and attending Adrien Broner's boxing match in Ohio. XXLreported the five-year probation stemmed from charges including strong army robbery, possession of a firearm by a delinquent, false imprisonment, and fleeing or attempting to elude law enforcement.
Details of an unrelated South Carolina sexual battery charge against the Painting Pictures artist were released in November. According to the Sun-Sentinel, Kodak Black was accused of "sexually attacking" a woman and forcing her onto the floor of a Florence-area hotel room. In the state of South Carolina, such charges carry a potential sentence of up to 30 years.