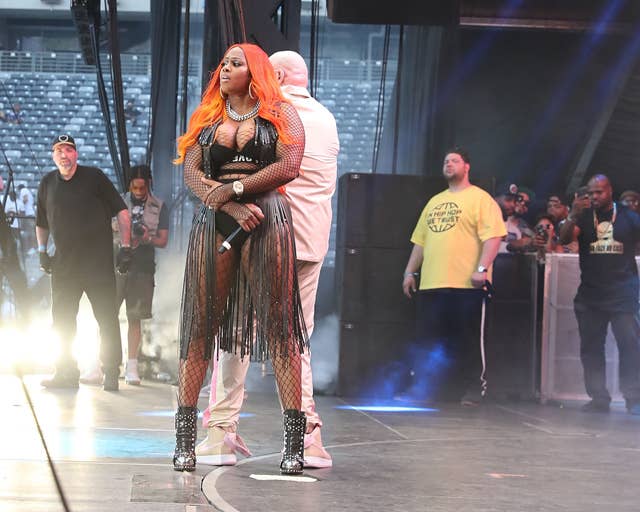 At Hot 97's Summer Jam 2017, Remy Ma expertly crafted her Summer Jam moment. After putting her beef with Nicki Minaj on wax with the seven-minute diss track "ShETHER" back in February, Remy decided to not only put Nicki on that Summer Jam screen but to call out a number of other women to the take the stage with her. MC Lyte, Queen Latifah, Young M.A, Monie Love, Cardi B, and Rah Digga all joined Remy to further highlight just how much she doesn't rock with Nicki.

Beef at Summer Jam is nothing new. For many hip-hop artists, Summer Jam is the perfect place to either start beef or put your rival on blast. Interestingly enough, after having a string of high-profile rap beefs play out on the Summer Jam stage, the era died for a while. But Remy touching down and upping the ante this year was huge for her, and it helped put beef back on center stage for those of us who were dying for some hip-hop drama that wasn't produced by Mona Scott-Young.
As we bask in the glow of Remy Ma adding to the lexicon of Summer Jam beefs, let's reflect on the history of beef on the Summer Jam stage. Hopefully we aren't re-opening any wounds.
2001: Jay Z puts Prodigy on that Summer Jam screen
Back during the summer of 2001, Jay Z must have been feeling himself. He was hard at work on finishing his opus, The Blueprint, which was due out on September 11, 2001, and for his now-infamous Summer Jam appearance, Hov decided to debut a memorable track called "Takeover." Sure, "Takeover" is known as the start of the Nas diss, but at this time, it was just Hov clapping at Mobb Deep—and Prodigy specifically—after a number of subliminals.
The illest part? As Hov dropped his "When I was pushing weight, back in '88, you was a ballerina/I got the pictures, I seen ya" line, he dropped pictures of Prodigy, reportedly from 1988, striking some interesting dancer poses.
Hov also made sure to light the fuse on the bigger bomb in "Takeover" when he rapped, "Ask Nas, he don't want it with Hov." Sure, he didn't drop the infamous verse aimed at Nas at the time, but it was enough to get people talking about what's become one of hip-hop's greatest beefs. What makes the Nas/Jay thing even more intriguing is that when Nas was supposed to perform at Summer Jam 2002, he planned on burning Jay Z in effigy, but Hot shut that down, infuriating Nas.
And keep in mind, Hov wasn't a stranger to throwing shots from the Summer Jam stage. He's the same emcee who famously said, "I'm bout a dollar, what the fuck is 50 Cents," back in 1999 during his Summer Jam performance after 50 went viral with "How to Rob."
2003: 50 Cent disses Ja Rule and Murder Inc.
While not surprising considering their history, 50 Cent did make it a point to throw shots at his nemesis Ja Rule along with Rule's label Murder Inc. during a portion of his 2003 Summer Jam performance. 50 had a PSA video playing on the screen, which featured clips of Ja Rule's videos for "I Cry," "Rainy Dayz," and "Mesmerize" playing while a voice asked if the audience could identify the "bitch-ass n*gga." The same question was then asked over pictures of Ja and Irv Gotti (Murder Inc.'s boss), just in case you weren't up on what Fif was getting at.
2005: The Game kicks a rat's ass
Two years after 50 Cent put Ja Rule on that Summer Jam screen, The Game decided to clap at his former boss 50 by going on his G-Unot campaign, as in Game was not a part of 50's G-Unit label anymore. Upping the ante, The Game had two guys hit the stage: one dressed like a gorilla, the other dressed like a rat, which he said "started looking like 50 Cent to me" after previously accusing 50 of being a snitch. Then, Game started fucking that rat up. He also threw his G-Unit chain into the crowd for good measure.
2014: Slow gets chain stolen during 50 Cent performance
According to the (digital) streets, Slow from the clothing brand Slowbucks was falling out of 50 Cent's graces at the time after posing with 50's enemies Rick Ross and DJ Khaled. After a number of shots (and shoves) were exchanged back and forth—which included Slow posing with 50's son Marquise on Instagram—somehow Slow ended up on the 2014 Summer Jam stage during 50 Cent's performance. At one point, Slow's chains were taken from him during 50's performance of the "Cuffin' Season" remix with Fabolous. And this all went down during the performance of the song.
2017: Remy Ma drops that "ShETHER" and brings out the greats
As we mentioned earlier, Remy Ma brought out damn near all of the women on the mic ("some real muthafuckin' queens," as she put it) who aren't Nicki Minaj during her 2017 Summer Jam performance, with multiple pictures of Nicki being thrown onto that Summer Jam screen. She even made sure that they cut the beat off to let Remy spit some furious bars acapella. 
It's kind of wild to think that Remy blended the screen antics of Hov on a song that dissed Nas while using the instrumental that Nas dissed Hov on to throw all of the shots at Nicki in one massive package. The question now is, will Nicki be at Summer Jam 2018? And should we expect her to clap back and continue this culture of beef if she does hit that stage? Only time will tell.