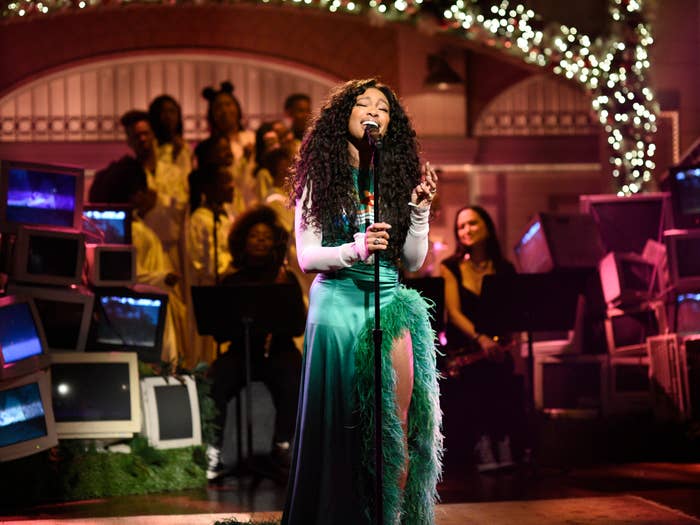 We stan a relatable queen, and there might not be anyone more relatable on Twitter than SZA. Ctrl, released in 2017, was universally beloved and launched SZA into the spotlight—the album appeared on year-end lists, became source material for a headlining tour, and earned her five Grammy nominations. Since then, SZA has collaborated with Maroon Five and Cardi B, and linked with Kendrick Lamar for the lead single from the Black Panther soundtrack. To say that she's killing it would be a severe understatement.
SZA's music has gained her a fervent fanbase because of just how much people connect to her music, how vulnerable her lyrics are, and her perspective on love and relationships. She's frank and open about what she shares in her music, and the way she runs her Twitter echoes that.
Unlike other celebs, who tend to tap out of Twitter once they make it big (or have an assistant run it for them), SZA still very much runs her own account. From requests for help to mere acknowledgement, she's always chatting with the people who adore her and her music. So while fans queue up Ctrl on repeat and get in their feels, checking out SZA's Twitter gives them an even deeper look behind the scenes of her life.
Above all else, the way SZA remains incredibly positive about life and her passions is a bright spot on a social media platform that's garbage most of the time. Here are 15 of SZA's best tweets, many of which will kick you in the ass and inspire you to get to work on your passions.
Who among us hasn't been lonely and walked to our local bodega to pick up a 40 and drown our sorrows? Apparently that's SZA's jam, too.
Most of the time, when someone tells you "life is hard," it's usually in the context that you need to toughen up to hit life back even harder. Instead, SZA recommends staying soft, which is honestly a refreshing change of pace.
Much like the rest of us, SZA is also always wondering how Beyoncé is doing.
SZA is truly gracious, because she's even shouting out "the bitches who don't fuck with [her]." She's goddamn benevolent.
Honestly, is SZA the new Oprah? Tweets like this one really make you think.
Much like the first reply to this tweet, SZA fully snatched our wigs when she called out someone who said her song "The Weekend" is a side bitch anthem.
SZA's Twitter feed might actually double as therapy if you can't currently afford your copay.
Honestly, this might be the best breakup advice we've ever heard.
SZA brings up a great point here—quitting is forever, so taking action to fix your shit is the only way to go.
SZA's known for her pretty positive outlook on her Twitter, so when a tweet like this comes up, we've gotta wonder who it could be about. Her mentions are screaming Kanye, but honestly this is as universal as it gets.
Really there's not much to say about this tweet other than enthusiastically agree.
SZA, we would love to lie to you about your booty getting bigger anytime. And by the way, it is perfect as is.
Again, another SZA tweet that makes you think, "Huh, maybe I shouldn't be so angry all the time."
Honestly, this might be the best thing about SZA's Twitter — just when you think she's almost *too* insightful about life, she'll post something like this. She's just like us!
The best revenge really is just flexing on your ex with a platinum single, amirite?