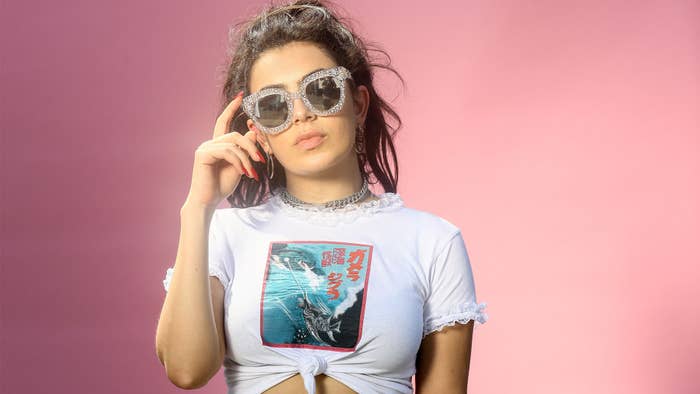 Charli XCX, who is up for British Female Solo Artist of the Year at the O2 in London tonight, was just in Toronto Friday night, playing an intimate Valentine's Day set for only a hundred people as part of a Bud Light promo dubbed "The S1ngle Greatest House Party."
In this modern concrete-and-glass dream home inside an unobtrusive grey building in the Yorkville area, the 27-year-old thrilled her fans—the many die-hards who bunched up to the tiny makeshift corner stage, leaping about to her ubiquitous breakthrough "I Love It," and virtual anthems like "Boys,"  "Boom Clap," and "1999." 
Earlier in the day, Complex Canada caught up with her to chat about the experience, her upcoming world tour, and her comment that made headlines last week at the NME Awards.
What are some other unusual venues that you've played?
Gosh. Well, when I started performing, I was playing in warehouse raves in London. So one of my first shows was actually in an old peanut factory. That was pretty unique, I suppose. I've performed in a church before, but not as part of a church setup. Pitchfork did a thing in a church.
You've only got one date in Canada this year, at Osheaga. Will you be adding more?
I just did a full headline tour at the end of last year [it included Toronto Montreal and Vancouver]. But for this coming summer, I'm only doing festivals at the moment, not my own headline shows, and I will be playing Osheaga, actually on my birthday. That will be a big party day.
A big cake hopefully.
Yes.
When you play a big festival, with potentially 40,000 to as many as 80,000, what will you be adjusting onstage?
It will definitely be a different thing from tonight. Tonight, it's about keeping it very intimate and raw, as you do at house parties. And at festivals I bring a full production, so it's two different vibes, but, really, no matter where I'm playing I like to just be able to really connect with the audience, and feel like we're like in it together. Feel the sweat.
You co-wrote the big smash "Señorita" for our boy Shawn Mendes [and Camila Cabello]. Any other collabs with Canadians?
Coming up? No. But being a part of that song with Camila and Shawn, and the rest of the team who were involved, was really cool.  I think both of them are really brilliant artists, so I was happy to be a part of that.
Any other songs coming out on other people's albums?
No, you never really know about that stuff. "Señorita" took like a year for it to be confirmed that it was happening. So you never know, you know?
So this past week you made one comment at the NME Awards…
Oh no. What did I say?
No, it's good. People are writing entire stories about it.
I don't know. I haven't checked the internet. What did I do?
About like sexism, and lack of gender parity, at music festivals and the industry as a whole.
Oh, fine. Okay. I was like, 'God, I don't know what I did.' [Laughs.]
Were you worried? [Laughs.] So you might be answering those questions for a while now. Do you have any ideas on how this can change? Even personally, perhaps—just hire more women, like the lighting engineer, tour manager...
My lighting engineer is a woman, actually. As I might have said in the initial interview, it's really about the industry as a whole revamping and being more welcoming and supportive of women who work within it. I think that's the same for any industry. There is this perception, still, for female artists, that we are just these objects who get on stage and sing other people's songs and dance around, no matter what genre, no matter how old you are. That is that perception of us, which couldn't be less true in this day and age, but also for a really, really, really, really long time. And, yeah, I just think if that's how some of the most forward-facing women in the industry are getting treated, what about those aspiring producers, aspiring mix engineers, aspiring record label bosses? It's going to be even harder for people behind the scenes.
Do you feel comfortable putting your foot down and making those like clear decisions with people in the industry?
Yeah. You have to be. But it's about a shift in the overall tone of the industry, and the industry as a whole wanting women to succeed, wanting women to be headline acts, wanting women to be the main focus, rather than the subplot. And, I think, yes, having conversations like this really does help, but it has to be a global thing, constantly.