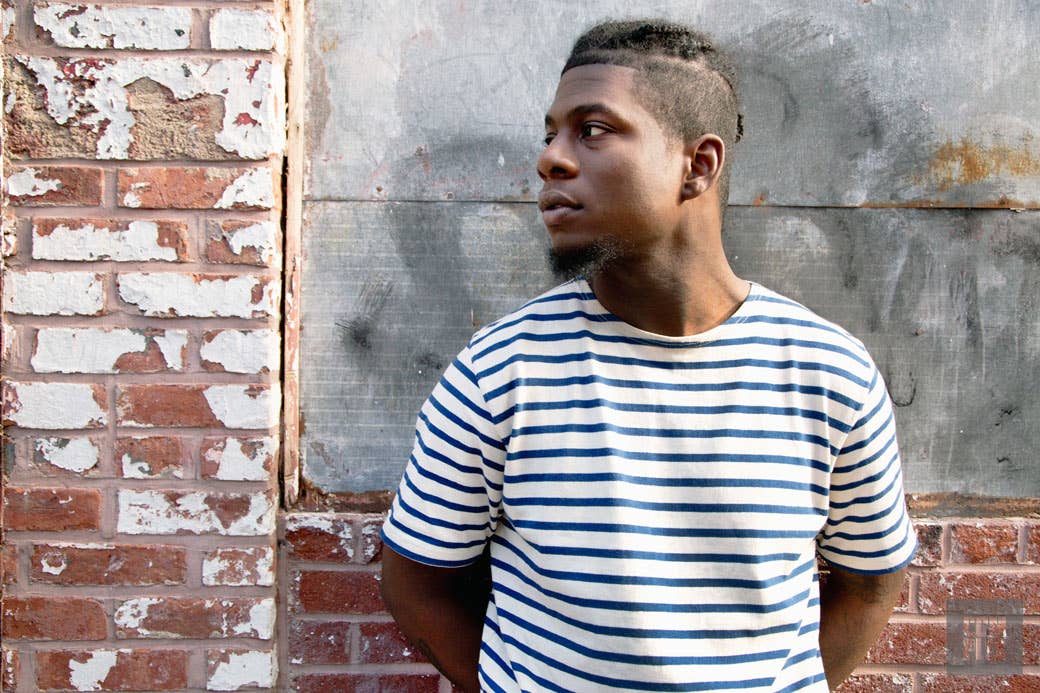 Mick Jenkins has many flows, and Mick Jenkins has many poses.
The 24-year-old rapper screws himself to a knee-high stool in Complex's in-house studio in midtown Manhattan. At the photographer's request, Jenkins removes his forest camo snapback and tosses it to my feet. His schoolboy shorts and hiked crew socks flatter his bent, colossal height. Jenkins whips his dreads and knuckles the sleep from his eyes. As the photographer ducks, dashes, and snaps around him, Jenkins yawns. He is shaking himself awake.
While he's in town for the week to promote his new music and take a few meetings, Jenkins is spending his nights on-stage or else in the crowd of various New York music venues. Just last night, he performed at the Up & Down near Manhattan's Meatpacking district.
When asked who else was at the show, Jenkins laughs.
"Chedda da Connect," he says. He does the cooking motion with his wrist to signify Chedda's signature song without saying its name. "That guy."
Jenkins is quick to admit that his favorite music is mostly stuff of the recent past—Sade, Maxwell, and Bilal—with contemporary exceptions made for Kanye West and Kendrick Lamar. At one point, Jenkins confides that Lamar's To Pimp a Butterfly is the only contemporary rap album that he listened to while recording his own new project, Wave[s]. And while Kanye is a lifelong musical hero, Jenkins isn't shy about drawing the line on some of Mr. West's more recent output.
"My Beautiful Dark Twisted Fantasy was very cold," Jenkins says, "but I just thought it was very misogynistic. I'm big on content, and I could not fuck with the content."
Mick Jenkins is a conscientious rapper. If he'd been born a decade earlier, Mick Jenkins might've signed to Ubiquity or Rawkus. As it stands, Mick Jenkins is signed to Cinematic Music Group, an indie roster that also includes Joey Badass and Smoke DZA. Cinematic seems an ideal fit for Jenkins, who evinces minimal interest in radio singles or the advantages of major label support. He credits his parents (rather than FM radio) as the source of his childhood musical influences; his mother was big into neo-soul, and his father listened to contemporary black gospel.
"I been listening to the same music for a very long time," Jenkins says. "If I add new music, it's because of a referral from a friend. I have a playlist of music that I don't really defer from."
He's "neo-soul," he's "conscious," he's proudly antiquated. Mick Jenkins is a thinking fan's rapper who doesn't resent mainstream, crossover hip-hop so much as he simply ignores it. As a man who's averse to popular trends and mainstream hype, Jenkins swears that he doesn't pay much attention to music blogs, either. "There's a million ways for you to hear music without going to a blog," Jenkins says. "I go to shows. There's a ton of ways."
Jenkins released his breakout mixtape, The Water[s], in August of last year. Musically, The Water[s] wasn't hip-hop's biggest ripple of 2014. Over the past year, however, it's proven to be one of the more enduring testaments to the black anguish that dominated national news headlines that year. (Not that 2015 has been much of a respite from such notable violence.) Released just three days after the police officer Darren Wilson shot and killed the teenager Michael Brown in Ferguson, Mo., The Water[s] is a study of life, death, and self-destruction; a mixtape "underpinned by the anxiety of a person who perceives that the world has issued him a false bill of sale," as the rap critic David Drake puts it. On The Water[s] and in general, Jenkins is passionate in his theorizing about temptation, sin, the soul, ginger ale, and "the waters"—that last concept being Jenkins' recurring, mystical metaphor for truth.
In a year when several rap rookies flourished on the strength of viral hits and meme-worthy singles, Mick Jenkins was the reactionary exception—a young rapper with no proper "hits" but lots of buzz. At this nascent phase of his come-up, and given certain similarities of subject matter and purpose, Jenkins now resembles the promise of Kendrick Lamar in the summer of 2011, when the young Compton rapper first caught hip-hop's attention with the release of Section.80.
As New York Times music critic Jon Caramanica has noted, the recent success of major label albums from Kendrick Lamar, J. Cole, and Vince Staples marks a positive shift in the commercial viability of hip-hop's thoughtful, moralizing "outsiders." "Call them representatives of hip-hop's silent majority," Caramanica writes about Kendrick, Staples, and Cole. "[T]heir staunch commitment to traditionally underground sentiment has turned out to be lucrative, and also necessitates a rethinking of where hip-hop's current center of power and influence actually resides."
Jenkins' new mixtape, Wave[s], isn't as severe or self-serious as The Water[s]. On Wave[s], there's plenty of chest-heavy, power-rapping on songs like "Ps & Qs" and "Perception," but there's also singing and fun. On "Your Love," Jenkins interpolates the hook of Lupe Fiasco's "Paris, Tokyo" for a pulsing, late '80s-nostalgic mack ballad; and "The Giver" is a similar play for the ladies. On Wave[s], there's nothing as acute as "Jazz" or as alarmed as "Dehydration." Wave[s] is less stressful than The Water[s], and obviously concerned with striking compromise between "underground sentiment" and enchanting melodies.
By hype and reputation, however, Mick Jenkins is a somber, conscious rapper. I ask, "Will Wave[s] contradict all of that?"
"Yeah," he answers. "I don't care, though."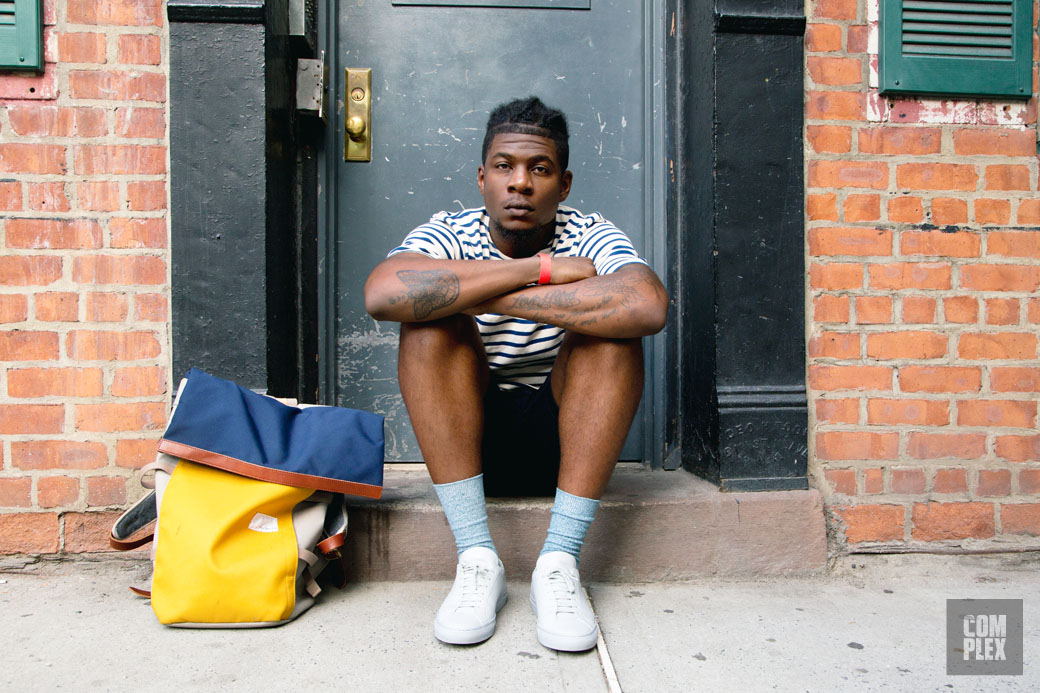 Mick Jenkins hikes up the ramped hallway and squeezes through dazzled observers and strafing bussers at the first annual New York Fashion Week: Men's. Jenkins is wearing navy blue shorts, rippling grey socks, and a blue-and-white striped tee. We're at a four-story loft space filled with chatter, echoes, and Prosecco. Mick Jenkins is taller than everyone but the models posed and frozen on three-foot pillars in each room. From a distance, it's unclear whether Jenkins is closely inspecting each of the models or simply daydreaming as he browses.
"What were you looking for?" I ask him later.
Jenkins shrugs. "Clothes."
He says it as if his ambition and interests were all rather obvious, when really there's nothing so plain, straightforward, or intuitive about the life of Mick Jenkins so far. As a child, he split his years between Huntsville, Ala., where he was born; and Chicago, where, at 10 years old, he relocated with his mother and younger sister after his parents divorced. Mick would eventually return to Huntsville to study public relations at Oakwood University, where his father worked. Jenkins now lives in Pilsen, a neighborhood on Chicago's Lower West Side.
Long before he was a rapper, Mick Jenkins was a local poet. At 17, he started reciting his verses at open mic sessions at Young Chicago Authors, a non-profit "youth slam" with headquarters on North Milwaukee Avenue. In the 2000s, YCA famously hosted a generation of young, aspiring poets and rappers, including Chance the Rapper, Alex Wiley, Noname Gypsy, and Saba—all young, local talents who would eventually become a friendly network of rappers and singers.
"I was just watching a mess of cultures in Chicago like I'd never seen before," Jenkins recalls, reminiscing about the crowd at YCA. "There's niggas in there with no shoes on, there's white people, there's black people, there's Hispanics, there's niggas with purple hair, there was a lesbian girl who called herself George. This was all types of people doing their weird shit and everybody is loving it, nobody's cracking jokes. It's love in the room, and it was just amazing to me."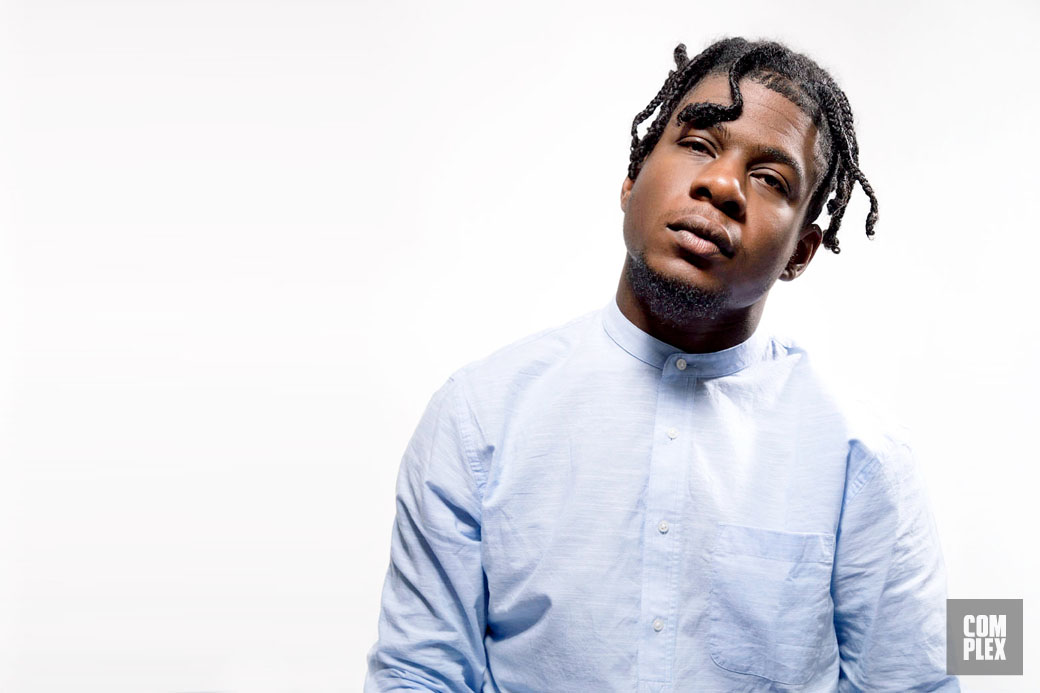 While those open mic nights at YCA were formative, Jenkins' career outlook at the time was far more practical than poetry.
Six years ago, Mick Jenkins dreamed of becoming an attorney. In 2008, as a junior at Hirsch Metropolitan High on the South Side, Jenkins enrolled in the school's law academy. "I was doing mock trials in the city," he recalls. "I won in our school, and then we got to take four people and do it in the city. I was killing that shit. My cross examination on this one girl, she didn't know what she was in for because that shit was like a fucking movie to me. I was rehearsing lines and I'm thinking of A Few Good Men, and how I'm about to murder on this cross examination."
He smiles, "It played out exactly how it was supposed to."
Much less exciting than his mock trial hot streak was Jenkins' courthouse internship at the Dirksen Federal Building in Chicago. As an assistant to the chamber, Jenkins was responsible for writing up notes for the judge and sorting infinite paperwork. In his five months on the job, Jenkins realized that court "was not like TV at all." The sole highlight of his experience was watching a single day of former Illinois Governor Rod Blagojevich's trial on federal corruption charges. Jenkins described the scene as "intense."
In 2009, Jenkins abandoned the study of law. Instead, he landed an internship at Sir & Madame, a clothing boutique founded by married couple Brian and Autumn Merritt in Ukrainian Village. "I hit them up on Twitter," he says. "They used to be Sole Mates, a sneaker store. When they were making a change to releasing their own brand, I hit them up and was like, 'I know you all need an intern. I'm trying to get a job.'"
The former pre-law student was now, briefly, an aspiring fashion mogul. "I definitely wanted to be a designer at the time," he says, then taking a minute to outline his vision for the production of his tour merch. Jenkins' own ambition to design clothes was unfortunately short-lived, however, and so was his internship with Sir & Madame. "Some shit happened at the shop," he says, "and I ended up getting fired."
What had happened was: Mick Jenkins was down in Huntsville blowing trees behind the wheel. One day, just as soon as he'd pulled onto the road, a cop scrutinized the plume of smoke wafting from Jenkins' car and pulled him over. With a .05 BAC and a small amount of marijuana in his possession, Jenkins was suddenly jammed up. In 2012, he plead out to a misdemeanor charge and did some minor time. "I was in jail for 34 days in Alabama," he says. "When I came back [to Chicago], I didn't have the job anymore."
Jenkins' year-long return to Huntsville was a disaster, but a fortuitous one. Once he returned to Chicago, "that's when I started doing music full-time."
Apart from Chicago's notorious drill movement on the South Side, and its bop scene on the West Side, Jenkins had, since 2007, associated himself with YCA. TheMIND, a singer and member of Chicago's ThemPeople production collective, fondly recalls "the very small, close-knit circle" of Columbia College kids who started rapping and producing together in 2007. "We had this loft on 18th [Street] and Halsted," TheMIND recalls. "Mick had came through with a friend of ours.
"After we finished that record, he came back through and told us that he wanted us to do the intro for the Water[s], which is 'Shipwrecked'. I happened to be there at the time. We pulled it out. I started mumbling some words. A couple weeks later I got an email from him, and it was a DJ Dahi beat. Yo, I want you to murder this. I checked out the beat, it was dope as hell, and it ended up being the song 'Dehydration'. After that, Mick was my man."
"Chicago is notorious for n****s not f***ing with each other. That's changed. Everything I've gotten in Chicago, a rapper did that
for me."
Having collaborated with Chance the Rapper, Vic Mensa, Saba, NoName Gypsy, TheMIND, and the rest of THEMPeople, Mick Jenkins' industrious networking has, in just a couple years, paid big dividends. "Chicago is notorious for niggas not fucking with each other," he says. "That's really kinda changed. Everything I've gotten in Chicago ever since I first stepped into a studio, a rapper did that for me. When I got my first look on Complex, Chance did that for me. Everything I've done in Chicago has been through collaborative efforts with other rappers. Even my first solo tour. Everything."
I ask, "Who in Chicago do you want to work with that you haven't already?"
"Kanye," he says. Of course.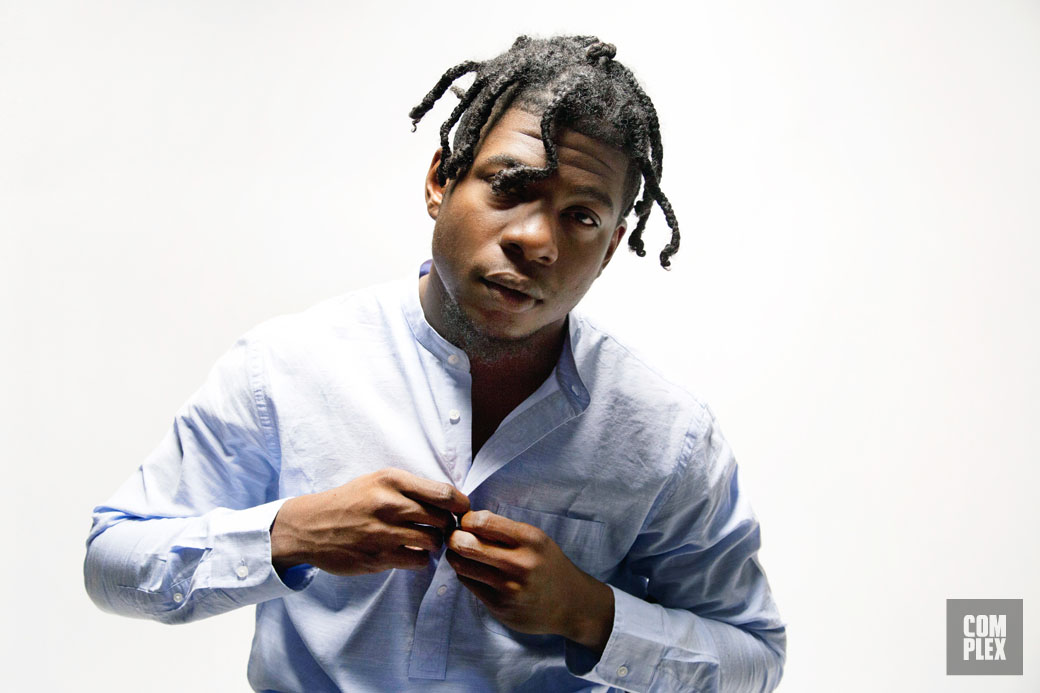 We've been here for less than 20 minutes when Mick shakes his two publicists and doubles back to the ground floor. He leaves.
I follow Jenkins outside, around the corner, and into another wide, white hall. Here, a menswear brand named Chapter hosts its male models in a floorspace that greatly resembles Darth Vader's antechamber. We're here for two minutes, tops, when Jenkins nods to me and indicates that he's ready to leave. He's a fashionable man, but this is not his habitat. Save for a brief sidewalk run-in with an acquaintance on Jane Street, Mick Jenkins doesn't know any of these people, nor does he meet them.
In his lifetime, Mick Jenkins has scorned not just one, but three different white-collar professions. It's no surprise, then, that he'd be so wary in these glamorous lofts, where artisans of the Meatpacking District swap business cards like Charizards. He's interested in fashion, but he studies the industry at a cautious distance. Even within hip-hop, Jenkins artistic priorities are shifting and indeterminate. He's difficult to pin down.
In December 2014, four months after releasing The Water[s]—and in the formative throes of a new civil rights movement—Jenkins released a song called "11," named in tribute to Eric Garner, the 43-year-old black civilian who repeated "I can't breathe" 11 times as an NYPD officer strangled him to death on a Staten Island sidewalk.
"As I write this," Jenkins raps on "11," "I'm forced to think of my worth/Forced to defend my color, intelligence/And my purse from our own."
In the seven months since Jenkins dropped "11," black power has become something of a calling card for Mick Jenkins. When the Chicago Readerpublished a profile of him in March, the headline read, "Mick Jenkins raps because black lives matters."
"When I did '11,'" Jenkins tells me, "I thought, this is what I need to be doing. But then when I finished '11,' I'm listening to '11', we're mixing '11', we release '11'—and now everybody's talking to me about '11.'"
The deaths of Michael Brown and Eric Garner has taken yet another toll on the grace and patience of black Americans. "I'm just tired of this shit," Jenkins says. "Tired of the fact that it's happening, and tired of the fact that I have to sing about it."
I ask, "Is it demanding?"
Jenkins shrugs. "When people look at music like that," he says, "I don't have a lot to say to them. In that situation, you're more concerned with how you feel as opposed to what the artist is trying to accomplish."
While it's not quite clear to me what, exactly, he's accomplished in his hours spent browsing Fashion Week: Men's in New York, Mick Jenkins is steadfast in his belief that aesthetics, melodies, and radical thoughts all converge at some point, amounting to singular experience. With Wave[s], Jenkins is showcasing his own music alongside tour merch designed by local streetwear magnate Joe Freshgoods and singles artwork designed by Missouri-based painter Hayveyah McGowan. With his frequent talk of "brand business," "community management," and "partnerships," Mick Jenkins hints at a master plan drafted by him, and him alone.