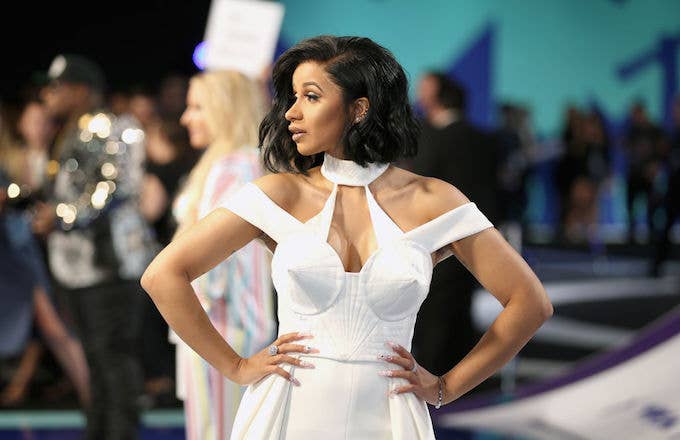 Cardi B is definitely having one of the best summers of her life, especially now that her catchy hit "Bodak Yellow" is officially certified gold. This is just another win for Cardi B, which she can add to the fact that the song is currently sitting pretty at the number three spot on the Billboard Hot 100 list. To top it off, the song's video has just under 100 million views. 
Cardi B earned her spot on this year's MTV Video Music Award's pre-show stage, where she performed the hit single, but the Bronx rapper has also received lots of love from fellow rappers who have brought her out to perform at their shows. Drake had her at OVO Fest in Toronto last month; Migos brought her on their stage at the Veld Festival; and 21 Savage invited her to perform at one of his recent shows.
Cardi B also recently released a Latin Trap remix of the song, with her and Harlem-based Dominican rapper Messiah El Artista rapping in both Spanish and English over the recognizable beat.
"Bodak Yellow" is so damn infectious it's even in the classrooms: a Brooklyn geography teacher turned the song into a genius "map" version of the song for her students and reached viral status as well as an enthusiastic nod of approval from Cardi B herself.
Cardi B is also currently set to perform at Power 105.1's Powerhouse 2017 concert this year in New York City in October. Migos, The Weeknd, French Motana, Lil Uzi Vert and more will join her. 
With all of this success following the Bronx rapper and this song in particular, you can expect that gold plaque to turn platinum anytime now.