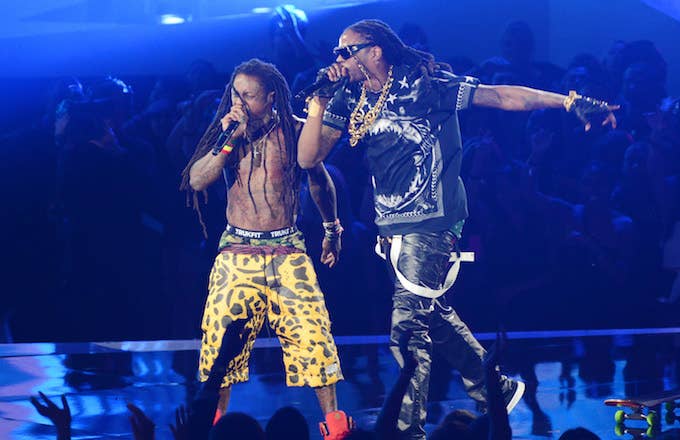 If you're a fan of Lil Wayne and 2 Chainz, then 2 Chainz's newest Instagram post will make your heart skip a beat: it seems like two have teamed up once again. Although there isn't much information, 2 Chainz posted a photo of him and Lil Wayne to his Instagram with the caption: "Me and my brotha gotta another 1 on the way," which seems like enough information to get excited for what the two frequent collaborators have got cooking up.
Although the rappers are longtime friends and started collaborating on music in 2007, most people will think of the more recent Collegrove, released in 2016, which was the first full-length album the two rappers worked on together. When asked about the experience of working with 2 Chainz on Collegrove, Wayne said: "If you ask the homies, my closest homies, what I told them. I was like, 'Goddamn. He's showing me something, so imagine what the listeners are going to think. Not that he wasn't rapping before, but damn. He's going crazy." 2 Chainz and Lil Wayne are also featured on Chance the Rapper's "No Problem," adding wit and flair to the already great song.
So far, all we know about the upcoming project comes from 2 Chainz's single Instagram post, which doesn't say much. The only other information we can glean from the Instagram is that 2 Chainz's shirt is by Versace (could that have something to do with the project?) So for now, we must wait and see what these two rappers have in store for us.