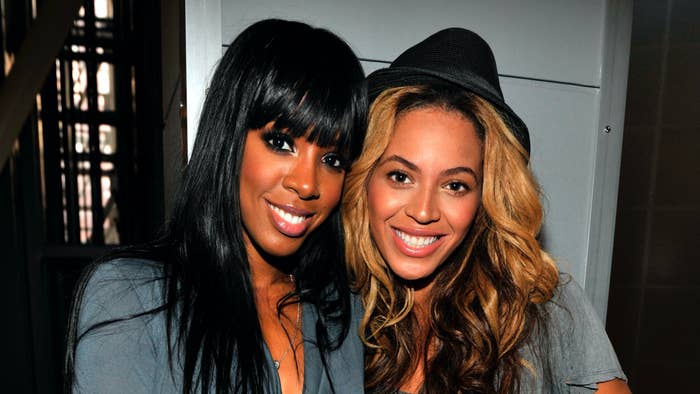 Kelly Rowland is still reeling from a decades-old blunder involving Beyoncé.
In the latest episode of the Yeah, I F*cked That Up podcast, Kelly was asked to share "the biggest mistake" she ever made in an interview. Rowland, who has had countless sitdowns with the press over the years, wasted no time coming up with an answer.
"Oh my god. When I made a mistake and told the sex of Bey's baby, like, when she was pregnant with Blue [Ivy]," she told host Billy Mann, referring to Beyoncé's oldest child with Jay-Z. "That was the worst moment ever. The worst moment ever. It was such a mistake… because it was no one's business."
As pointed out by TMZ, Kelly spilled the beans during an interview with BANG Showbiz in November 2011, just a few months after Bey announced she was expecting. The former Destiny's Child member accidentally confirmed the baby's sex while sharing her thoughts on the family addition and potential baby shower gifts.
"I'm so happy for my sister and her husband," she told the UK-based outlet. "They're so happy in this moment right now, as they should be. They've made a little bundle of love, I'm so excited for them."
Kelly continued: "I have no idea what I'm going to buy Beyoncé at the baby shower because Jay is going to buy that little girl every single thing possible. She won't be spoiled but she will be very well looked-after."
The use of feminine pronouns confirmed the Carters were preparing to welcome a baby girl.
Kelly told Billy that Queen Bey was "disappointed" by her blunder.
"I felt terrible because it was not my news," she said. "It wasn't my news to share and I didn't mean it like that. The 'she' just kind of slipped out. I was, like, 'uh-oh.'"
Elsewhere in the interview, Kelly reflects on her solo music career, being dropped by a record label, and "the most incorrect gossip ever written about" her.
"Oh, that I was man," she said. "I think it was because of an outfit I wore or something like that. I mean, sometimes I guess I do come off a little androgynous."
Check out the full interview below.