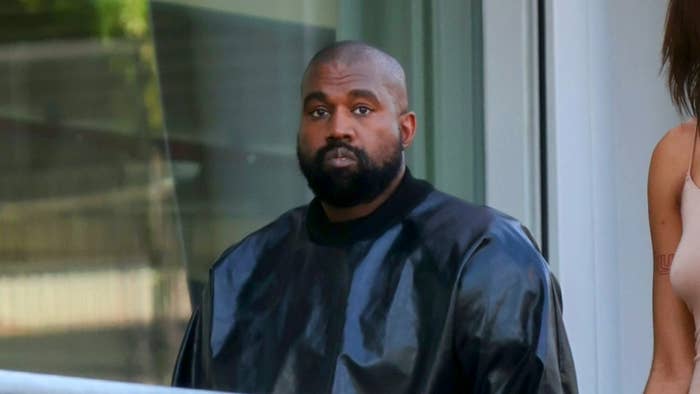 Kanye West has waged a legal battle against an unknown Instagram user.
According to legal documents obtained by Billboard, the 46-year-old artist filed a lawsuit Wednesday over the unauthorized distribution of his music. The complaint, which was submitted by attorney Gregory K. Nelson of Weeks Nelson, alleges the individual(s) behind the popular account @DaUnreleasedGod_ has violated copyright laws by leaking various Ye tracks throughout 2023. The material in question includes a collaboration with DJ Khaled, footage of a Donda listening party, as well as 20-plus songs, such as "We Did It Kid," "Shy Can't Look," "NASDAQ," and "Mr. Miyagi."
Kanye and his legal team have not identified the person or entity behind the account, but believe the user is someone who has worked with Ye. If that is the case, the individual would've been required to sign a confidentiality agreement before obtaining access to the unreleased tracks. They, therefore, breached the contract by leaking the aforementioned material on social media.
As reported by The Blast, Ye's lawyers will amend the suit to include the defendant's name once they are identified.
"The Defendant, without authorization, license, or permission from Ye, improperly leaked, published and distributed multiple Listed Compositions including but not limited to the following found on 'Instagram' and 'X' (formerly known as Twitter)," the suit reads. "… Ye's musical composition, with its distinctive arrangement and unique elements, constitutes a trade secret due to its economic value, secrecy, and the efforts taken to safeguard it."
According to the complaint, the unauthorized distribution caused "substantial harm" to Kanye's "work, reputation, and potential income." It also alleges that he "suffered significant financial losses and damages" as a result of the leaks, which took place between March and August 2023.
Kanye is suing for misappropriation of trade secrets and breach of contract. He is reportedly seeking attorney fees and other associated costs, as well as an injunction "enjoining and restraining Defendants and their agents, servants, employees, representatives, affiliated companies and other business entities, successors, assigns, and those acting in concert with them or at their direction, from further misappropriation, disclosure or unlawful use of the trade secret or confidential information in any manner or any right in and to the Listed Compositions, including without limitation by directly or indirectly reproducing, downloading, distributing, communicating to the public, uploading, linking to, transmitting, publicly performing, or otherwise exploiting in any manner the Listed Compositions."
Ye demanded not only attorney fees and associated costs but also a permanent injunction and any other Court-directed relief, including "enjoining and restraining Defendants and their agents, servants, employees, representatives, affiliated companies and other business entities, successors, assigns, and those acting in concert with them or at their direction, from further misappropriation, disclosure or unlawful use of the trade secret or confidential information in any manner or any right in and to the Listed Compositions, including without limitation by directly or indirectly reproducing, downloading, distributing, communicating to the public, uploading, linking to, transmitting, publicly performing, or otherwise exploiting in any manner the Listed Compositions."