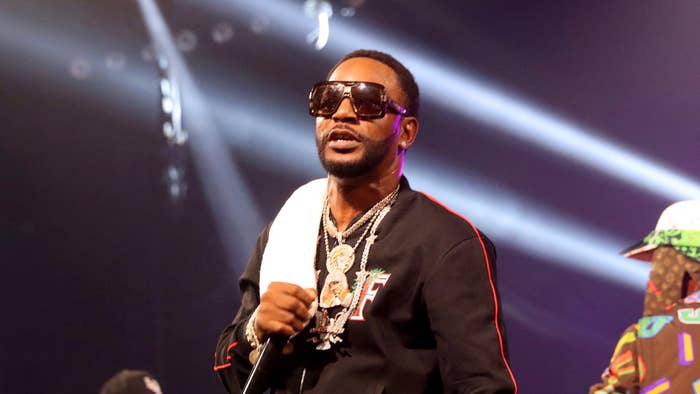 Cam'ron has suffered a huge family loss.
The Dipset rapper returned to Instagram on Saturday to announce the death of his mother, Fredericka Giles, known by her Instagram followers as @Virgie_OG. Although the 67-year-old died on Feb. 9, Cam said he was hesitant to share the tragic news with fans, as he was in too much pain and simply "didn't think it was anyone's business." After a week of reflection, Cam appeared to have a change of heart, and decided to inform his followers about his loss.
The NYC native shared a carousel of photos of him and his mom, along with a lengthy message about her fondness of social media, particularly social media.
"In 2007 my mom had a stroke leaving her partially paralyzed on her left side and a speech impediment," he wrote in the caption. "If you followed her or was her friend on social media you would never know any of that. She was witty, funny, intelligent, sarcastic and outspoken. People would say 'Cam, I know you're writing ya mom's captions,' and I wasn't. I would see my mom's captions and say, 'Where are you learning this?' (Lingo). She tells me, 'Be easy lil homie.' lol."
Cam thanked fans for all the love they showed his mom throughout the years, and made it clear the post was also a "thank-you" to all her supporters.
"She wasn't doing well on my bday that just past (Feb. 4), and when I walked in her room (in the hospital) she was on IG saying, 'Everyone wants to know what's up with me 'cause I didn't post for your bday.' I said, 'Do you want me to help you make one?' She was like, 'Nah.' She wouldn't want anybody else posting for her."
He continued: "… So this message is really for y'all guys (her social media friends). Thank you all for liking, loving, and appreciating my mom. My biggest supporter, best friend and mom."
You can read Cam's full post below.