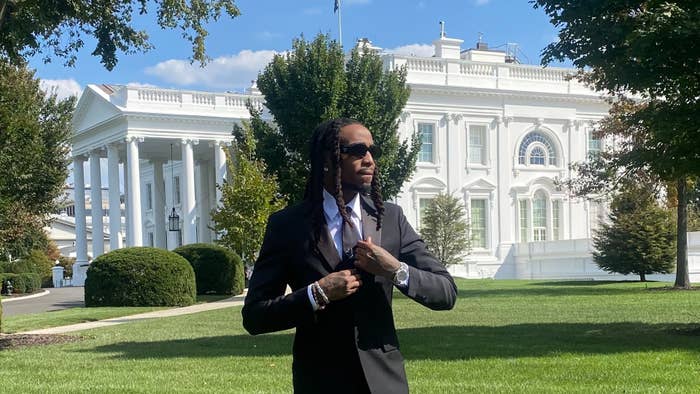 Quavo attended the 52nd Annual Legislative Conference Wednesday as a representative for his Rocket Foundation.
According to its official website, the Rocket Foundation aims to "support programs which are saving lives through proven, community-based solutions to prevent gun violence."
Quavo discussed combating gun violence with a number of lawmakers, including House Democratic Leader Hakeem Jeffries and New Jersey Senator Corey Booker.
The MC also met privately with Vice President Kamala Harris to discuss the issue.
"You don't think nothing is going to happen," Quavo said about Takeoff's death becoming a call to action, as reported by Associated Press. "I need to step up to the plate and hit a home run. I have to do something about it, so it won't happen to the masses—especially in our culture. I don't want this to happen to the next person. I want to knock down these percentage."
Quavo was joined by his mother Edna Marshall as well as his sister Titania Davenport, the mother of Takeoff.
VP Harris thanked the three of them on Instagram "for using your voices to honor Takeoff's legacy and call for action to prevent gun violence." Quavo replied, Thanks for everything."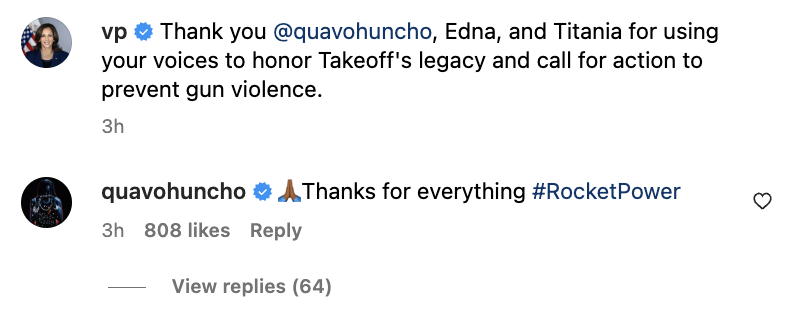 Takeoff was shot and killed at a bowling alley in Houston in November 2022. The late Migos member was an innocent bystander who died from gunshot wounds when an argument escalated. He was only 28.
A statement from Quality Control called out the "senseless violence" that led to Takeoff's tragic death.
Quavo paid homage to Takeoff with his second solo album Rocket Power last month. When asked by Jamie Crawford-Walker about the meaning behind the project's title, the 32-year-old explained he was "being fueled by my brother Take" and putting all the emotions he had been bottling up into his music.
"I miss him a lot and I love him," Quavo said of Takeoff. "He know I love him. That's what we always know. So when you see me and you see me smiling or something like that, you don't gotta never think, like, I forgot about him or I'll forget about him. I think about him all the time. Sometimes I cry myself to sleep. I just know he's here. If I can't feel him, I just know he's around."
See more images of Takeoff's trip to the White House with his mom and sister below.