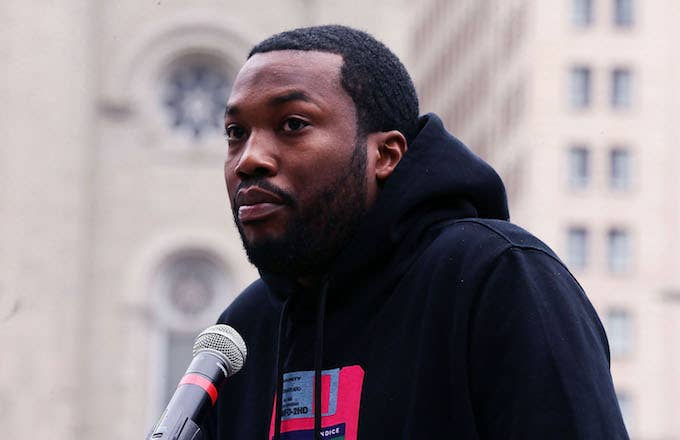 UPDATED 5/31/19 5:04 p.m. ET: The Cosmopolitan kept its word and issued a public apology to Meek Mill. "We apologize to Meek Mill for how we handled the situation on Saturday, May 25, as we did not act in a respectful manner and were wrong," reads the message from the hotel.
"We appreciate the Cosmopolitan's apology and will no longer pursue legal recourse at this time," Meek's attorney Joe Tacopina said in a statement provided to Complex.
Read the original story below.
TMZ has learned that the Cosmopolitan Hotel in Las Vegas will issue a "significant public apology" to Meek Mill for threatening to arrest him if he tried to enter the building. Meek will, in turn, accept the apology, and not file a lawsuit against the hotel for racial discrimination and defamation. 
Meek tried to enter the Cosmopolitan this past Saturday, but was denied by hotel security, and informed by an employee that he would not be allowed on the premises, and arrested if he tried to enter the establishment.
Meek shared footage of his encounter on Instagram, accusing the hotel of "extreme racism."
His attorney, Joe Tacopina, threatened to seek "heavy monetary damages" in a lawsuit against the Cosmopolitan, and claimed that the hotel has a blacklist for black rappers. While the hotel says that it has "zero tolerance for discrimination," Yo Gotti alleges that he has been subjected to "similar discrimination" from the establishment. 
"Unfortunately, I've experienced similar discrimination at the Cosmopolitan and other Vegas hotels," Yo Gotti said. "It's a disgrace that these establishments continue to judge us by the color of our skin and our professions instead of recognizing our artistry and dedication to our communities. I stand with Meek Mill and all my peers in the hip-hop community that have been disrespected by places like the Cosmopolitan." 
Meek's ordeal has received the support of many people within the hip-hop community, including 50 Cent and T.I.