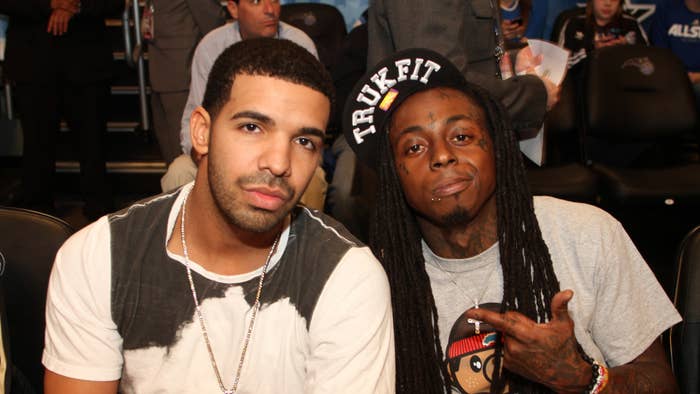 Pro skater Lil Wayne confessed he has prevented Drake from skateboarding out of concern for his well-being.
While speaking with Tony Hawk for Interview magazine, Wayne revealed the Toronto rapper has shown up at a park fully prepared to give skating a try, only to get pushback. Weezy considers Drake to be a "very clumsy guy," citing the injuries he has sustained while performing.
"I skate after every show, we have parks booked," the 40-year-old said. "So yes, Drake has been on the scene at a park with a skateboard in his hand, and we've all quickly stopped him, like, 'Don't even attempt it,' because he's a very clumsy guy. Drake hurts himself by just performing, and he'll get real injuries."
He continued, "He'll be on crutches the next day, and you be like, 'Wait, all you did was fall onstage, right?'"
Back in 2009, Drake had to undergo surgery to repair a torn ACL after re-injuring his knee while onstage with Wayne.
"So he's one of those guys. But he plays basketball a lot, so I think that has a lot to do with why he gets hurt," Wayne told Hawk. "But as far as him on the board and me trying to get him to skate? No."
Elsewhere in Interview, Wayne revealed he wasn't able to hold Meek Mill back from hopping on a board.
"So [Meek] stood at the top [of the quarter pipe], skateboard ready, lifted up like he's about to drop in," he recalled. "I'm like, 'Please don't, man.' He's like, 'Nah, man. I ride bikes all day. This can't be nothing.' I'm like, 'It's not the same.' And of course, he totally fell and taught himself a lesson about that. I tried to stop him."
Weezy added that "my man Ty Dolla Sign just hurt himself real bad recently" as well, also trying to drop in.
Read the highly entertaining conversation with Tony Hawk here.