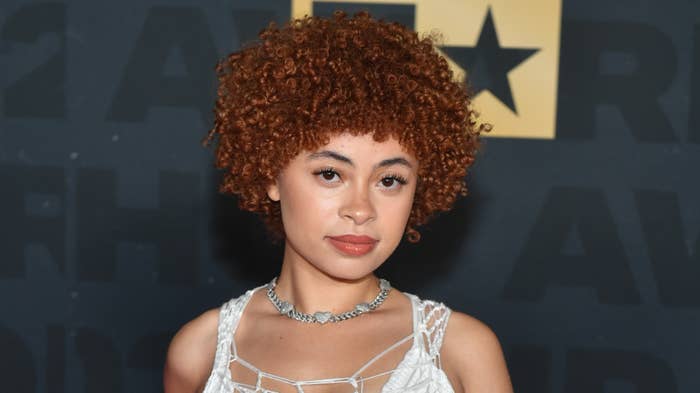 On Wednesday, a number of Twitter accounts highlighted a supposedly since-deleted tweet from producer RiotUSA in which he offered money to Ice Spice and Nicki Minaj stan accounts to buy the "Princess Diana" remix.
Screen recordings and screenshots of the alleged tweet (two of which were seemingly taken by Doja Cat and Cardi B stan accounts) show Riot tweeting, "which big munchkin acc or barb acc can i trust to distribute funds for y'all to buy princess diana??" 
Another user @dojajay not only appears to have reported Riot's alleged tweet to Billboard, but also reached out to the "director of the Hot 100." 
There's even a tweet where a fan seems to be following up with Riot, who produced the song in question, about the money.
😭 waiting to get paid so i can buy all versions on both websites ✋✋
On the surface, paying someone to buy your song might seem antithetical. A 2022 Billboard video explains that songs played from an on-demand streaming service, such as Apple Music and Spotify, are valued higher than a programmed service, like Pandora. However, Billboard's current model prioritizes a bought song over a streamed track for the Hot 100. So if a bunch of fan accounts were to mass buy a song, they could boost a song's chart position.
Riot recently retweeted a message from an Ice Spice fan account alerting their followers that different versions of "Princess Diana," remix included, are currently available for purchase on iTunes for 69 cents. 
The "Princess Diana" remix appears to be co-distributed under Nicki's new Heavy On It record label. The Queens rapper declined to say anything further on Twitter in response to someone's astute observation. 
Next week, we'll find out how high the "Princess Diana" remix charts on the Billboard Hot 100. The original version did not chart, but Ice Spice has been enjoying the success of her PinkPantheress collaboration "Boy's A Liar, Pt. 2," which is a Top 10 hit. Ice Spice's "In Ha Mood" also charted this week at No. 76. Meanwhile, Nicki Minaj's "Red Ruby Da Sleeve" is charting at No. 61 while her YoungBoy Never Broke Again collab "WTF" debuted at No. 99 this week.