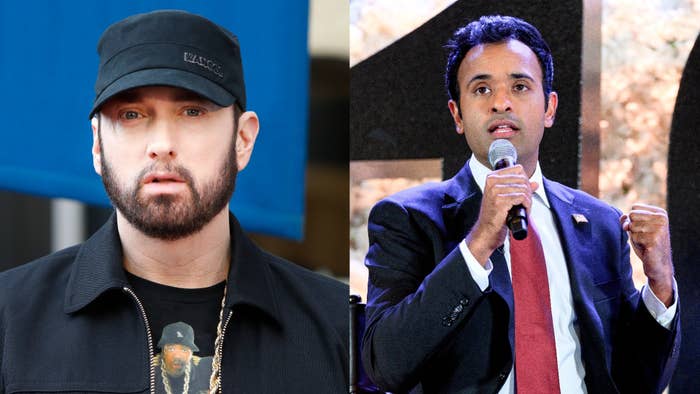 Eminem has taken action against Vivek Ramaswamy after a video surfaced showing the Republican presidential candidate performing "Lose Yourself" earlier this month.
According to Deadline, Pamela Williams, attorney for the music rights management service BMI, sent a letter to Ramaswamy's campaign, informing them that Eminem objected to the politician's use of his song. The rapper's catalog has since been removed from the BMI license agreement with the campaign.
The cease and desist likely stems from Ramaswamy delivering an unexpected and unnecessary performance of the Oscar-winning song at the Iowa State Fair.
According to the New York Post, Ramaswamy freestyled during a Fox News appearance in July, in response to a report about him being a rapper during his years as an undergrad at Harvard. His rap name was Da Vek, as reported by Politico.
Fat Joe recently called Eminem a "rap god" while revealing he and Big Pun waited in line to buy The Slim Shady LP at Tower Records the day before the Grammys where they were scheduled to attend.
"We're nominated for a Grammy and the night before we go to the Grammys we are waiting on line in L.A. at Tower Records for fucking Eminem album," Joe said on the Rap Radar podcast. "On line, nominated for a Grammy, me and Big Pun on line to get that muthafuckin' Eminem album. You tell me he ain't a rap god."