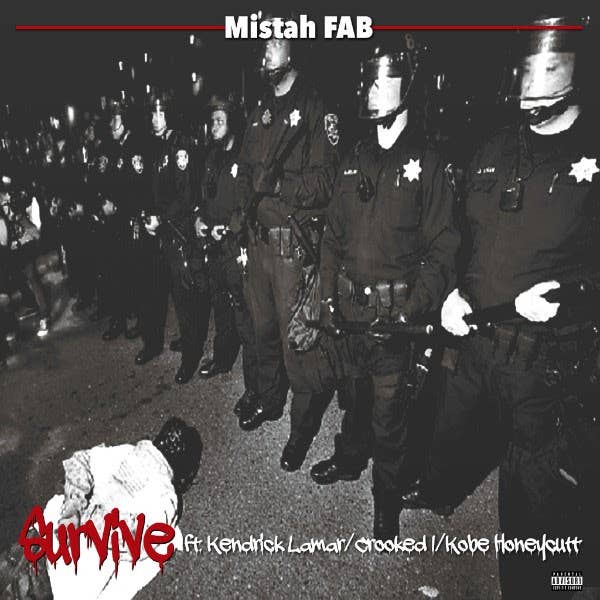 Mistah F.A.B. enlists Kendrick Lamar for his latest single, "Survive." On the track, Kendrick delivers an intense and equally poignant verse about vicious cycles of violence. "You ever been a victim of being a prisoner inside your own mind?" he asks before rapping, "Life of a young delinquent/Even stole him a Lincoln, at 15/Middle fingers, walked out the precinct."
"I reached out to Kendrick about a year ago like, 'Yo Cousin, I need you on this record,'" F.A.B. explained to Rolling Stone about how the track came together. "He said it was no problem and got it to me the next day. Kendrick is hella talented. I just love that the world is embracing him the way that he is. He was always a star, it just took a long time for the world to see it."
The track also features Slaughterhouse member Crooked I, who F.A.B. has worked with for years. "This song is a great example of how the West Coast," F.A.B. told Complex over email. "I wanted Kendrick on there but I also wanted Crooked I, whom I've worked with together for years and consider one of the top lyricists ever from the West Coast. And with the both of them on there, I've got representation from Dr. Dre's camp and Eminem's camp. To have this song be the first time we all work together is dope." 
Chicago singer Kobe Honeycutt also delivers a vocal assist. If you're not familiar, Honeycutt is a Grammy winning singer-songwriter who shared some insane vocals on Dr. Dre's 2010 single, "Kush."
"Survive" will be included on F.A.B.'s forthcoming album, Son of a Pimp 2, the sequel to 2005's Son of a Pimp and his first official studio release since 2007's Da Baydestrian. F.A.B. has rounded up a stacked lineup of friends and collaborators for the album, including Boosie Badazz, E-40, Too $hort, Snoop Dogg, 2 Chainz,  Raekwon, Lupe Fiasco, and more. Listen to "Survive" below and look out for Son of a Pimp 2 dropping May 27.