What Lil Wayne's Move to Roc Nation Would Mean for His Cash Money Lawsuit, According to a Lawyer
Here's what Lil Wayne's potential move to Roc Nation could mean for his Cash Money lawsuit.
Getty
Image via Getty/Taylor Hill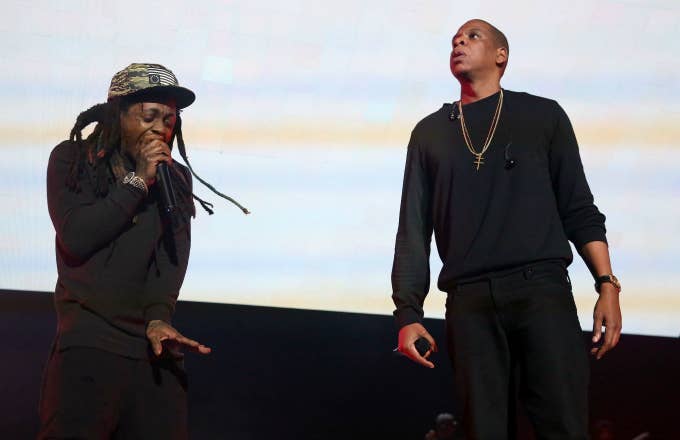 The last two years have been tumultuous for Lil Wayne; his legal crusade against Cash Money Records has appeared in multiple forums and dominated headlines. Recently, he fueled rumors of his own retirement, suggesting that perhaps this battle would be the end his career. Despite these hardships, Wayne has nonetheless persisted to cement his status as a world-class rapper, continuing to perform sold-out shows and remaining ubiquitous on the feature circuit. But there's one thing that he hasn't done since July 2015: release a full-length record. 
Some have speculated that this absence stems from contractual restrictions that he's currently fighting in court with the label. This week, Wayne told his fans that he had signed to Jay Z and his label, Roc Nation. At a live show in Pennsylvania, he threw up the Roc diamond sign and proclaimed, "It's the Roc. You know I'm a member of that team now." Roc Nation has yet to confirm any such deal; Complex has reached out for comment.
In 2015, Wayne sued Cash Money for $51 million in unpaid royalties and asked the court to declare him free from his contract with Cash Money. At the heart of this case is the Young Money label agreement, which required that Wayne (along with his Young Money artists) deliver 21 albums during the seven-year period between 2008-2015 at the rate of no more than three albums per year. Wayne argues that, by virtue of the term of the agreement, the Young Money joint venture—along with all of Wayne's contractual obligations—ended in the summer of 2015. Cash Money argues that Wayne cannot be excused until he fulfills the specific obligations, and that since he's at least an album short, he is still under the contract. 
Wayne entered into his first agreement with Birdman at the ripe age of 9, and due to his evolving role and quick come up, he quickly outgrew multiple agreements with Cash Money, leading to disputes and amendments. Wayne started out as a young solo rapper and developed into a mogul, boasting sterling A&R skills and shining in his role as a mentor to the artists on his imprint. As this business empire matured, Birdman remained involved and in many ways, in control of Wayne's endeavors. This relationship dynamic gave way to a complicated web of arrangements between Wayne and Cash Money. As the business expanded, according to Wayne's recent lawsuit, it became clear that he wasn't seeing his fair share of the profits or ownership. The suit is ongoing, and truthfully, little progress has been made in the years it has spent under the court's purview. 
But Wayne has been releasing music off of the Cash Money label for a while now; in July 2015, Wayne released Free Weezy Album exclusively on Tidal. The record's copyright credits read "2015 Young Money Entertainment," a company owned exclusively by Wayne (and a separate business entity from the Young Money joint venture). Shortly after Wayne self-released Free Weezy Album, reports claimed Birdman intended to sue Lil Wayne for breaching his recording contract. A suit was never filed, and even if one had been, it would likely be suspended pending the outcome of their current dispute. Unless he has made headway in this dispute, Wayne could face similar legal liability for signing with Roc Nation.
Wayne's public words certainly implore Cash Money to keep an eye on him, but it is likely that no further legal action will take place until Wayne releases more music; specifically, an album that Cash Money can claim is owed to them. If he were to release an album on Roc Nation, Wayne could be sued for breach of contract and Roc Nation could be included for intentionally interfering with contractual relations. None of this would stand up though, if Wayne prevails in the case that's in court now. The potential for a lawsuit alone may keep Wayne and Roc Nation from a high profile album release, but if Wayne wins or settles in his lawsuit against Cash Money, it shouldn't. 
As this cloud of litigation continues to linger over Lil Wayne, there is clear liability in any movement to release music. However, in the digital era, labels are not what they used to be. Wayne's alliance could be superficial; and it's certainly conceivable that Wayne could take advantage of some of Roc Nation's prestige while keeping his legal issues at arms length. Keep an eye on Louisiana state court this year, because if another major player has come to the table with enough money, Wayne's case with Birdman is likely to be resolved soon.