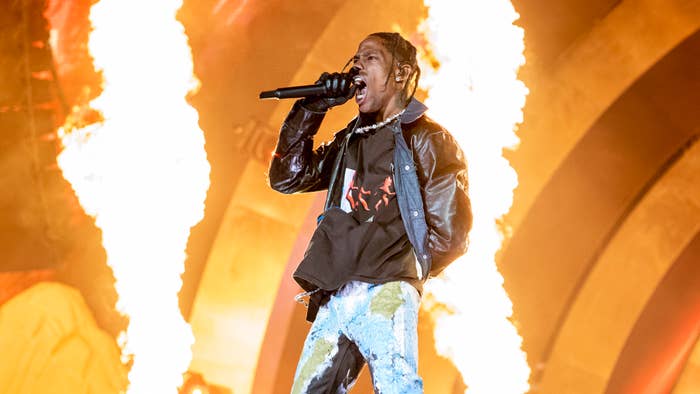 A concertgoer is calling Friday's tragedy at Astroworld Festival, "preventable and predictable."
Manuel Souza was first revealed to be suing Travis Scott and Live Nation in a petition which was filed on Saturday in Harris County District Court, Billboardreports. Over 12 people are now doing the same.
As previously reported, at around 9:15 p.m. a crowd tried to approach the stage which resulted in 8 deaths and over 300 injuries. In a press conference held on Saturday, Houston Police Chief Troy Finner confirmed that his office is looking into reports that someone was injecting concertgoers with drugs at the festival. 
"Defendants failed to properly plan and conduct the concert in a safe manner," Souza's attorney, Steve Kherkher, said. "Instead, they consciously ignored the extreme risks of harm to concertgoers, and, in some cases, actively encouraged and fomented dangerous behaviors."
But Souza is the first of many to file a lawsuit against Scott and LiveNation. The suits could potentially earn the plaintiffs hundreds of millions in settlements or damages, reports Billboard. So far, 14 cases have been filed.
Muhammad S. Aziz, an attorney who repped victims from the 2017 Las Vegas country music festival shooting tells Billboard that the Astroworld tragedy could see several million dollars in awards and hundreds of suits filed. 
"It's going to be a massive case," Aziz, whom the victims have contacted, said. "The facts here are egregious."
In another specific lawsuit, via documents obtained by the Daily Mail, 23-year-old attendee Kristian Paredes is seeking $1 million over allegedly being pushed into the show's general admission metal barrier and suffering permanent bodily injury. The lawsuit not only names Scott and LiveNation, but also Drake and Harris County Sports and Convention Corporation.
"There is every indication that the performers, organizers, and venue were not only aware of the hectic crowd, but also that injuries and potential deaths may have occurred," Paredes' attorney Thomas J. Henry said. "Still, they decided to put profits over their attendees and allowed the deadly show to go on."
Numerous reports have identified a majority of the victims: John Hilgert, a 14-year-old freshman at Memorial High School in Houston; Brianna Rodriguez, a 16-year-old junior at Heights High School in Houston; Franco Patino, a 21-year-old student at the University of Dayton from Naperville, Illinois; 23-year-old Rudy Pena; and Danish Baig, 27. 
Organizer ScoreMore is also being sued by Souza. The lawsuit calls the tragedy a consequence of "a motivation for profit at the expense of concertgoers' health and safety" and the "encouragement of violence."
Most lawsuits will claim that there was negligence which caused injuries and deaths – Live Nation, ScoreMore and others will likely be called out over security measures, evacuation routes, and medical support. Some are expected to argue that the concert should not have continued after it was called a "mass casualty" event.
Scott will likely also be named for his conduct during the show, as one suit mentions Drake, who appeared on stage after ambulances arrived. Travis' history of encouraging concert goers to storm stages with resulting arrests, may be examined, Billboard shares. Famed civil rights attorney Ben Crump is also representing the victims. 
It's a possibility that victims were met with liability waivers when purchasing tickets, potentially forcing lawsuits to be handled out of court, but litigation may be going on in relation to Astroworld for years—with suits are coming out individually. 
"There's some assumption of risk in a concert, but not that you're going to be crushed to death at a venue that's overcrowded," Aziz said. "If you go into a mosh pit and get hurt, that's one thing. But the more stories you hear, these people just had nowhere to go."
On Sunday, Kylie Jenner released a statement addressing the incident. "Travis and I are broken and devastated. My thoughts and prayers are with all who lost their lives, were injured or affected in any way by yesterday's events," she wrote on Instagram. 
"And also for Travis who I know cares deeply for his fans and the Houston community, I want to make it clear we weren't aware of any fatalities until the news came out after the show, and in no world would have continued filming or performing," she added.