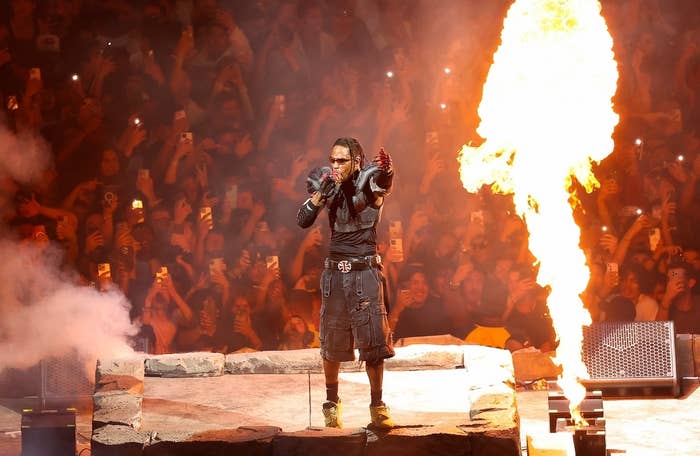 Travis Scott brought the BOK Center down with "FE!N," not once, but ten times.
The Utopia artist performed in Tulsa, Oklahoma on Saturday where he delivered the Playboi Carti-assisted song to Circus Maximus Tour repeatedly during a 14-minute streak. Clips from the set show Scott energetically hopping into "FE!N" on a constant loop and hyped up by his tour DJ Chase B, both getting each side of the BOK Center to compete against each other.
Travis even had to comment on it.
Although Carti was absent from the set, the Whole Lotta Red rapper surprised Scott's L.A. crowd earlier this month for "FE!N." He wasn't the only special guest during Scott's L.A. show.
Scott's five-year-old daughter, Stormi Webster, adorably stood alongside the rapper while he performed "Mafia."
While Scott fans were excited to hear "FE!N" on repeat in Tulsa, the crowd stayed safe two years after the tragic Astroworld Festival crowd crush, which Scott recently told GQ he still thinks about.
"Making music, you think about things that go on in life and things that happen in your life, and you dial in on things. That moment for families, for the city, you know, it was devastating," he said.
"FE!N," which also features Sheck Wes, peaked at No. 5 on the Billboard Hot 100, becoming Scott's 14th top-ten single. Utopia, Scott's fourth album overall, debuted at No. 1 on the Billboard 200, the second rap album of the year to atop the chart behind Lil Uzi Vert's Pink Tape.