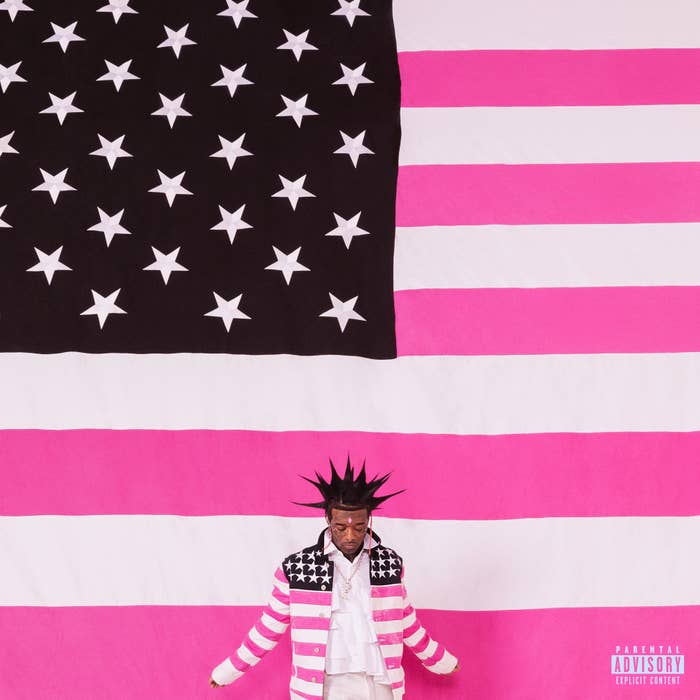 Best song?
Jessica: "Flooded The Face" is the best song on the album. It has an infectious beat, Lil Uzi is rapping aggressively, and their flow is insane.
Eric: "Days Come and Go" stands out because it's got that classic melodic Uzi sound that I love (plus some of the best raps on the whole album). But when it comes to the more energetic post-SoundCloud songs, I'll go with "Suicide Doors." I was standing a few feet away from them when they debuted it at Summer Smash the other day, and it somehow sounds even crazier on the album—pure adrenaline rush.
Jordan: I think the way Uzi talks their shit on "Suicide Doors"' is dope. They sample a bigoted Boosie interview and flip it to their advantage, which reflects how comfortable they are in their own skin.
Kameron: There are some very high highs on this album, but for me, the standout track is "Patience" with Don Toliver. The hazy production, melodic hook, and Don Toliver providing the background vocals is perfect for a nighttime drive in the summertime. After the first listen of the album, this song definitely got the most spins from me. I just wish it didn't take until an hour into the album to get to this track.
Biggest skip?
Jessica: "X2" stands out as one of the weaker tracks on the album. Although it might work better in a live setting, the beat is just too chaotic to get through on a casual listen. It's also worth pointing out that I might skip all or most of the heavy metal-influenced tracks.
Eric: "The End." I'll spare my speakers. I understand why they wanted to make this song, but I've never enjoyed screamo, heavy metal, or hardcore rock, and I definitely won't be returning to this one.
Jordan: I won't be revisiting "Amped" because it sounds too much like a song that any of Uzi's contemporaries (Playboi Carti, Trippie Redd) would make.
Kameron: "CS" was easily the least enjoyable song for me. It sounded like three different songs in one and none of them sounded good.
Best thing about the album?
Jessica: Uzi is clearly having fun and not backing down from embracing their eclectic style despite the negative feedback they've received over the years, and it pays off at times on the album.
Eric: I'll always love melodic Uzi songs the most, so my favorite stretch is the four-track run from "Pluto to Mars" to "Rehab." I also like how much other stylistic ground they cover, though, and I have to give credit where credit is due: tehir twist on the new rock-infused, moshpit-ready, rage-adjacent sound is the best version of it I've heard yet. A lot of music that's emerged from the "rage" rap era is so reliant on pure energy that it sacrifices substance and song structure (and really anything to hold onto when you're not thrashing around in a mosh pit) but Uzi injects enough of their personality and songwriting instincts to make it all sound much more compelling here.
Jordan: I enjoy how eccentric Uzi gets on this album. There are a few legitimate rock songs in the middle portion of the album, like "Werewolf," and it feels like songs that Uzi has been waiting to make. I'm glad they took this album as an opportunity to try different things and lean completely into their punk rap sound.
Kameron: You can't say that this project lacked energy, and that is a positive. A 26-track, hour-and-a-half-long album at midnight could seem like a daunting task to listen to all the way through in one sitting, and though all of these songs didn't quite hit the mark, I was engaged all the way through. That mainly has to do with the top-tier from Don Cannon, BNYX, WondaGurl, CuBeatz, Brandon Finessin and a host of others. But the overall energy of the project made a lengthy album relatively easy to take in all at once.
Worst thing about the album?
Jessica: 26 songs is a bit ridiculous. There are definitely some good songs in the mix, but it's hard to find them when there's so much music to go through. Uzi could've split the album up and released it in the same way they did with Eternal Atake.
Eric: The obvious answer is that the album is too damn long at 26 songs. But besides that, I have a stupid complaint. Maybe it'll grow on me, but I'm thrown off every time Uzi makes that growling throat sound you hear at 0:14 on "Amped" (and elsewhere on the album). I know they're leaning into the whole demonic rockstar aesthetic, but it just doesn't sound good to my ears.
Jordan: It's way too long. I think it would have benefitted from a considerable chop session that excluded unnecessary songs or tracks that dont add to the overall energy of the album, which come early.
Kameron: I am not the biggest heavy metal or rock fan, so those elements of this album were immediate skips for me. Maybe it was because it was midnight, but listening to heavy metal and rock-infused Lil Uzi Vert records wasn't on my bingo card for last night and they felt mostly in the way of the quality rap records that I was interested in.
Best feature?
Jessica: I'm not usually a fan of singing Nicki, but I think her verse on "Endless Fashion" takes the W this time. Her verse was fun and had some cute one-liners in there.
Eric: Nicki Minaj did her thing on "Endless Fashion." Otherwise, the features were pretty forgettable, to be honest.
Jordan: Nicki Minaj showed up and showed out with her verse on "Endless Fashion." She and Uzi already have great chemistry, and it shined on that track.
Kameron: Don Toliver is the easy choice here. Nicki Minaj was solid in her feature on "Endless Fashion" but Don just complimented "Patience" perfectly with his background vocals on the chorus and his bridge midway through the song. He's quickly become one of the best features in hip-hop currently, and he delivered once again on this album.
Final thoughts/overall first impressions?
Jessica: Pink Tape is a decent album. It has a handful of great songs including "Flooded The Face," "Suicide Doors," "I Gotta," and "Nakamura," but the album also suffers from an extremely long tracklist and chaotic direction. Bouncing from an aggressive rap track to a melodic or rock ballad to a heavy metal record was a bit difficult to follow and made me dizzy. With that being said, I think a lot of these songs could grow on me when Uzi performs them live. But for anywhere besides a stage or arena, I will probably only listen to 8 songs from this project.
Eric: Uzi's spiked hair on the cover art wasn't a fake-out. Uzi wants to rock—or at least make an album full of mosh pit anthems. For the most part, they succeeded, stretching their sound in adrenaline-fueled new directions without completely abandoning their quirky, melodic side either. Is there fat to trim? Yes. Did some of the metal crossover songs fall flat? To my ears, yes. Did they find room to make one of the personal songs of their career? Yes (listen to "Rehab"). And most importantly: Did they take interesting swings and connect on enough of them to make for an overall enjoyable listen? Absolutely.
Jordan: There are too many Playboi Carti-isms and not enough Lil Uzi Vert-isms on Pink Tape. I enjoyed it when Uzi got creative and dipped into their punk rap bag, but the album is so overly long that the clutter of unnecessary songs distracts from what they're trying to accomplish. Uzi is known for long albums, but this album feels like they're trying to overcompensate for not dropping a project in several years.
Kameron: This album has some really good records such as "Patience," "Crush Em," "I Gotta," "Rehab," and "Died and Came Back" amongst a few others, but they were too few and far between in a project that otherwise lacked a clear focus. If Uzi separated the rock tracks and the hip-hop tracks into two separate projects, this might have been an easier project for me to digest. But with both fused into one project, it felt like a clash of sounds and styles more than a blending of them, often confusing me. Their catalog to this point had been otherwise stellar between their mixtapes such as "Lil Uzi Vert Vs. The World" and their 2020 album "Eternal Atake." But the "Pink Tape" feels like a low point in their catalog after several listens.