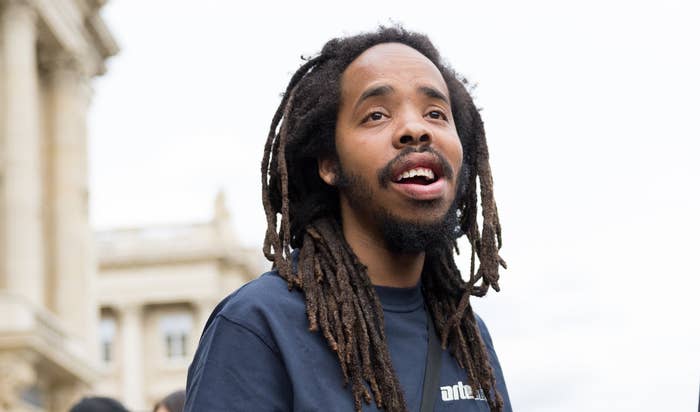 It might be time to make some extra room on your 2023 bingo card because the closest thing to an Odd Future reunion happened backstage at Earl Sweatshirt's recent Los Angeles show to commemorate the anniversary of his groundbreaking debut, Doris.
In some new photos from the weekend, most of the original Odd Future crew was in attendance to support Earl. It's worth noting that while the highly influential collective never officially broke up, it has been over a decade since their last release, 2012's The OF Tape Vol. 2.
Other guests included Domo Genesis to perform "20 Wave Caps" and Vince Staples for "Hive." And before everyone asks, Frank Ocean was not in attendance, although Earl did perform their song "Sunday" for the first time since 2015.
Tyler previously shut down rumors of a potential Odd Future reunion in 2020. "Nine times out of seven, no," the Call Me If You Get Lost rapper said in a conversation at Converse's Creative All Star series in London. "I would be open to it, but I think everyone is kinda past that. I think some people base it on nostalgia rather than like, 'Would it actually be good?' Like, we don't always need a Bad Boys 5. Even though I like the last one. N***a, it's there, listen to it."
He also had some things to say about the group's music.
"Honestly, the OF tapes weren't that good," Tyler said. "It was just a fun time, but musically, it's like, 'Uh, coulda did better.' But, for the time, it was tight. I think now...and I could probably figure it out. I don't know if the styles will mesh much for a good cohesive thing. No niche like, 'Oh, this is a good idea.' Like an actually good thing. I don't know if the styles would mesh much with everyone. But, who knows, this could change in six weeks."
Tyler, the Creator recently announced the lineup for 2023's Camp Flog Gnaw, which features Earl as well as other OF members: Left Brain, Syd, and Domo Genesis.
You can view the full setlist of the show here.