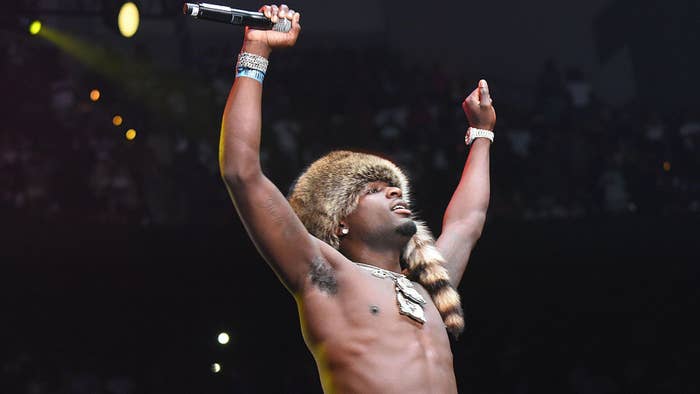 Ralo was sentenced to eight years in prison on Thursday, according to court documents reviewed by XXL.
Despite the stern sentence, the rapper's team shared via his Instagram account that they believe he will be released from custody sometime next year, thanks largely in part to the credit he's expected to receive for time served.
"The Judge sentenced Ralo to 8 years in Federal Prison, he was given over 4 years credit time served," Ralo's estate posted on his page. "The BOP has also credited him 1 & ½ year for good time. He was recommended 1 year ankle monitor after the halfway house approve his home address; which will bring him home to us late next year, but our goal is for him to complete his GED or RDAP Drug program so we can get another year off his sentence. That will bring him home to us in less than a year. We need prayer 🙏 hands… #FreeRalo."
According to the outlet, Ralo was sentenced to 97 months in federal prison in March, after he pleaded guilty to "six counts including conspiracy to possess with the intent to distribute at least a kilo of marijuana, felony possession of a firearm and money laundering." Ever since he's been behind bars, artists like Drake and Meek Mill have been pushing for Ralo to be freed. Last year, Drake and other luminaries sent a letter to President Biden asking for the rapper's sentence to be shortened.
"On behalf of Terrell Davis and his family, we strongly urge you to grant clemency for Mr. Davis, who is serving federal time for a nonviolent marijuana offense," the letter read. "The undersigned— musicians, actors, athletes, filmmakers, current and former elected and appointed government officials, advocates, and business leaders—strongly believe that justice necessitates the exercise of clemency in this case. Our nation's view of cannabis has evolved, and it is indefensible to incarcerate citizens based on the unduly harsh attitudes of past generations."
Ralo was initially arrested in April of 2018 after police searched a private plane he was on. There, they uncovered $1 million worth of marijuana, leading to Ralo's guilty plea a month later. 
Once Ralo completes his sentence, he'll spend five years under supervised release.