Lil Wayne has blessed fans with a gem we didn't even know we needed. Digging deep into the vault, the Young Money rapper dropped "Ya Dig," which apparently dates back to his Tha Carter III days. It sounds like it's fresh out of a time capsule, utilizing Tarik Azzouz production and a sample of Margie Joseph's "Stop! In the Name of Love," which the rapper also used on his '07 The Leak track "Gossip." 
According to Lil Wayne HQ, the track was initially meant to hit on Sept. 24 but was pushed back so it wouldn't interfere with Wayne's collab tape with Rich the Kid, Trust Fund Babies.
"Ya Dig" commemorates Wayne's announcement that he's releasing the Tha Carter Singles Collection 7" vinyl box set, which will feature 19 of Wayne's biggest Tha Carter series hits on 45 for the first time ever. The set will be available on shoplilwayne.com.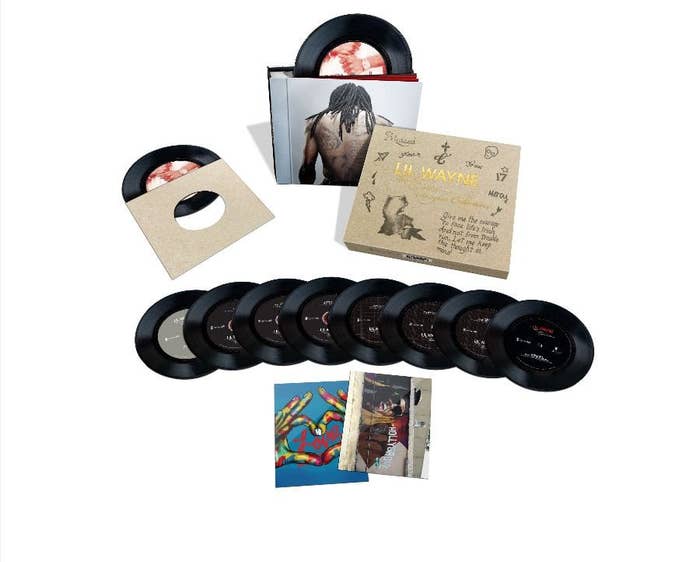 Tha Carter Singles Collection Tracklist:
1A. Go DJ (Single Edit)
1B. Bring It Back (Single Edit)
2A. Shine (Single Edit)
2B. Fireman (Single Edit)
3A. Hustler Musik (Single Edit)
3B. Shooter (Single Edit)
4A. A Milli
4B. Got Money
5A. Lollipop (Single Edit)
5B. Mrs. Officer (Single Edit)
6A. Comfortable (Singe Edit)
6B. 6 Foot 7
7A. How To Love
7B. John (Single Edit)
8A. She Will (Single Edit)
8B. It's Good
9A. Mirror
9B. Uproar
10A. Mona Lisa (Single Edit)
10B. Ya Dig

Despite the exact conception of "Ya Dig" being unknown, the hunger in Wayne's voice is palpable. Whether it's him delivering Vince Lombardi name-drops like he's been heard spitting on later tracks such as "Ignant Shit," or just boasting about how his reign has only just begun, this sounds like a song that would have fit neatly on the latter half of Tha Carter III.
Not long before Wayne dropped Trust Fund Babies with Rich the Kid, Young Money president Mack Maine went on Twitter Spaces and hinted that more full-length offerings from the rapper might be on the way.
"Anybody that's like a Wayne fan, they know that I Am Not A Human Being III is up, coming up soon," Maine revealed. "Wayne and Rich the Kid have a project together that's coming out soon. ColleGrove [2] is coming out soon, with him and 2 Chainz—I was about to say Tity Boi, we still call him Tity Boi. But uh, yeah, so it's a lot of music Wayne's working on."
While we wait for new Wayne tracks, get sent back to '08 and listen to "Ya Dig" up top via YouTube, or here through Spotify: