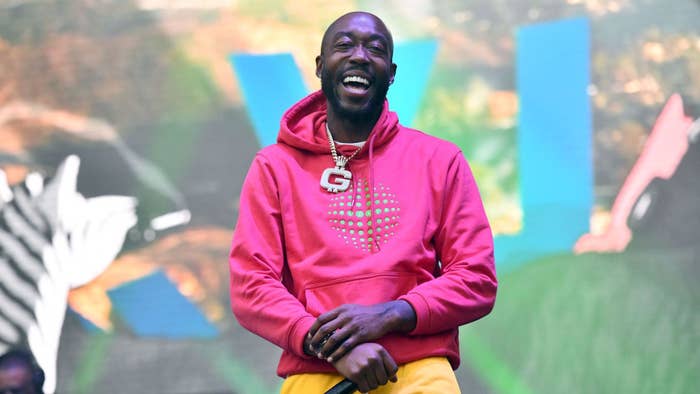 Freddie Gibbs has just signed a new deal with Warner Records.
According to Billboard, Gibbs, who just finished a brief stint with RCA Records/Keep Cool, will now be joining the likes of DVSN, Earl Sweatshirt, and more as a member of Warner. 
"I'm really looking forward to partnering with Warner and working with Aaron," Gibbs said of Warner CEO Aaron Bay-Schuck.. "He's a young progressive label head I can openly share ideas with. It was love and respect from the first meeting and always felt right. We're working together to take everything to another level for my day one fans as well as the people just now discovering me." Gibbs also revealed that he will be releasing new music soon.
Prior to his new deal, Gibbs also released what many—including Complex—believe to be one of the best albums that have come out this year, with his Alchemist-produced project Alfredo. When Gibbs sat down to talk with Complex about Alfredo, he said that he already knew the album would be a classic, and how he wanted to take his time on this one following the critical success of his prior collaborative album Bandana with production legend Madlib.
"I had a lot of time to reflect while making this project, " Gibbs said. "I stepped back because I got to a different kind of notoriety when I made Bandana. The rush of the people that was saying that they didn't like my music at first, but now all [on] the bandwagon, that just gave me time to really be like, 'Do I really even want to rap anymore?' Rap, to me, is just so superficial."
He went on to say that he realized he makes his best music when he doesn't have to overthink it. "When I go in with Al, I just feel comfortable. I don't feel like I got to stretch too much out of my zone. This album just represents freedom to me. It's me being free on 10 tracks and just letting loose. Letting loose some personal shit, showing off the skill level. I try not to rap like nobody else. If there's a Rap Hall of Fame, I'm just trying to get in that motherfucker."
Gibbs is also an artist who has created much of the success in his career independently and without the aid of a major record deal. Even when he initially signed to RCA Records in the summer of 2019, he refuted any claims that he was selling out.
"I've been doing my shit, and I just haven't been winning the chips. Me going over with [RCA's executive president of A&R] Tunji [Balogun] and Keep Cool to RCA, it's about to be steroids on this shit," Gibbs said.