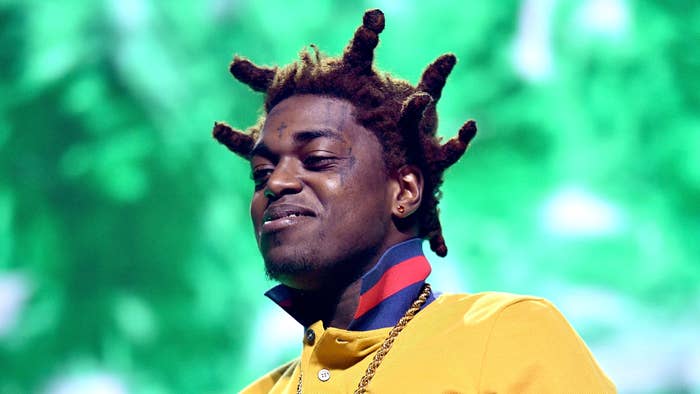 The feud between Kodak Black and YoungBoy Never Broke Again is escalating.
Tensions between the two rappers were ignited in early April 2020 after Kodak accused YoungBoy of cooperating with the police in connection to a stabbing that took place at his home. Since the initial incident, Kodak (who is currently serving time in prison on federal weapons charges) and YoungBoy have been trading shots on social media.
The recent events are just the latest in Kodak Black and YoungBoy's ongoing saga. The two appeared to be friends at one point, even collaborating on a few tracks together. But over the years, their friendship has deteriorated and the two have turned to throwing jabs at each other. Honestly, this beef gets a little confusing if you haven't been paying close attention, so here's a complete timeline of Kodak Black and NBA YoungBoy's issues from when it started in 2017 to their most recent interaction.
August 2017: Kodak Black seemingly takes shots at NBA YoungBoy on "Time Never Mattered"
After collaborating on songs like "Chosen One" and "Water" in 2017, Kodak Black and YoungBoy's friendship appeared to take a turn when Kodak released his single "Time Never Mattered." Many fans believed Kodak took shots at YoungBoy when he rapped, "But I hope that I don't go broke again, nigga I'm killin' young babies/Kodak never goin' broke again, nigga you a free agent." While neither artist commented on the rumors directly, fans believed YoungBoy responded to Kodak's jabs on "Time Never Mattered" in a video on YouTube. 
November 2018: YoungBoy affiliate Quando Rondo burns Sniper Gang shirts
The rumored feud between Kodak and YoungBoy began to heat up after NBA's artist, Quando Rondo was filmed burning merch for Kodak's label Sniper Gang. The video sparked outrage among Kodak's circle, causing them to retaliate by burning a Never Broken Again LLC shirt. Kodak's Sniper Gang crew later issued a video statement on social media, showing them toting guns and making threats toward Quando Rondo. "Ya'll burning Sniper Gang shit. I usually don't burn shirts, you feel me. I really burn niggas' asses, you feel me," one member said at that time. In 2018, Kodak revealed that he forgave Quando in a video chat, but accused the rapper of jacking his style a year later.
October 2019: NBA YoungBoy reportedly starts dating Kodak Black ex-girlfriend 
Following the release of NBA's Al YoungBoy 2, the rapper was spotted with Kodak Black's ex-girlfriend Dej. The sighting sparked rumors online because Dej was seen leaving loving comments on Kodak's Instagram weeks prior. Despite fan speculation, neither artist commented on the report.
November 2019: NBA YoungBoy drops surprising "Letter 2 Kodak" 
In 2019, Kodak Black was sentenced to 46 months in prison on federal weapons charges. Following the news of his sentencing, YoungBoy dropped his single, "Letter 2 Kodak." On the record, YoungBoy addresses Kodak directly, rapping, "Kodak locked up and I miss him so I'ma send a kite."
April 4, 2020: Kodak steps in when Iyanna Mayweather is arrested for stabbing the mother of YoungBoy's child
On April 4, Iyanna "Ya Ya" Mayweather was reportedly arrested and charged with felony aggravated assault with a deadly weapon after she allegedly stabbed the mother of YoungBoy's child, Lapattra Lashai Jacobs. Authorities said the incident took place at YoungBoy's home where the rapper was hanging out with Jacobs. An altercation broke out when Mayweather showed up and demanded Jacobs leave. When Jacobs refused, the argument moved to the kitchen where Mayweather allegedly stabbed her several times. Authorities claimed YoungBoy was allowing the police to conduct a full investigation. 
Kodak inserted himself into the situation by accusing NBA YoungBoy of "cooperating" with the police. "The hell they mean fully cooperated LOL. They ain't say a lil piece bit, they say fully big. Anyways, man that word ain't even posed to be attached to your name," Kodak wrote in the comments of a celebrity gossip Instagram post. "Dam lil bra, don't do dat lil girl like dat man. I mean I'm locked up, but this shit got it lookin' like it it was some Otha shit you'll tell something. This shit make like u ws scared den ppl was gone try charge u wit it or something so u screamed. Dat ain't sa drip man. U know we don't holla at democrats ppl." 
April 5, 2020: NBA YoungBoy goes on Instagram Live to address Kodak's "cooperating" comments
After catching Kodak's comments on Instagram, YoungBoy hopped on Instagram Live. "I ain't never paid attention to a nigga, especially not from no motherfucking cell," YoungBoy yelled. "The fuck a nigga watching me for? A nigga say I cooperated about what? You stupid bitch?" Iyanna Mayweather, who was arrested the day before for the alleged stabbing incident, also made a cameo in the video. YoungBoy proceeded to berate Kodak, calling him several derogatory names. 
April 6, 2020: Kodak Black and NBA YoungBoy exchange more words on social media 
Since the weekend's blow-up, Kodak and YoungBoy have exchanged several shots over Instagram and social media. On April 6, Akademiks shared a clip of Kodak blasting YoungBoy via a phone call from prison. "I'll keep posting homie," Black said during the call. "I'll keep on clout chasing nigga, in your voice nigga. And make you do something boy, stop playing with me boy, forreal boy. Talking bout suck a dick, talking about suck a dick playing with a real one like that you don't play with no man like that. Talking bout suck a dick, homie." YoungBoy also shared video clips of Kodak exposing himself during a live concert as well as other disparaging memes. Following the back and forth, YoungBoy shared a message on his Instagram Stories, suggesting he was over the drama. "When I'm dead, you can accept all the pussy ass shit these niggas come with," he wrote. "Until then, while I'm living we ain't going for it."