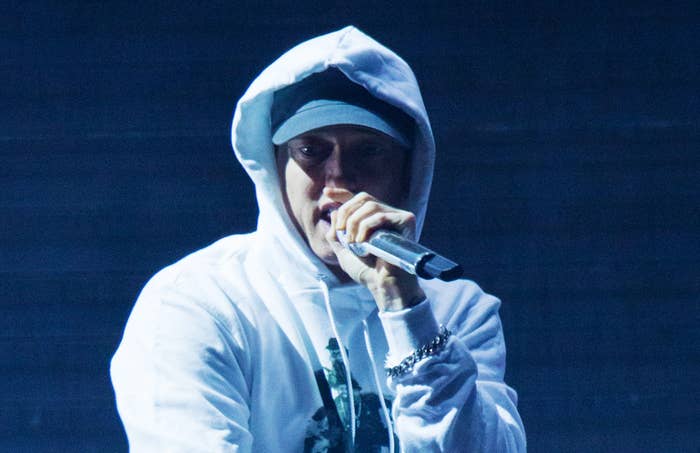 Days before the release of Fat Joe's latest album, Family Ties, the rapper warned fans of his collaboration with Eminem. "Shout out to Eminem," he said. "You know that boy on the album. It's the most disrespectful song. Eminem has not rhymed like this in years."
A "disrespectful" track from Eminem could have headed in a lot of different directions. He could have taken aim at Machine Gun Kelly again, or a public figure like Donald Trump. Instead, he revisited his long-standing beef with Nick Cannon. On the track, which seems to have come in response to some Cannon made on T.I.'s new podcast, ExpediTIously, Em takes shots at Cannon and his ex-wife Mariah Carey on a song called "Lord Above." 
"I know me and Mariah didn't end on a high note/But that other dude's whipped, that pussy got him neutered/Tried to tell him this chick's a nut job before he got his jewels clipped," Eminem raps.  "Almost got my caboose kicked, fool, quit, you not gon' do shit/I let her chop my balls off, too 'fore I lost to you, Nick."
This decade has seen its fair share of hip-hop beefs throughout the years, but the war between Eminem and Nick Cannon has spanned the entire 10 years. If you're just catching up, here's a quick rundown of how their beef developed and what brought us to this point.
May 2009: Eminem disses Nick Cannon and Mariah Carey on "Bagpipes from Baghdad" 
On May 15, 2009, Eminem dropped his sixth studio album, Relapse. The Grammy-winning project featured the fiery track, "Bagpipes from Baghdad." The song, which took aim at Mariah Carey and her newly-wedded husband, Nick Cannon, suggests Eminem is still in love with Carey after an alleged 6-month fling (the singer has denied these claims) and wanted her back. After years of tension between Eminem and Carey, this song would ignite Em and Cannon's decade-long feud. 
After Eminem viciously baits Cannon by threatening to cut Mariah Carey like serial killer Jeffrey Dahmer, he calls Cannon out by name several times throughout the song. "Nick Cannon, you prick, I wish you luck with the fuckin' whore/Every minute there's a sucker born, snuck up on Malachi/Made the motherfucker suck on a suck of corn," he raps on the second verse. 
In response to the track, Eminem and Cannon engaged in a war of words on Twitter. The digital feud got so out of hand, even Diddy and Dr. Dre had to step in. Throughout the year, Eminem and Cannon went back and forth via news outlets, with Cannon saying he "felt sorry" for Em, and the Detroit artist suggested the track was recorded in order to wish the couple well. Their tiff concluded with Cannon sharing a message on his Tumblr account, revealing he would be "taking full action on you, Eminem." 
"I don't know why no one has stood up to your bitch ass yet," Cannon wrote in the now-deleted post. "But I guess it's going to take a corny, wack rapping, boy toy from Nickelodeon to set you straight. And trust, I am going to be relentless. Even though I got a lot of other obligations and occupations, you are my new full time job 'homey'!"
June 2009: Mariah drops "Obsessed" 
While Mariah Carey remained silent during Eminem and her husband's back-and-forth, she later responded to the drama with her hit single, "Obsessed." She didn't explicitly name Eminem on the track, but many suspected the song was targeted at the rapper, due to accompanying visuals which depicted a stalker with Eminem's likeness following her through the streets of New York. 
July 2009: Eminem responds with "The Warning" 
One month later, Eminem retaliated to Carey's "Obsessed" with "The Warning." Again, the rapper name-dropped Carey and Cannon, taking jabs at the couple's relationship, and claiming to have proof that he briefly dated Carey. "I got the same exact tat that's on Nick's back/I'm obsessed now, oh gee/Is that supposed to be me in the video with the goatee?" Eminem raps, alluding to the fact that shortly after his marriage to Carey, Canon got a large tattoo of the singer's name on his back. Elsewhere on the record, Eminem continues to bait Cannon by calling his wife names. 
September 2010: Nick Cannon drops Eminem diss, "I'm a Slick Rick"
Seemingly taking a step back from the beef, Nick responded to Eminem's "The Warning" with a series of Bible verses and motivational quotes on social media. But the positivity didn't last too long. Nick then retaliated with a diss track aimed at Eminem, "I'm A Slick Rick." 
In a flow similar to Slick Rick, Canon fired several shots at Em. On the track, he excuses the rapper of lying about a past relationship with Mariah. "Yo, I'm a serve this clown now word nick word/I don't know if I should cause he's feminine slick/Excuse me, Eminem, why you lying on your dick?/Erectile dysfunction," he raps. 
Around the same time of the diss track's release, Nick Cannon proposed a boxing match between the two on Facebook. In the now-deleted post, Cannon said, "The time has come! Boys talk the talk, but men walk the walk. Nick has laid down the challenge to meet Eminem in the ring." The fight never happened, and Eminem didn't respond to the diss track or the proposition. 
January 2016: Nick invites Em on 'Wild 'N Out'
After firing shots at each other for several years, Eminem and Cannon appeared to smooth over their issues on Twitter. By this time, Cannon and Mariah had called it quits and officially filed for divorce. With their marriage behind them, Cannon seemed to extend an invitation to Eminem to appear on MTV's Wild 'N Out. "Everybody know I would LOVE @Eminem to be on Wild N' Out! Y'all go convince Marshall," Cannon tweeted. Eminem did not appear on the comedy sketch show. 
June 2016: Cannon says he's still ready to battle Eminem in the ring
Several months later, Cannon appeared on Tim Westwood' show, where he briefly touched on his feud with Eminem. Earlier that year, Canon invited the rapper to appear on his show, but he told Westwood that he would still lay a few punches on him in the ring. "Last time I saw you, you were getting ready to battle Eminem," Westwood said. Cannon responded: "I'm still ready! I'm trying to find him. Where is he?" Although Cannon appeared to be joking, there may have been some seriousness to his statement.  
September 2019: Nick Cannon opens up about Eminem beef on T.I.'s 'ExpediTIously' podcast
After years of silence, Cannon decided to open up about his longtime beef with Eminem on T.I.'s podcast, ExpediTIously. On the show, Cannon revealed his many attempts to get in touch with Em and his team. 
"I wrote this long-ass letter pretty much saying, 'I respect you as an artist, I'm actually a fan," Cannon recalled. "I think you're one of the best to ever to do it, but from man to man, you talking out of pocket to my wife. You've gotta be held accountable for that so I need to see you face to face.'"
Cannon also mentioned that he wanted to fight the rapper for disrespecting his wife at the time. "I was ready for whatever. I went looking for him," he continued. "I need to show my wife I'm a man, number one… And then two, he said my name. I said, 'I know I'm not gonna be able to out-rap you, but I will whoop your ass.' Those were the exact words at the time. Cooler heads prevailed."
Later in the podcast, Cannon revealed Eminem apologized to him in private. Despite being genuinely upset at the time, Cannon said he doesn't "wanna fight anymore." "He still in my top five, but I feel like anytime somebody says something," he admitted. "You've just gotta be held accountable. If you say something, we gonna have to have this conversation like men. That's all I wanted."
December 2019: Eminem disses Nick on Fat Joe's new album 
Fat Joe dropped his new album, Family Ties, on December 6. The album, which is full of guest features, includes an Eminem verse on "Lord Above." Joe warned fans that Eminem's verse was the "most disrespectful" he's been in years. 
On the track, Eminem references Cannon's comments on ExpediTIously, suggesting Cannon was still "whipped" on his ex-wife and that he was inferior to him. "I know me and Mariah didn't end on a high note/But that other dude's whipped, that pussy got him neutered/Tried to tell him this chick's a nut job before he got his jewels clipped," he spits.  "Almost got my caboose kicked, fool, quit, you not gon' do shit / I let her chop my balls off, too 'fore I lost to you, Nick." 
December 2019: Nick Cannon playfully responds to Eminem's "Lord Above" verse
Shortly after Eminem's verse on "Lord Above" went viral, Nick Cannon responded on his Power 107 FM show, Nick Cannon Mornings. He returned shots on-air, labeling Eminem an old man. "We should change his name from Eminem to, like, Percocet. What's the pill that old people take? We gon' call him Cialis," Cannon said of Em, also making fun of the 47-year-old rapper's delivery. "Bring your walker, get out your wheelchair Eminem, and pop whatever you wanna pop. Should I respond back to this? It's not worthy of a response."

Despite the shots fired, Cannon appeared to be in good spirits, visibly laughing and brushing off the diss track with jokes. Following his on-air reaction, he then took to Instagram, writing that the verse wasn't worth a serious response. "Fat Joe's album is [fire]. He even did some charity work and dug Eminem out his grave, I mean, cave," Cannon wrote in an Instagram caption, doubling down on his crack about Eminem's age. He concluded his message by extending a second invitation to "Grandpa Marshall" to join Wild 'N Out for an official "battle."
December 2019: Nick Cannon comes back with new diss record, "The Invitation"
After Eminem reignited his beef with Nick Cannon on "Lord Above," the TV personality came back with a new diss record. Cannon dropped his song called "The Invitation" on December 9, featuring vocals from Suge Knight. "Eminem's a bitch," Suge says on a call from prison (the Death Row mogul is serving a 28-year prison sentence for voluntary manslaughter). On Cannon's verse, he taunts Em by name-dropping his ex-wife and daughter, Hailey. "Call Kim, somebody get Hailey and that other kid you raising that ain't even your baby," he raps. Cannon also references his ex-wife, Mariah Carey's old feud with Eminem, saying, "My baby mama killed you off a decade ago/You still crying about it bitch, now who really the hoe?"
December 2019: Eminem and Nick Cannon exchange words via Twitter 
Following the release of Nick's diss track, "The Invitation," Eminem decided to take their feud to Twitter. "U mad, bro? Stop lying on my dick. I never even had a chaffeuf, you bougie fuck," Eminem wrote, referring to the line in Cannon's song in which he alleges Em's chaffeur saw him engaged in sexual activity with another man. "I demand an apology Nicholas, you've made my gardener so jealous," Eminem continued. But it didn't stop there. Cannon continued to fuel their beef by responding to Eminem on Twitter, writing, "Fuck apologies! Pull Up! Bring your gardener, chaffeur, your male nurse, and whoever else you're fucking." Cannon also called out the rapper on his Instagram Stories, baiting him to "come out and play." 
December 2019: Nick Cannon drops second diss track, "Pray For Him"
Before Eminem had a chance to respond to "The Invitation," Nick clapped back yet again with a follow-up diss track, entitled "Pray For Him," on December 10. The record features guest verses from members of the Black Squad, Cannon's team on his MTV series, Wild 'N Out. After several members dish out verses about Eminem, Cannon concludes the track with a verse that is reminiscent of Em's verse on 2001's "Renegade." "No you debate and hated and viewed in America as a motherfucking drug addict/You'll never be a legend," he raps. "Now when you stop and start to stare at who's in the mirror/Look at all that fucking botox, bitch I know you embarrassed."
December 2019: Nick Cannon drops "Canceled: Invitation"
On December 19, Nick dropped his third diss track in the span of one month, called "Canceled: Invitation." The song includes a mash-up of old clips of Eminem rapping. Most of his clips feature culturally insensitive and derogatory language toward the black and LGBTQ communities. Eminem's highly-criticized statement, in which he compares black women to bitches, is used as the track's chorus, along with Nick ad-libbing in the background. Around the two-minute mark, Nick begins to fire shots, claiming Eminem is racist and a bigot. "You the KKK of this generation," he raps. Like the last two diss tracks before this one, Eminem has not responded on wax.