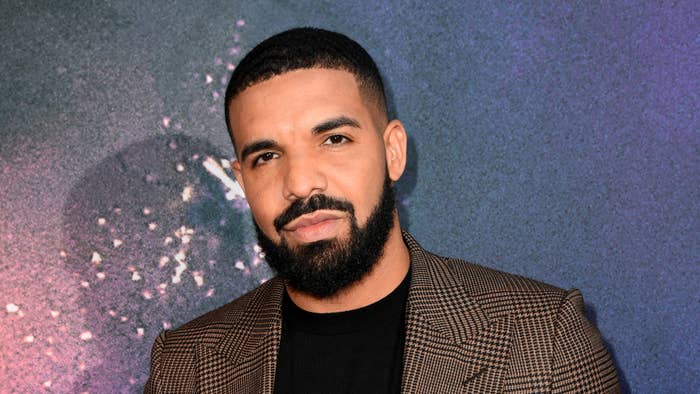 Certified Lover Boy still hasn't arrived, but Drake just dropped off an EP to hold us over. Three years after he released Scary Hours, which featured "God's Plan" and "Diplomatic Immunity," Drake has returned with the follow-up. Scary Hours 2 is a three-pack, consisting of "What's Next," "Wants and Needs" featuring Lil Baby, and "Lemon Pepper Freestyle" featuring Rick Ross.
Debuting the songs on OVO Sound Radio Thursday night, Drake also gave an update on the status of the album. "CLB is currently being cheffed in every way possible," he said. "Me and Noel [have been] grinding for a long time, I'm back in the studio with 40 tough, and I'm just really excited about the music we're making. I feel like I've locked into a zone where I'm really trying to execute on a project that's fulfilling for my soul. You know, I've been doing this for a set of years now, and it's a blessing to still be going, but I'm excited for what the future holds. I don't have an exact date, but just know it's in the pot and it's coming soon. I'm definitely excited to get the ball rolling tonight."

Now that the ball is rolling, let's get into it. Did Drake deliver? What do these songs tell us about his mindset before CLB? What are the best moments? After giving this pack several spins, members of the Complex Music staff put together a list of our biggest takeaways and first impressions.
You never know which direction Drake is about to go when he drops new music. Will he get in his R&B bag? Will he make a song that'll end up all over pop radio? Or will he dig up a beat from 40 and rap his ass off over minimal production? Now, we have some answers. If you listen to the music he's released over the past year, you'll notice a trend: Drake really feels like rapping right now. After Dark Lane Demo Tapes, a project that prioritized bars over big pop-leaning hits, he doubles down on a similar strategy with Scary Hours 2. For years, he's talked about feeling the pressure to please two different fan bases with each release ("I have to give the people that like to hear the singing enough to hold on to, and I have to give LeBron enough bars," he told Rap Radar) but on this EP, you can tell he put all his energy into giving LeBron those bars. And it paid off. 

Drake sounds energized, flexing his range as a rapper. On "What's Next," he plays around with an "okay" flow over production that sounds like something Playboi Carti would wake up at 4:00 a.m. dreaming about. On "Wants and Needs," he connects with one of the (other) hottest rappers on the planet, Lil Baby, for a song that'll be sitting at the top of RapCaviar until summer. And on "Lemon Pepper Freestyle," he gives one of those "late-night talks" he always mentions, delivering enough standout lines for Twitter to drool over until whenever he decides to drop CLB. As someone who once said he "studies rap battles for a living," Drake seems to be thinking about nothing but rap right now (based on the music he's chosen to release anyway). You get the sense he's been sitting at home in his Toronto mansion for the past year, obsessing over new rhyme schemes and metaphors. If that's the case, it's working. —Eric Skelton
There's a reason why we declared Drake and Rick Ross as the all-time best Drake duo. They have stayed consistent for more than a decade, finding a formula that ensures a successful song ever time they connect. We got the perfect cruise record in 2010 with "Aston Martin Music, "Stay Schemin'" in 2012, the Grammy-nominated "Gold Roses" in 2019, and a many other hits over the years. Now, they've added another standout to their collecton with "Lemon Pepper Freestyle," as Rick Ross and Drake once again bring out the best in each other. Rozay oozes luxury as he skates over a smooth sample, while Drake lays down some of his most thoughtful and reflective bars in years. At this point, what's stopping the two from releasing a joint album? Maybe Chad "Ochocinco" Johnson knows something we don't? —Jessica McKinney
With just a couple lines and a well-timed bite of an apple, Drake delivered the funniest moment of the Super Bowl in his State Farm ad last month, and he continues his comedic streak on Scary Hours 2. Sometimes, the humor is blunt, like on "Wants and Needs," when he jokes, "The earrings are real, the petty is real, might charge my ex for a feature." Other times, he's more subtly funny, like on "What's Next," when he pokes at other artists who have boosted their album sales with merch bundles, proudly declaring: "This one ain't come with a bundle." And in some instances, it's all about the delivery. On "Lemon Pepper Freestyle," he mentions that people at teacher-parent meetings have been "askin' if [he] knows Beyoncé and Nicki Minaj." Then he pauses for an extra beat, with perfect comedic timing, and hits us with: "of course." —Eric Skelton
If it weren't for the pandemic (and his recent knee injury) Drake would have probably already dropped his album by now. But, given the circumstances, he's changed his plans and pushed back the release date a couple times. Where other artists have gone completely dark, though, Drake adapted and figured out ways to constantly remain a focal point of conversation. While prepping the album, his OVO camp has been hit with multiple rounds of leaks, but he wisely packaged some of them with previously unheard songs and SoundCloud loosies for Dark Lane Demo Tapes, a project that held fans over during album delays. (It also allowed him to monetize some of those leaked songs on DSPs.) Before Scary Hours 2 dropped, he was hit with another leak, "What's Next," but was able to swiftly include it on the EP and roll out a music video before too much damage was done. Like many artists, Drake has been met with challenges lately, but he keeps coming out on top. —Eric Skelton
Drake's getting acclimated to fatherhood, and he talks about it with his trademark blend of levity and braggadocio on his great "Lemon Pepper Freestyle" verse. He raps, "I sent her the child support, she sent me the heart emoji," which is exactly how one would expect Drake to talk about paying child support. Then he rhymes, "Recess hits, daddy prolly made another M," before painting a humorous picture of "wives...googly-eyed" at teacher-parent meetings, "askin' if I know Beyoncé and Nicki Minaj." The school bars are a humorous insight into what it's like being a superstar parent, not even being able to talk about grades without being ogled. —Andre Gee
Drake's "Lemon Pepper Flow" verse is so sprawling that he gave several topics a good amount of bars. One of them is, jarringly, his funeral. "Air Canada Centre nigga when I die/ Y'all gon' have to fly in and do your fake cry," he rhymes. Artists go there sometimes, but then he keeps rhyming about the scene, imagining "First couple rows, you gon' see the real guys / The ones that purchase they vehicles 'cause of trunk size." It's not the first time Drake has spoken on his mortality, and there's no huge takeaway from that set of bars, but it took me aback on first listen, especially in the midst of a verse about how good life is. —Andre Gee
Lil Baby has been killing every song he's jumped on for a while now, and that streak continued on "Wants and Needs." He followed up a solid Drake verse (that was bogged down by an incongruous interaction with the synth loop at the beginning) and took the track to the stratosphere with a melodic double-time flow. My first impression was that this was the second-best verse on the project. In Lil Baby's words, "I'm not a GOAT but I fit the description." If he delivers more verses like this one, that's going to become more difficult to deny. —Andre Gee
Drake can't help but sneak in few hints about his social life in his music, and they pop up throughout Scary Hours 2. On "Lemon Pepper Freestyle," Drake mentions, "How I get a girl and girls still wanna holla?" On "What's Next," he explains why he's taken time away from the industry, suggesting his vacation was spent relaxing and possibly with someone by his side. "And Valentine's Day, I had sex okay?" he raps. While it may seem as if Drake is courting someone new these days, it's probably not that serious. "I love you to death but I told you the truth/ I can't just be with you and only you," he confesses on "What's Next?" It's nothing new for Drizzy to reflect on his romantic relationships on wax, but the new hints are likely setting the groundwork for what's to come on Certified Lover Boy. —Jessica McKinney
Drake and Kanye's complicated relationship goes back years, and it hasn't always been pretty. Just last year, Drake seemed to shade 'Ye on "Life Is Good," rapping, "Niggas gotta move off my release day, huh." Some fans also speculated whether Drake was taking more shots an Kanye on "Laugh Now Cry Later" when he rapped, "Distance between us is not like a store, this isn't a closeable gap." It didn't sound like Drake had moved on from his beef with 'Ye, but they might be turning a corner now. On "Wants and Needs," Drake suggests he's ready to meet up with Kanye, rapping, "Yeah, I probably should go link with Yeezy, I need me some Jesus/But soon as I started confessing my sins, he wouldn't believe us." The line comes across as a fun jab at Kanye, who has become a born-again Christian and dedicated much of his music career to his faith recently. But many also interpreted the bar to be peace offering. It's funny and less vicious than some of Drake's previous disses on songs like "Duppy Freestyle." Even Kanye might be satisfied with that mention. Still, it's clear that Drake and Kanye are still on each other's minds. It may really be time for the two to sit down and have a talk. —Jessica McKinney
On "Wants and Needs," Drake raps about how he "hasn't fallen off yet," and punctuates the line with a celebratory yelp: "Yee!" It's a subtle acknowledgement that he's aware of chatter from people who have been waiting for his demise. Those rumblings about his career being on the decline were largely without merit in the first place, but especially after Scary Hours 2, they're even more off-base. (I wrote about this exact topic in January). At this point, nobody can release music in a way that completely dominates the conversation like Drake still can, and this three-pack proves his skills as a rapper are as sharp as ever. The excellent "Lemon Pepper Freestyle" verse alone should be enough to clear anyone's doubts about Drake's current abilities. We've gone through a drought when it comes to major rap releases lately, and Drake just returned to remind everyone of his dominance. Scary Hours 2 did exactly what he needed it to do, and hopefully we won't have to hear any more of those annoying "Drake era is over" conversations for a while. Drake is in a great place heading into Certified Lover Boy. —Eric Skelton